(UPDATED) Eduard Folayang hands Aoki his first defeat in 4 years with a third-round technical knockout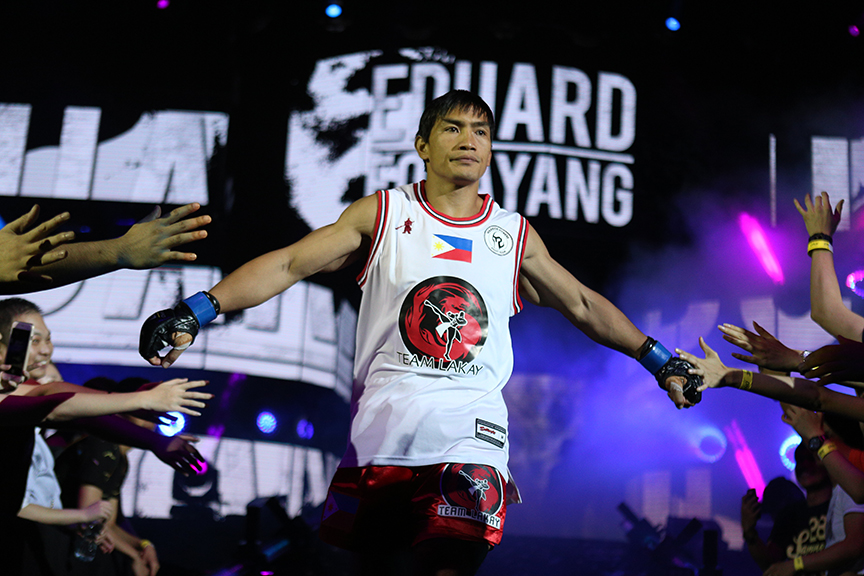 SINGAPORE (UPDATED) – Eduard Folayang's long journey to the Promised Land has finally reached an epic conclusion as the Filipino fighter is now a world champion in mixed martial arts (MMA).
Folayang, who is widely regarded as the face of the Philippine MMA scene, defeated elite Japanese combatant Shinya Aoki to capture the ONE Championship lightweight belt in the headliner of the organization's "Defending Honor" on Friday, November 11 at the packed Singapore Indoor Stadium in Singapore.
The 32-year-old Baguio city native handed Aoki his first defeat in 4 years with a third-round technical knockout.
Joining the elite class of homegrown Filipino world champions in MMA, Folayang aced the biggest test of his illustrious 9-year professional career at the 0:44 mark of the third round.
Folayang had the perfect game plan that he eventually executed in the second and third frames of the lightweight championship clash, but he had to squeeze himself through the eye of a needle to survive the opening salvo as Aoki was able to lure his Filipino opponent into his suffocating wheelhouse.
Aoki effortlessly took down Folayang thrice in the first period and fished for a submission finish with a rear-naked choke.
However, Folayang's patience and composure paid dividends as he managed to escape twice and tried to force Aoki to engage in a toe-to-toe trade.
It was in the second round, where Folayang found his groove and bombarded Aoki with crisp leg kicks and attempted to drop his Japanese counterpart with a leaping knee shot.
In the dying seconds of the aforementioned round, Folayang was able to hurt Aoki with two Wushu sidekicks to the midsection and then clobbered a heavy follow-up punch to the solar plexus.
As Aoki appeared to be still reeling from the late punishment that he received from the 5-foot-9 Team Lakay representative, Folayang knew that Aoki was ripe for the taking.
With Aoki shooting for a takedown, Folayang waited for the right moment to strike and jumped for a staggering knee shot to the temple that clearly rocked the Japanese champion.

As Aoki was helplessly crawling back to his feet, Folayang pressed him along the cage fence, delivering a hard knee to the head before completing the finish with a volley of vicious punches, forcing referee Yuji Shimada to wave it off.
Folayang improves his prizefighting record to 17-5 with the upset triumph over Aoki, who downgrades to 39-7, 1 NC. – Rappler.com