The Giants moved to 6-3 after a risky gamble late pays off at home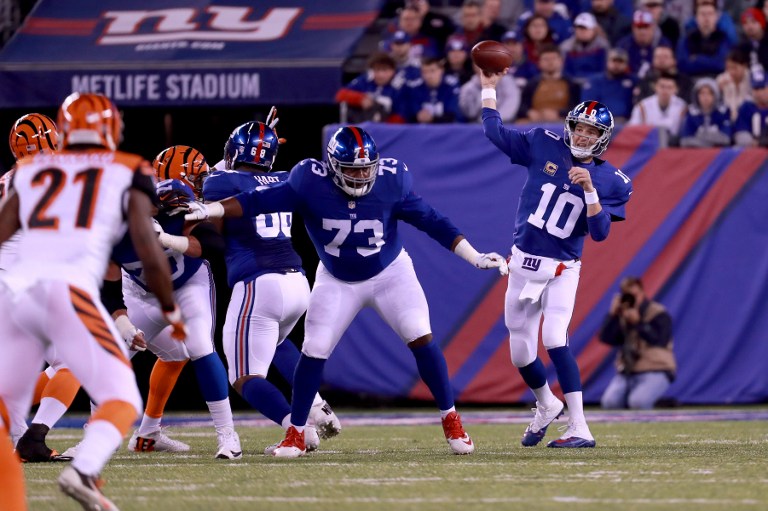 EAST RUTHERFORD, USA – New York Giants quarterback Eli Manning threw three touchdown passes, including the game-winner to receiver Sterling Shepard as the Giants toppled the Cincinnati Bengals 21-20 at MetLife Stadium on Monday, November 14 (Tuesday Manila time).
"When we moved the ball and got in the red zone we scored touchdowns and that is what you have to do in this league," Manning said. "We finished strong and got the win." 
The Giants held a 14-10 halftime lead, but the Bengals started quickly by taking advantage of their first possession when play resumed.
On the first play of the half, Alex Erickson broke free for an 84-yard kickoff return to give the Bengals first-and-10 on the Giants' 13.
Two plays later – both runs by running back Jeremy Hill – and the Bengals were back on top of the Giants 17-14 thanks to Hill's nine-yard touchdown run, the first of 10 unanswered points by the Bengals.
Then Erickson did it again a few minutes later, this time with an 18-yard punt return that gave his team excellent starting field position.
The Bengals increased their lead to 20-14 on kicker Mike Nugent's 38 yard field goal. 
The Giants got on the board again at the beginning of the fourth quarter when Manning connected with Shepard for a three-yard touchdown pass on fourth down. That score put New York back on top 21-20.
"Shepard ran a great route and got a big time play right there," Manning said.
With the win, the Giants improved to 6-3 on the season and retained their hold on second place in the NFC East. They'll close out their three-game home stand next week against the Chicago Bears.
The Bengals return home to host the Buffalo Bills next week. – Rappler.com