In other NBA action, the Heat continue to struggle by falling to the Hawks while the Hornets get a road win against the T-Wolves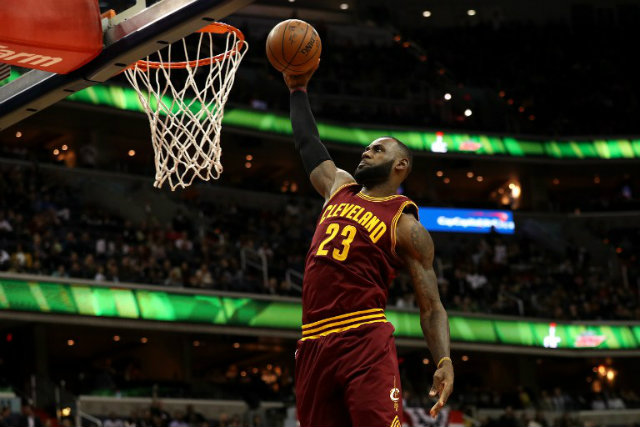 LOS ANGELES, USA – Channing Frye's 3-pointer in the final minute lifted the Cleveland Cavaliers to a 121-117 win over the Toronto Raptors in a tight contest between the two best teams in the Eastern Conference.
The Cavaliers beat their playoff rivals for the second time this season and the defending NBA champions appear to be an even stronger team than they were last season.
"We are a composed team. We have seen everything. It is not a situation we haven't been in before. The coach just drew up a great play we just tried to execute it to perfection," Cavaliers star LeBron James said.
Frye has made 11 3-pointers in his last two games and the Cavs took a lead against the Raptors in the season series, something that could become important when home-court advantage is at stake.
These teams met in the conference finals last season.
James fell one rebound shy of a triple-double with 28 points, 14 assists and 9 rebounds in front of a crowd of 20,500 at Quicken Loans Arena. He had 6 assists in the fourth quarter.
Kevin Love scored 19 points and grabbed 13 rebounds, and Kyrie Irving scored 24 points. Frye came off the bench to finish with 21 points.
The Cavaliers made 13 three-pointers in the game, meaning they have made at least 10 3-pointers in each of their first 10 games, an NBA record.
"They're shooting as many 3 as anybody in the league right now," Raptors coach Dwane Casey said. "If a team is making 22 or 25 threes, you're going to have a hard night."
DeMar DeRozan and Kyle Lowry each scored 26 points, marking just the second time in 10 games DeRozan failed to score at least 30. He began the night leading the league in scoring at 34 points per game.
In Miami, Dennis Schroder led a balanced offense with 18 points as the Atlanta Hawks won their fifth game in a row, defeating the struggling Miami Heat 93-90.
Leading 89-88, Atlanta's Kent Bazemore made two free throws with 11 seconds left. Miami's Josh Richardson got a dunk on the other end, and Schroder's two free throws rounded out the scoring.
The win may have been costly for Atlanta, as center Dwight Howard left the game in the third quarter with a quad contusion. He finished with 11 points, 11 rebounds and 3 steals in 24 minutes. 
In Minneapolis, Kemba Walker scored 30 points and Nicholas Batum added 16 to power the Charlotte Hornets' comeback in a 115-108 victory against the Minnesota Timberwolves – Rappler.com