The recently-retired Duncan's jersey will be honored alongside Spurs greats David Robinson, Sean Elliot and George Gervin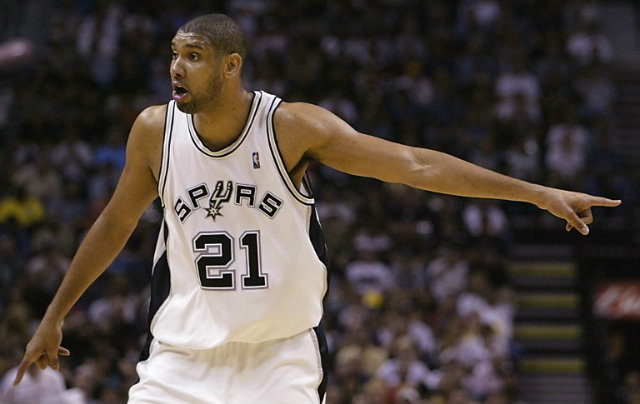 SAN ANTONIO, USA – Tim Duncan, who played almost two decades with the same team and captured 5 NBA titles, will have his No. 21 jersey retired by the San Antonio Spurs, the team announced on Wednesday, November 16.
The Spurs said the ceremony would take place on December 18 when San Antonio host the New Orleans Pelicans.
Duncan will become the eighth Spurs player in franchise history to have his number raised to the rafters, joining Bruce Bowen (12), Sean Elliott (32), George Gervin (44), Avery Johnson (6), Johnny Moore (00), David Robinson (50) and James Silas (13). 
Duncan and coach Gregg Popovich have the most wins by a player-coach duo in NBA history (1,001) and the forward finished his career in San Antonio as one of just three players in NBA history, along with John Stockton of the Utah Jazz and Kobe Bryant of the Los Angeles Lakers, to spend 19 seasons with one franchise. 
Duncan, selected by the Spurs as the first overall pick in the 1997 NBA entry draft, helped the franchise post a 1,072-438 regular-season record during his time in San Antonio.
In his NBA career, the 15-time all-star appeared in a total of 1,392 games and averaged 19.0 points, 10.8 rebounds and 3.0 assists. He shot .506 from the floor and .696 from the free-throw line. – Rappler.com