The Cavaliers improve to a 10-2 record in their title-defense season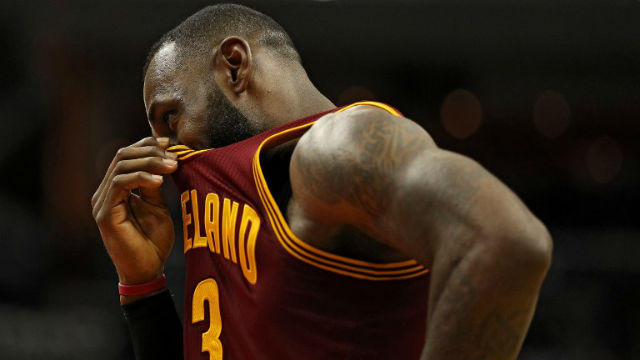 LOS ANGELES, USA – LeBron James returned with 21 points as the Cleveland Cavaliers got back to winning ways with a 104-81 win over the Detroit Pistons on Friday, November 18 (Saturday morning, Manila time).
James, who was rested for the Cavs defeat to the the Indiana Pacers on Wednesday, added 3 rebounds and 3 assists as the NBA Champions improved to 10-2.
Kyrie Irving topscored with 25 points and claimed 11 assists while Kevin Love chipped in with 12 points and 13 rebounds.
The defeat continues Detroit's poor record on the road this season. The Pistons have now gone 1-7 on their travels, shooting just 31 percent on Friday.
The Cavs meanwhile maintained their strong start to the season, extending their NBA record run of games in which they have made at least 10 three-pointers to 12.
For Detroit, Jon Leuer scored 15 points, while Andre Drummond added eight with 10 rebounds.
The Pistons, however, were never in the game after trailing 56-39 at half-time with the Cavs opening up a 33-point lead at one stage in the fourth quarter.
J.R. Smith, meanwhile, returned from an ankle injury after a week's layoff to score nine points via a trio of three-pointers.
The 31-year-old's tally saw him ease past Dirk Nowitzki's mark of 1,703 three-pointers into 15th on the all-time list.
Cavs coach Tyronn Lue said Smith was benefiting from being less of a target for opposition teams than James, Irving and Love.
"He's always been a great shooter," Lue said.
"Here with this team, with Kevin and Kyrie and LeBron and the way they demand so much attention, now he's getting open, easy shots and he's always been a knockdown shooter. I think now he's getting easier shots and shots in rhythm and he knows where his shot's gonna come from." – Rappler.com