An unsatisfying goal-less standoff against ten-man Singapore means the Philippines' Suzuki Cup campaign is off to a tough start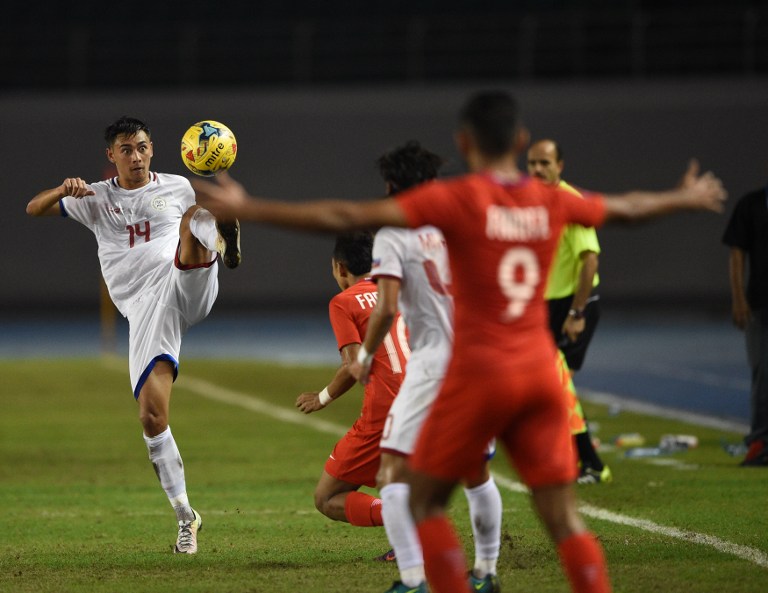 This was two points given up. The Philippines was a team that was supposed to have question marks on defense but was bristling with offensive firepower. Instead the back line picked up a clean sheet and it was the attack that failed to produce. 
When Hafiz Sujad was rightfully sent off for this foolish challenge on Phil Younghusband, the 3 points looked to be ours for the taking. But the Azkals could not convert, while an experienced and pragmatic Lions squad held on.
The game was a bit of a cliché. Home team plays enterprising football, road team goes negative, especially when down to 10 men. Home team turns the screws on the embattled shorthanded team but cannot disturb the net. 
What went wrong? Two veteran coaches who don't know each other both told me the same thing: that the Azkals' off-the-ball movement was wanting. True, we dominated for most of the game, but from what I recall, Singapore keeper Hassan Sunny only needed to make two tough saves, off Stephan Schrock's free kick and then debutante Hikaru Minegishi shortly after his halftime introduction. Our attack really lacked sting. We needed more ideas.
It really wasn't pretty football from either side. But this is a reality with the international game. The players often don't have much time to gel, so fluidity is sometimes lacking. We could see that quite often on Saturday. 
I liked the introduction of Mark Hartmann. A change-of pace player who brings a little more passing sense and size than the man he supplanted, Misagh Bahadoran. He did create one chance with a neat one-touch to Schrock. But he couldn't change the game. 
Hikaru Minegishi is our new find. The Filipino-Japanese only recently got his Filipino passport, and we can see why he won the UFL Golden Ball award. The man they call "Pika" brought an infusion of pace and guile into the game in the second half. But alas, he could not get a first international goal, even though he had a free header late. 
Minegishi might have done enough to earn a start for Tuesday's match with Indonesia. The Philippines has no shortage of midfield talent and he has only added to the congestion. 
The jury is still out for me on the defense. The big surprise was Jeff Christiaens at centerback, a position I don't ever recall seeing him play in the UFL or the Azkals. He did well being Amani Aguionaldo's fourth centerback partner in 5 games after Dennis Villanueva, Luke Woodland, and Daisuke Sato. 
Yes, the defenders pitched a shutout but even before Sujad's exit, the Lions were playing very cautiously. After the sending-off, Khairul Amri struck a lonely figure at the apex of a compact Singaporean 4-4-1. 
The back line of Kevin Ingreso, Aguinaldo, Christiaens and Kenshiro Daniels faces rougher sailing against Indonesia on Tuesdayand Thailand on Friday. This is where we will really see if this chameleon-like defense of Thomas Dooley can hold on. Indonesia scored two header goals in their 4-2 loss to Thailand, who benefited from a Teerasil Dangda hat trick. Christiaens is on the small side for a center back, so corners could be an issue.
Making frequent changes in the composition of your back four is at times a recipe for disaster. This corps of defenders needs to show that that isn't necessarily so. 
I thought that with time winding down we should have gone to a 3-man defense and maybe bump substitute Junior Muñoz upfield. But to my recollection that never happened. A shame, because we really needed the goal.
Glitches made this match less fan-friendly than we would like. Just before the game I got an FB message from a fan who was supposed to ride the shuttle from Trinoma. He said the buses were late and that 200 to 300 fans were waiting in the P2P loading bay for buses. It's not clear to me if all the fans made the game on time.
At the PSS itself we had to make the infamous ticket swap, where the Ticketworld stubs were exchanged for official tickets that actually get you into the stadium. The line snaked for more than a hundred meters. Fortunately the PFF staff was very responsive in doing their best to compensate with extra personnel. 
That didn't stop one disgruntled fan from muttering to me, "write about this, this is bulls–t."
Since my party arrived an hour early we made it in our seats for kickoff. Others were not so lucky, as fans continued entering all throughout the half. 
I hope the PFF and the AFF can look into streamlining the ticket process. This is a layer of bureaucracy that many fans, already tired from a long trip, don't need. 
Plus, the tickets were still on the pricey side for me. I would love to have seen a ticket pricing scale of 40, 100, 200 and 300 pesos. In this competition you have a choice of P150, 300, 500 and 700 tickets. For a venue that is more than 30 kilometers away from Makati, that is a lot. You have to factor in gas, toll, and parking fees as well, and/or the P55 round trip shuttle. 
The PSS is a lovely modern arena but I might not shed many tears if we never play there again. It is still a pain to get to, and get out of. Waze took me on an impromptu tour of Bulacan's scariest back roads as well going home. 
For all its faults, Rizal Memorial is still a better option. I would also love to see more games in Cebu or Bacolod. I fear that my ultimate stadium fantasy, a turf field in a Umak with upgraded lighting and seating, will likely remain just that, a pipe dream. 
In general, organizers need to see things more from a fan's perspective. Football is nothing without fans, of which there were only 4,339 of last Saturday. 
Tuesday is a must-win. The Indonesians must go down in three days time if we are to feel great about our chances. This is an Indonesian team that had the character to come from 2-0 down to level at 2-2 before allowing two late strikes. A draw or loss would leave us in the uncomfortable position of likely needing a win against Thailand. 
But this Azkals team has pleasantly surprised us in the past. It needs to circle the wagons and rebound on Tuesday once again. They need our support.
AFF Suzuki Cup 2016
Philippines vs Indonesia
8 pm Tuesday, November 22
LIVE on Aksyon TV and Fox Sports
Follow Bob on Twitter @PassionateFanPH. – Rappler.com