Mbala is aiming to give La Salle its first UAAP men's basketball title since 2013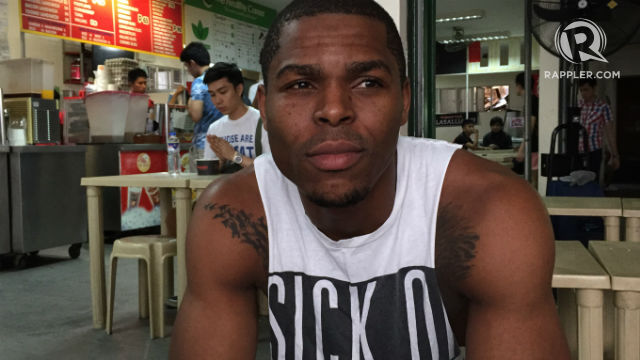 MANILA, Philippines – Despite putting up gaudy numbers and winning the UAAP Season 79 Most Valuable Player (MVP) award in his first year as a DLSU Green Archer, Ben Mbala says that his ultimate goal is to deliver a championship back to La Salle.
With 92.43 statistical points, Mbala pulled away from every other player in the collegiate basketball league and will be handed the MVP award prior to game two of this season's UAAP Finals.
The Cameroonian center averaged 20.6 points, 16.0 rebounds, 2.4 blocks, 1.4 steals, and 1.2 assists a game while leading La Salle to a tournament best 13-1 record in the elimination round.
"Winning the MVP is just like a way of – I won't say rewarding me – but rewarding the trust my teammates have been giving me," Mbala said in an exclusive interview with Rappler on Friday, November 18.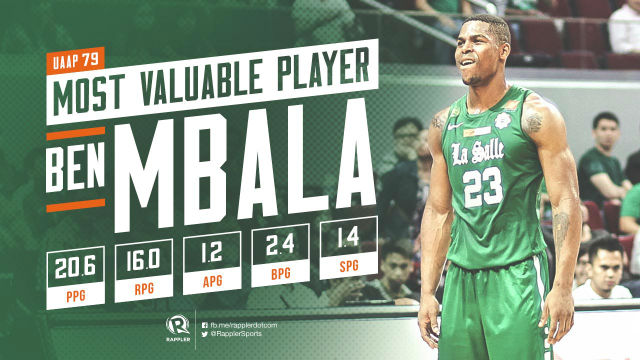 "At the end of the day, I [say] it's more likely [I go and] achieve all these things for the team because I want the team to be on top and I want us back to be champions."
La Salle and college basketball fans have long awaited the debut season of Mbala, who transferred over from Southwestern University in Cebu and went through 3 years of residency before playing in his first UAAP game.
Mbala has exceeded the lofty expectations placed on his shoulders and has put DLSU in a good spot to win the school's first men's basketball title in 3 years.
"The MVP is not the ultimate goal. I've been out for 3 years, so the thing I want first is to be a champion. That's it. Personal is good, but collective is better," he said.
The first step to that goal for La Salle is to defeat the fourth-seeded Adamson University Soaring Falcons in the Final Four round. Coached by former Green Archers champion coach Franz Pumaren, Adamson will have to defeat DLSU two straight times to advance to the finals. During the elimination round, the Green Archers swept the Soaring Falcons.
Assuming La Salle takes care of Adamson, awaiting them in the finals is either a matchup with the Ateneo Blue Eagles or FEU Tamaraws – two familiar rivals.
"We will start with zero for me and it will be all about who wants it more, so we have to forget about what we achieved during the elimination round and we have to be able to give like twice or maybe 4 times what we've been doing in the regular season," said Mbala. – Rappler.com