Andre Ward overcomes a second round knockdown to win a razor-thin decision and 3 light heavyweight title belts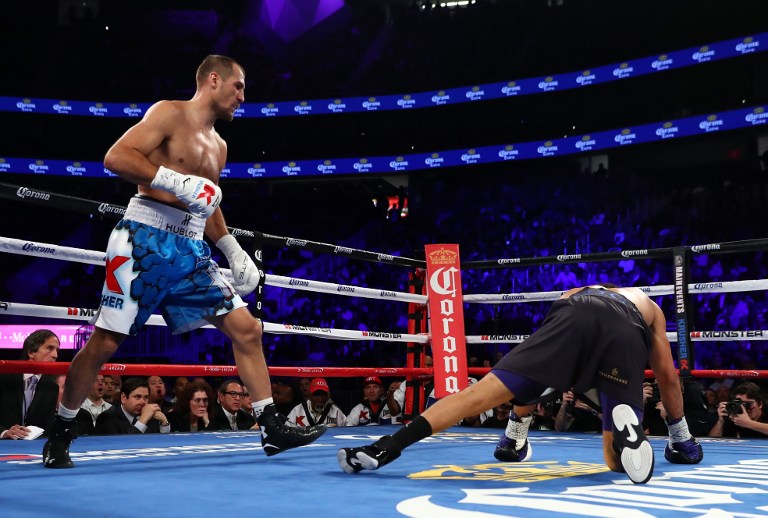 MANILA, Philippines (UPDATED) – In a matchup between two undefeated champions, Andre Ward fought all the way back from an early deficit to defeat Russia's Sergey Kovalev by unanimous decision Saturday, November 19 (Sunday Manila time) at the T-Mobile Arena in Las Vegas, Nevada.
All 3 scorecards had it 114-113 for the American fighter, who now wins the WBA, WBO and IBF light heavyweight titles.
Ward, a 2004 Olympic gold medalist and former super middleweight champion, was hurt in the first round by a jab and knocked down for the second time in his pro career in round two, the product of a short counter right hand with 30 seconds left in the round. Ward began to make his comeback in the middle rounds, using his defensive abilities and jab to keep Kovalev honest.
Down goes Ward, Down goes Ward! #KovalevWard pic.twitter.com/TZtilCYGXJ

— Fancy Combat (@FancyCombat) November 20, 2016
Ward (31-0, 15 knockouts) began to break Kovalev (30-1-1, 26 KOs) down with body punches, slowing his momentum and setting up left hook counters upstairs. Kovalev appeared to finish the fight stronger, though all 3 judges gave Ward the twelfth round. HBO unofficial scorer Harold Lederman saw the fight 8-4 for Kovalev, 116-11, which didn't jibe with the way the official scorers saw it.
"I knew it was going to be a tough fight, you never anticipate getting dropped. That was the first time in my career getting dropped but I'm please with myself by the way I responded," said Ward before overlooking the time he was knocked down on this date in 2005 by a Darnell Boone uppercut.
"Nothing," said Kovalev when asked what he thought of the decision. "It's a wrong decision. Witnesses are here, everybody saw what happened.
"I'm a guest here in USA, he's a local and all judges was from USA."
 The Compubox punchstats favored Kovalev, who landed 126 of 474 punches for a 27% connect rate, while Ward was credited with landing 116 of 338 for 34%.
Both seemed to agree in their own way that a rematch would be the best way to settle the dispute
"Of course, I'm not going to negotiate a fight right now Max, I've been in the game a long time. I'm gonna go home, relax, enjoy this victory and we'll see what's next."
"Of course I want a rematch. And I will kick his ass," said Kovalev. – Rappler.com