McMahon bangs his head hard off the ring mat after a high stakes spear by Roman Reigns goes wrong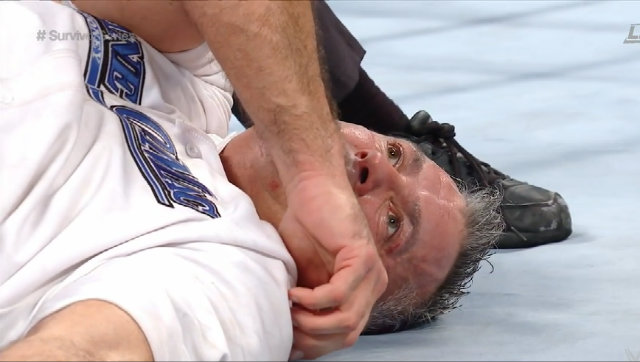 MANILA, Philippines – Shane McMahon has made a legacy of taking risks with his body, but his devil-may-care attitude may have backfired during this year's Survivor Series.
McMahon, the 46-year-old son of World Wrestling Entertainment (WWE) CEO Vince McMahon and on-screen Commissioner of the SmackDown Live brand, brought the high spots to the traditional 5-on-5 series, which was one of the main attractions of the event on Sunday, November 20 (Monday Manila time) at the Air Canada Centre in Toronto, Canada. (READ: So, umm, Goldberg's WWE return lasts less than two minutes)
After an entertaining run in the match highlighted by landing a flying elbow drop from the top turnbuckle onto Braun Strowman through a commentary table, he was set to be eliminated by Roman Reigns, who countered his trademark coast-to-coast dropkick from the top turnbuckle into a mid-air spear.
You can call this…VINTAGE @ShaneMcMahon! Did he just take out @BraunStrowman?! #SurvivorSeries pic.twitter.com/zfBWtcx7Fm

— WWE (@WWE) November 21, 2016
Everything looked routine until the landing, when the back of Shane's head bounced off the mat with a thud.
Reigns went for the pin but McMahon's right shoulder lifted off the mat before the 3-count – perhaps involuntarily – and neither the referee or the commentators knew what to make of the matter. The referee immediately eliminated McMahon and called for medics to assist McMahon out of the ring and to the backstage area.
Afterwards, Randy Orton, who was one of his teammates during the match, responded to a tweet from a fan who observed him comforting McMahon's children at ringside after the incident. "I'm a father. I know what it's like to have your kids ringside when shit goes sideways," Orton tweeted.
I'm a father. I know what it's like to have your kids ringside when shit goes sideways… https://t.co/9rtaCp48sJ

— Randy Orton (@RandyOrton) November 21, 2016
Props to Randy for going over to Shane's son. #SurvivorSeries pic.twitter.com/7hXJ9maR9i

— Deno (@DeadByElbow) November 21, 2016
The match continued, with Orton and his Wyatt Family teammate Bray Wyatt being the lone surviving members for Team SmackDown after Reigns was pinned by Wyatt. – Rappler.com