In other action, the Bulls drop a game on the road to the Nuggets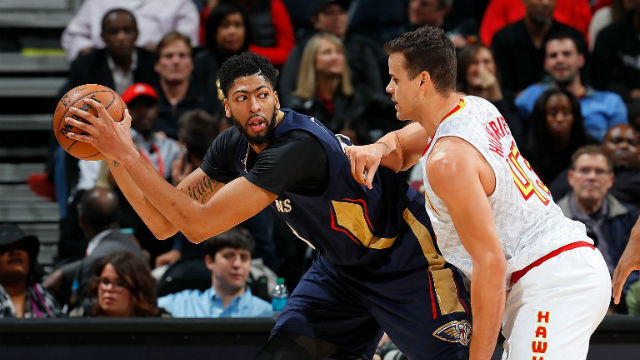 NEW YORK, USA – Playing without NBA All-Star forward Anthony Davis most of the night after he suffered a bruised right knee, the New Orleans Pelicans still routed Atlanta 112-94 Tuesday, November 22 (Wednesday morning, Manila time).
Tim Frazier matched his career high with 21 points and added 14 assists for the Pelicans, who led by as many as 35 points in the third quarter.
"We came out hungry. We jumped on them from the start and continued to fight the whole game," Frazier said. "When (Davis) went down everyone stepped up, but we already had the lead and just kept rolling."
Davis, averaging 31.7 points and 11.3 rebounds entering the game, was hurt diving into the stands trying to retrieve a loose ball late in the first quarter, crashing into a seat in the fourth row.
"I banged (my knee) on a chair," Davis said. "They worked on my knee and it was good enough to go back in. I'm OK."
Davis returned to start the fourth quarter and finished with 13 points.
"He came back out and said that he could go," Pelicans coach Alvin Gentry said. "We put him back in to see if he was ready for (Wednesday's game against Minnesota) and then took him back out."
Terrence Jones scored 15 of his 17 points in the first half and the Pelicans led 34-14 after the first quarter.
"We started off the game the right way," Gentry said. "We were really good defensively in the first quarter and because of that we ended up with some easy shots. It was a really good win for us against a quality team." 
New York's Kristaps Porzingis scored 31 points to power the Knicks over Portland 107-103 for their fifth victory in a row at Madison Square Garden. The Trail Blazers had won their prior 6 visits.
Derrick Rose scored 6 of his 18 points in the final 3:40 and Brandon Jennings came off the bench to pass out 11 assists for the Knicks. Portland had 22 points from Damian Lillard and 16 from C.J. McCollum.
Jamal Murray came off the bench to score 24 points, leading 6 double-figure scorers for Denver in the Nuggets' 110-107 victory over the visiting Chicago Bulls.
Denver's Will Barton sank two free throws with 9 seconds remaining and teammate Danilo Gallinari added another to create the final margin.
Jusuf Nurkic scored 14 points and grabbed 14 rebounds for the Nuggets, who also had 16 points and 9 points off the bench from Wilson Chandler. Jimmy Butler had 25 points in a losing cause. – Rappler.com