(UPDATED) The defending champions will not go quietly into the night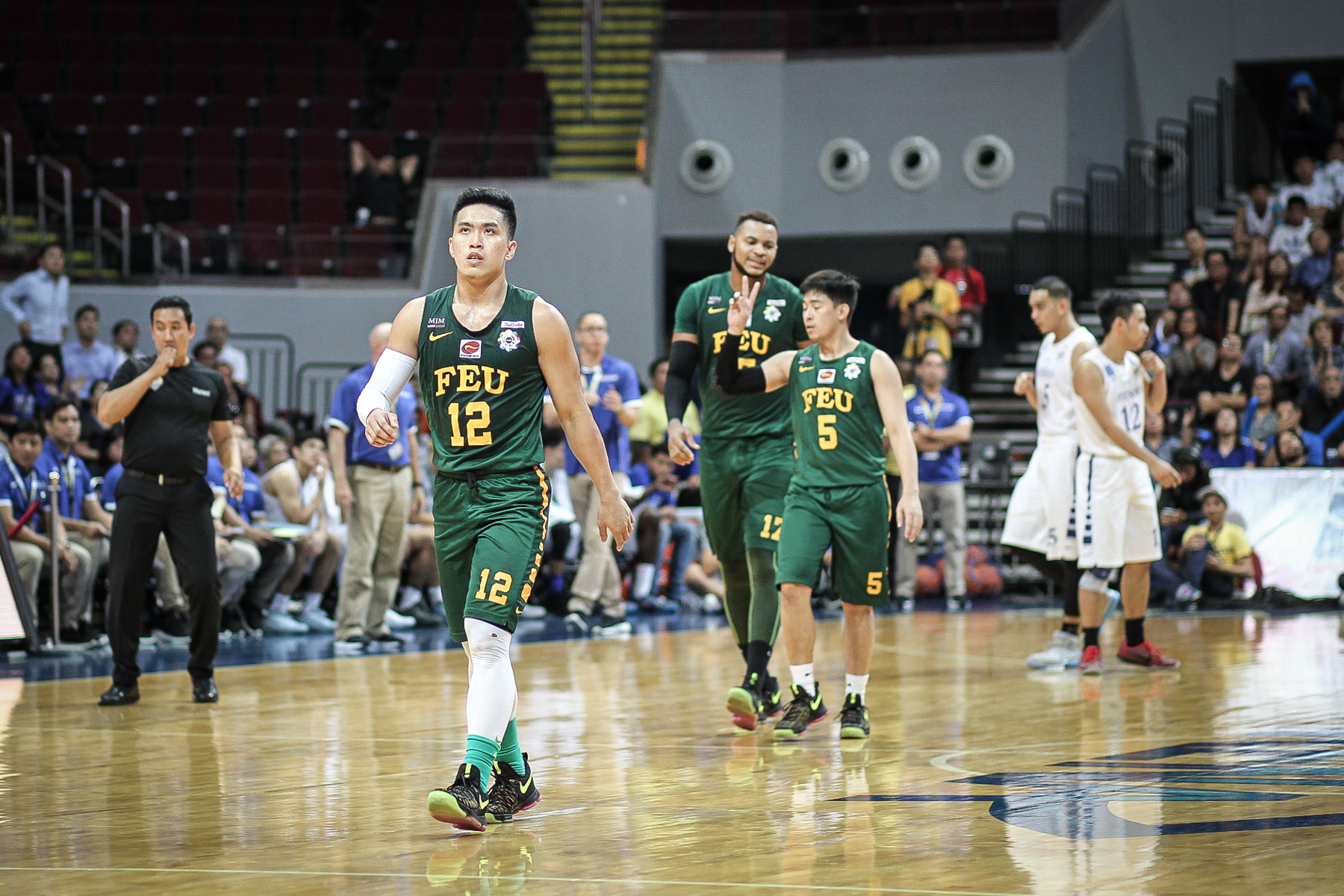 MANILA, Philippines (UPDATED) – The defending champions refused to go down without a fight as Far Eastern University dealt the twice-to-beat Ateneo de Manila University a 62-61 loss to force a Final Four winner-take-all match in the UAAP Season 79 men's basketball tournament on Saturday, November 26 at the Mall of Asia Arena.
The third seed Tamaraws charged back from a 10-point fourth quarter deficit on the strength of veteran Raymar Jose's relentless efforts on both ends of the floor and Monbert Arong's timely offensive outburst.
Jose finished with a huge double-double of 20 points and 23 rebounds. He singlehandedly out-rebounded the entire Blue Eagles in the fourth, 11-8, as he pushed FEU through every possession and made Ateneo pay for missed shots.
"Para sa akin sa puso ko ayaw ko pang magbakasyon e. At last year ko, gusto ko effort talaga na kahit anong mangyari lalaban lang kami," said Jose, who huddled the Tamaraws on the court after the game and reminded them not to be selfish heading into the all-important do-or-die game.
(In my heart I did not want to go on vacation yet. And it's my last year so I wanted to really put in the effort and to fight no matter what happened.)
Arong helped Jose out as he poured all 13 of his points in the second half to go with two rebounds and two assists. Prince Orizu had 9 points and 10 rebounds, while Wendell Comboy added 8 markers.
"I remember telling the whole bench during the quarter break not to break down," said head coach Nash Racela, referring to the gap between the third and fourth periods as Ateneo gained momentum on the offensive end and established 10-point leads.
"I think it was really hard in the third quarter."
Arong tied the game at 55 on split from the stripe with under two minutes to play and a few seconds later gives the Tamaraws the lead for good, 57-55. Arong then made 3 straight free throws for the 60-55 cushion.
It was the first time this season that FEU defeated Ateneo.
Aaron Black led the Eagles with 11 points off the bench while Thirdy Ravena wound up with 10 points, including two last-gasp 3-pointers towards the end that made the final tally close.
The rubber match will take place on Wednesday, November 30, where the winner will face the DLSU Green Archers in a best-of-3 finals.
Scores:
FEU (62): Jose 20, Arong 13, Orizu 9, Comboy 8, Dennison 6, Inigo 4, Tuffin 2, Escoto 0, Trinidad 0, Ebona 0, Holmqvist 0, Nunag 0, Bayquin 0, Denila 0.
Ateneo (61): Black 11, Ravena 10, Asistio 9, Go 8, Verano 7, Ikeh 5, Nieto Mi 4, Nieto Ma 3, Wong 2, Porter 2, Tolentino 0.
Quarter scores: 10-10, 23-20, 35-42, 62-61.
– Rappler.com