Mindanao's entry into the upcoming Philippines Football League is brimming with promise. This is why.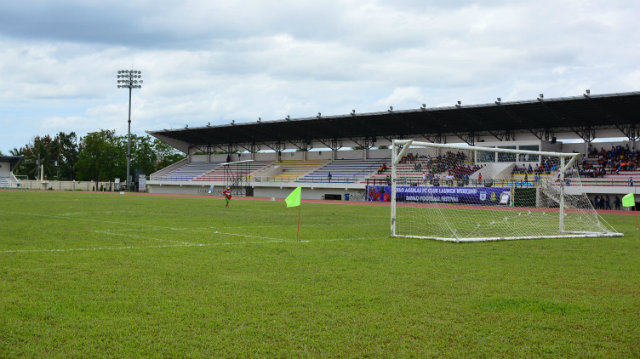 Davao Aguilas FC is one of two brand-new clubs that will enter the Philippines' new top-tier football competition, the Philippines Football League, which kicks off in April. The other debutante will be Ilocos United, based in Vigan.
The club was launched last weekend in Tagum. Here is a primer on what this team  is all about.
The footballing city
The southern Mindanao metropolis has always been a football hotbed. Back in the day, Davao was a feared squad in the old Coke Go-For-Goal youth competitions. There was a Davaoeño in the great 1991 national  team that beat Malaysia, Hersey Salmon.
The only regular homegrown outfield starter in the current national team, Amani Aguinaldo, is from there.
Davao finished runners up to Negros Occidental in two recent national youth competitions, the 2013 u23 national championship and the 2016 u22 tournament. In both instances they lost narrowly, 1-0, to the Negrenses in the final match.
Davao is also one of the few spots in the Philippines that has a regular men's 11-a-side league, or at least they did last year when I interviewed Davao clubs in the Ceres Cup.
The club will, for now, play in Tagum, about 50 kilometers north of the city, because there is no stadium nearer the city. More on that later.
The kit and crest
Real Madrid fans in southeast Mindanao will be dismayed that the club has Barcelona's red and blue vertical stripes as its primary look. But the team reportedly chose the colors to be patriotic, since those are the hues of our flag. Their away strip will be predominantly white.
Team CEO Chito Manuel says red represents passion and valor while blue symbolizes loyalty and brilliance. Five red stripes on the crest connote 5 attributes of the players, namely strength, speed, agility, and the right mentality. The 4 blue stripes are symbols of the team's values, which are fair play, respect, perseverance and integrity.
These symbols may come across as chintzy to some but I think they go a long way towards building an identity for the club. The middle of the crest is the head of a Philippine eagle.
The owner
Jefferson Cheng is a successful Filipino businessman with interests both here and in Australia. He used to play competitive football in Xavier School as a left back. Cheng is an architecture graduate from UP, so he knows a thing or two about building things from the ground up.
Cheng is a part owner of the Western Sydney Wanderers football club of Australia's top tier, the A-League. The Wanderers stunned the Asian football firmament by winning the AFC Champions League crown in 2014, barely two years after being founded.
Cheng has helped the PFF bankroll its u19 to u22 national sides for several years now.
When asked about his keys to build a winning club, he gave this interesting answer.
"The relationships between the owner, coaches and players are very important."
The coach
Davao's first-ever head coach, (or manager in British football parlance), is Gary Phillips, a 53-year old Australian veteran mentor who has coached in his home country, Malaysia, and Vietnam. He has also managed the Tongan national team and Papua New Guinea's women's side. Phillips led Sydney Olympic to the title in the old Australian National Soccer League in 2002.
Phillips says he wants to instill "pride in the shirt and the city" in his players and wishes to make the club well-known for developing players.
The gaffer will also function as the team's conditioning coach at least for now.
The players
Most of the players the side trotted out in their launch event last Sunday are homegrown Filipinos. Many hail from nearby provinces and were picked through tryouts after the team asked nearby FAs to send their best senior players. Apart from Davao there are players from Bukidnon, Compostela Valley, and Cotabato. Tagum product Alexis Cabistante, a 20-year old central mid, is one of the more highly-rated players in this group.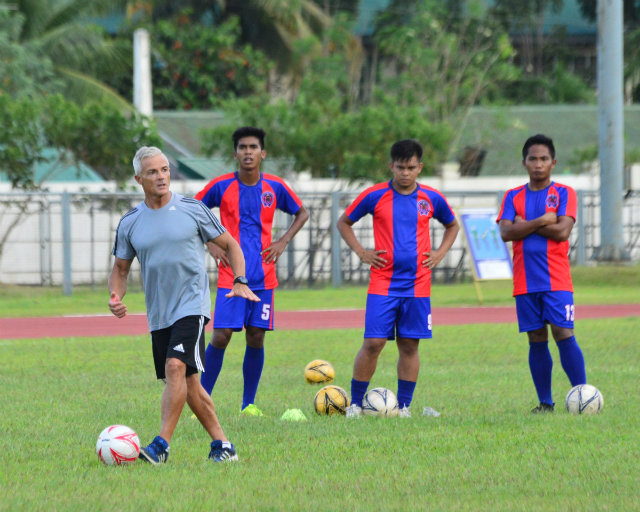 A handful of the homegrowns with pro experience in the UFL were presented on Sunday too. Nico Macapal, Gerald Layumas and veteran goalie Kim Versales are with Davao as part of a loan deal from Green Archers United, a team that begged off from the PFL for this season.
UFL vets also include Richard Talaroc from Manticao, Misamis Oriental, and Iliganon Stephen Burda. It's a bit ironic that Burda is in Davao since Iligan was once a Mindanao football powerhouse that maintained a big rivalry with Davao. Talaroc, a San Beda product, has U23 national team experience and played for Global in the 2015 AFC Cup. The speedy wide player is a super pick up for the team.
Since Cheng is involved with the U22 national team, some of those players will become Aguilas. There is a verbal commitment for Andreas Esswein, a Fil-German late of Global, and it appears Baguio-born centerback Junell Bautista will also don the blue-and-white, as will Cagayanon Franco de la Torre, who, like Talaroc, is a former Red Lion.
There were two foreigners at the launch, Luke MacDonald, a 27-year old goalie from Brisbane, and Trinidadian Darren Mitchell. MacDonald has plenty of experience in Australia's second tier and was nearly signed by Spanish club Recreativo Huelva.  Mitchell will bring firepower in attack.
No doubt more foreigners will be coming in. The club can only have 4, one of which must be from an AFC country, likely MacDonald.
The ground
The Davao Del Norte Sports and Tourism Complex's football stadium will be the team's home field. It's a natural grass surface with a track. On one side is an extremely long grandstand that can accommodate about 2500 spectators. There are no pillars to block spectators' sightlines since the roof is supported from the back. This is in contrast with other, less-well designed grandstands that aren't as fan-friendly. (Cough, McKinley Hill, cough, cough.) An additional covered stand behind the south end brings in another 500 or so sets of eyeballs.
On the side opposite the grandstand there is a regulation-sized training pitch. This is a great feature to the facility that will help save the main field from ruin.
There are lights on the stadium that are very close to being the right specification for the PFL. Improvements are likely to be made.
The surface of the pitch is very lush native grass. PFF General Secretary Ed Gastanes says FIFA recommends the use of native grasses for stadia, probably for easier maintenance. The grass is a bit uneven, though, but as it gets played on, trimmed, rolled, and aerated, and sanded it should become smoother in time.
It's a modern sports venue that really has just a few flaws. The grandstand is set back from the track by about 8 to 10 meters for no apparent reason. There is a stage that sticks out onto that buffer in the middle. For concerts or other events maybe? The stadium is also devoid of a platform for TV cameras that is centered to the field. The roof of the enclosed VIP box doesn't look like it is meant to support people and equipment. The main camera may have to be beside the VIP box and thus off-center.
The team will play in Tagum for the foreseeable future until another stadium comes along, perhaps in UP Davao.
Their chances of success
Davao has already joined one competition, the Stallion preseason cup in Biñan, Laguna last week. They were walloped 7-1 by Global, manhandled 6-0 by Stallion, and suffered a 7-0 beatdown by an American side called Belmont Deft Touch.
Ed Walohan, a former Bedan, scored against Global, to date the only competitive score in franchise history.
Team officials are quick to say that the side in that tournament was far from being their final squad. Many players expected to suit up for the league kickoff were not present in Biñan.
If Davao can secure the John Hancocks of all the players they desire, they could be a very decent side. Plus, home field advantage for DAFC will be pretty big. Any match in Tagum will be a crappy away game for a visiting team.  It already takes an hour and 45 minutes to fly from Manila to Davao. The bus ride to Tagum will need at least an hour, probably more with traffic. 
The first season of Davao Aguilas FC will be a challenging one. But the organization seems prepared to give their all.
When the entire squad was paraded during the launch, the song that boomed out over the loudspeakers was Journey's anthemic "Don't Stop Believing." That just might be the mantra of the fans of Mindanao's newest football team. – Rappler.com
Follow Bob on Twitter @PassionateFanPH.