(3rd UPDATE) His overall score, including the short program, is at 196.79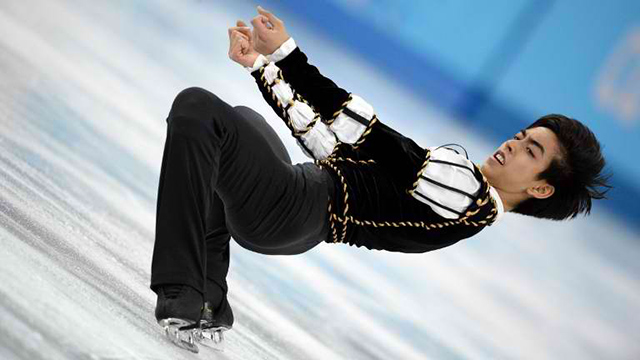 MANILA, Philippines (3rd UPDATE) – Filipino figure skater Michael Christian Martinez opened the 2017 World Figure Skating Championships final on Saturday, April 1 in Helsinki, Finland.
As the first performer, Martinez tallied a segment score of 127.47 with 65.03 for technical elements and 62.44 on presentation. His overall score, including the short program, is at 196.79.
He finished in last place out of a field of 24.
Japan's Yuzuru Hanyu was in first place with a total score of 321.59, while compatriot Shoma Uno came in second with 319.31 points. China's Boyang Jin settled for third place with 303.58 points.
Martinez skated to music titled "Nella Fantasia" but his routine proved generally "erratic" as he was not able to stick his landing on two occasions during his performance. He managed to recover with a strong ending and still earned praise from commentators who noted his jumps were impressive.
Martinez, who hopes to qualify for the 2018 Winter Olympics, appeared emotional after his routine.
The 20-year-old Martinez qualified for the final after scoring 69.32 in the short program and making it to rank 24. Only the top 24 skaters advanced to the final.
Martinez made history in 2014 when he became the first Filipino figure skater to compete in the Winter Olympics. – Rappler.com