(UPDATED) Gilas Pilipinas runs out of steam in a second half meltdown and will have to settle for the classification round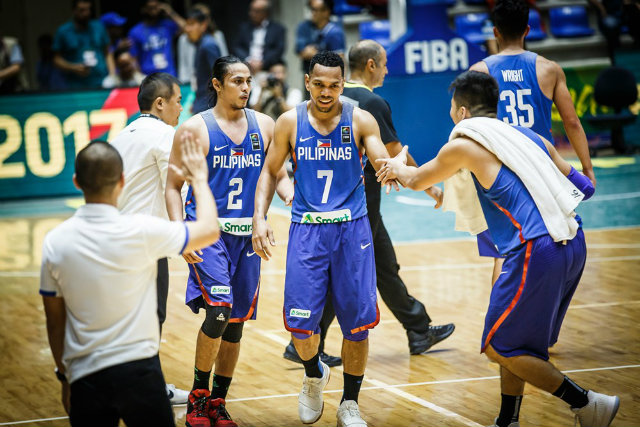 MANILA, Philippines (UPDATED) – Gilas Pilipinas bowed once again to their bitter rivals South Korea, 118-86, in the quarterfinal knockout round of the FIBA Asia Cup 2017 in Beirut, Lebanon on Wednesday, August 16 (Thursday, August 17, Manila time).
The heartbreaker was Gilas Pilipinas' first loss in the tournament, and their 4th straight loss to Korea since the victorious 2013 FIBA Asia Championship, which booked the Philippines' ticket to the 2014 FIBA Basketball World Cup.
Christian Standhardinger started hot in the first quarter as he accumulated 9 points with the help of Jayson Castro, who penetrated through the Korean defense.
Terrence Romeo exploded in the second quarter with a total 22 points, putting a scare on the East Asian team. However, South Korea maintained an 8-point lead by the end of the first half, 57-49, as they shot 73% from the field through two quarters.
South Korea was able to contain Romeo in the second half, enabling them to convincingly outscore the Philippines and end the third quarter with a 24-point lead, 86-62. Despite the presence of Gilas veteran June Mar Fajardo, who made his first tournament appearance in the match after dealing with a calf injury, the Philippines was unable to limit Korea's dominance on the offensive side.
The combined team effort of Korea in both offense and defense cooled down the Nationals' steam, but last minute heroics by Roger Pogoy and Jio Jalalon in dying moments of the match showed Gilas' attempts to cut the lead.
Romeo still led the Philippine team with the 22 points he collected in the second quarter, as he shot 8/15 field goals. Standhardinger followed with 17 points and 4 rebounds. 
Within the victors' squad, veteran Oh Se Keun dominated the match with 22 markers and 5 boards. Seoul SK Knights star Kim Sun Hyung followed closely with 21 points and 4 assists.
Gilas Pilipinas will face the loser of the Iran vs Lebanon knockout match on Saturday, August 19, in the classification round for positions 5 to 8. 
Scores:
Philippines (86) – Romeo 22, Standhardinger 17, Pogoy 12, Castro 11, Aguilar 7, Wright 6, Jalalon 5, Abueva 2, Fajardo 2, Almazan 2.
Korea (118) – Oh 22, Kim S. 21, Kim J. 15, Lee S. 14, Lee J. 11, Park 9, Choi 9, Heo 9, Yang 5, Jeon 3.

– Rappler.com