John Marvin's display of power is too much for Malaysia's Adli Hafidz Mohd Pauzi to handle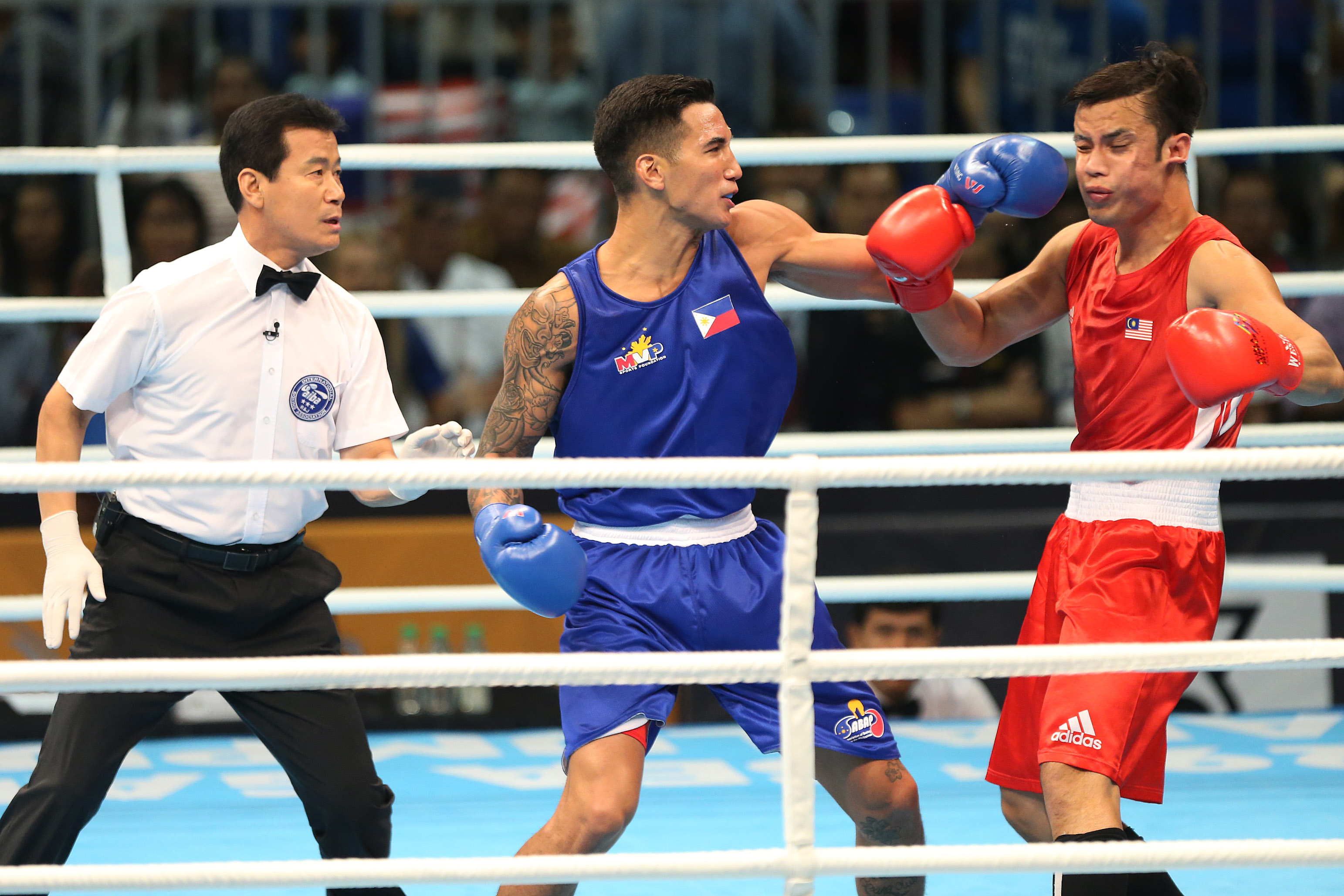 MANILA, Philippines – John Marvin's gold medal match was over just as it began.
Marvin, a Filipino-British light heavyweight, destroyed Malaysia's Adli Hafidz Mohd Pauzi, scoring two standing 8 counts in the span of 30 seconds to deliver the Philippines its second boxing gold medal of the 2017 Southeast Asian Games on Thursday, August 24, in Kuala Lumpur, Malaysia.
The referee had barely moved from center ring before Marvin was all over him, determined to get things over as soon as possible. Marvin plowed forward with a two-fisted assault which saw heavy punches from both hands land cleanly. The shell-shocked Malaysian was given a count and signaled he was alright to continue, but was met with undefended blows which convinced the referee to pull the hometown fighter out and end the contest.
John Marvin of the Philippines destroys his Malaysian foe in a few seconds to win light heavyweight gold #SEAGames2017 @johnmarvin9424 pic.twitter.com/1UAEaBYHC5

— Ryan Songalia (@ryansongalia) August 24, 2017
The official time was 21 seconds, making Marvin, a 24-year-old Lance Corporal in the British Army, 3-0 while fighting under the Philippine flag.
The win gives the Philippines its first gold medal in the light heavyweight division since Raymundo Suico in 1991, and caps off a day which the Filipino boxers began with Mario Fernandez losing the bantamweight gold medal match to Thailand's Chatchai Butdee. Middleweight Eumir Marcial gained a measure of redemption for the Philippine team by outfighting Pathomsak Kuttiya of Thailand for a unanimous decision and the gold medal.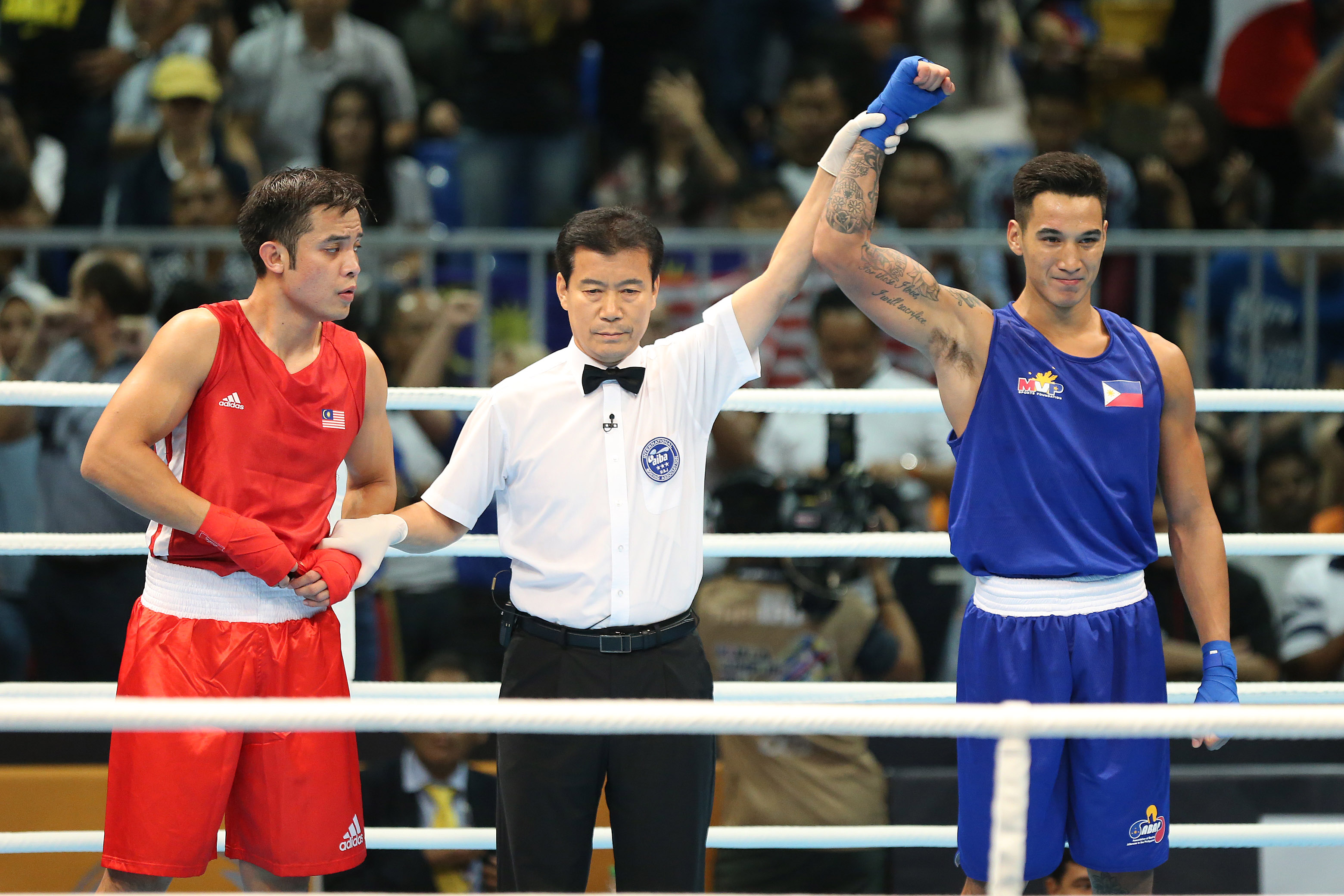 Marvin had said before the fight that he felt he just had to make sure he won. "If the knockout comes then I'll go for it with 10,000 tons of aggression and force."
(FULL PROFILE: Fil-British boxer John Marvin ready to 'smash up' foes at SEA Games)
Marvin, a native of the Isle of Wight in southern England, is a part of the Princess of Wales' Royal Regiment, and a two-time Combined Services Senior Boxing champion. He began his stint with the Philippine team by putting a punishing beating on Cuban-born Cambodian Felix Merlin Martinez, then outbrawling the 2013 gold medalist Anavat Thongkrathok on Tuesday in the semifinals.
"Eumir and John showed a lot of heart," said ABAP executive director Ed Picson. "We couldn't ask for more from them. We foresee a bright future for them both."
"But the 4 other boxers also deserve our appreciation for giving it their all," Marcial added, referencing bronze medalists Charly Suarez and Ian Clark Bautista, silver medalist Mario Fernandez, plus light flyweight Carlo Paalam.
Marvin, a father of two, has a mother who hails from Pampanga and works as a nurse, and a father from England who was a cruise director and professional singer. – Rappler.com