Loreto Carbonell, the flashy forward for the 1956 basketball team which placed seventh in the Melbourne Olympics, has died.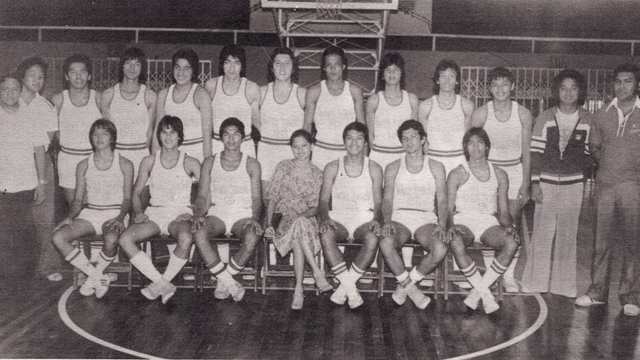 MANILA, Philippines – Loreto Carbonell, the flashy forward whose drives to the basket seemed to defy gravity and who was part of the 1956 Philippine basketball team that placed seventh in the Melbourne Olympics, died of cardiac arrest Saturday, September 23. He was 84 years old.

He was 84 years old. His legs which allowed him to literally float on air had been troubling him. Still Carbonell, until lately, showed up at the NCAA games to consult for San Beda, the college he played for and later brought two NCAA titles to as a coach. 
His son, Jose, said in a phone interview that his father had irregular heartbeat and lost his appetite this year. "He always had an appetite," said his son. Jose said his father could not even go to the wake of former Melbourne and Yco teammate Ramoncito Campos who died earlier this year.

Weight problems never hampered the 5-foot-10 Carbonnell who knew when to control himself and raise his game. "I don't like to be overshadowed even during practice," he said.

This drive, plus the ability to dribble quickly and use the behind the back dribble as taught to him by a priest in Ateneo de Davao made him a star in San Beda. He scored 48 points in a game in 1956, then the NCAA scoring record through shooting and driving to the basket. 

The Jesuit priest, Father Richard Cronin, would play the young lad from Malita town one-on-one once a week at the Ateneo court to develop his dribbling skills. 
His great rival, Carlos Badion of Mapua whose scoring record Carbonell broke, added punch to that 1956 Olympic team led by Carlos Loyzaga and court general Tony Genato and coached by Leo Prieto.

It was a time where team practices were 3 times a week and there was more scope for creativity sometimes construed as selfishness. "You know, I think players may be exposed to too much basketball. You have morning practice, then you watch film of the game," said Carbonell in 2014. 
With glory came pitfall. In the 1958 Asian Games, the Philippines nearly lost the basketball title but managed to keep it through the quotient system. In 1959, the team to the world championship in Chile finished eighth, down from a third place finish in 1954, which is the Philippines' highest basketball achievement.

In 1960, he led the Philippines to the first Asian Basketball Confederation title in Manila. But sinusitis felled him during the tryout for the Rome Olympics. He never played for the national team again but began a second, equally productive career as coach.

In the 1974 MICAA championship, Carbonell led his old team Yco to an upset over the highly-favored Crispa Redmanizers. 
In 1978, San Beda defeated La Salle for the NCAA title in a season marked by the withdrawal of Ateneo.

In 1984, Carbonell was coaching the Beer Hausen Brewmasters in the PBA when they reached the All-Filipino finals, but they lost to Great Taste.  Ramon Fernandez, now Philippine Sports Commissioner, remembers Carbonell as "a cool and mild-mannered coach. It's said he didn't get the right breaks." 
He remained involved in basketball and when he was made team consultant of San Beda, the Red Lions began their winning streak at the NCAA. "The priests said I am their good luck charm," Carbonell joked.

His wake is at Funeraria Paz Sucat, where he'll be displayed until Tuesday. – Rappler.com