Despite the loss, Alvin Pasaol breaks Jeff Napa's record of 43 points in one game with 49 points of his own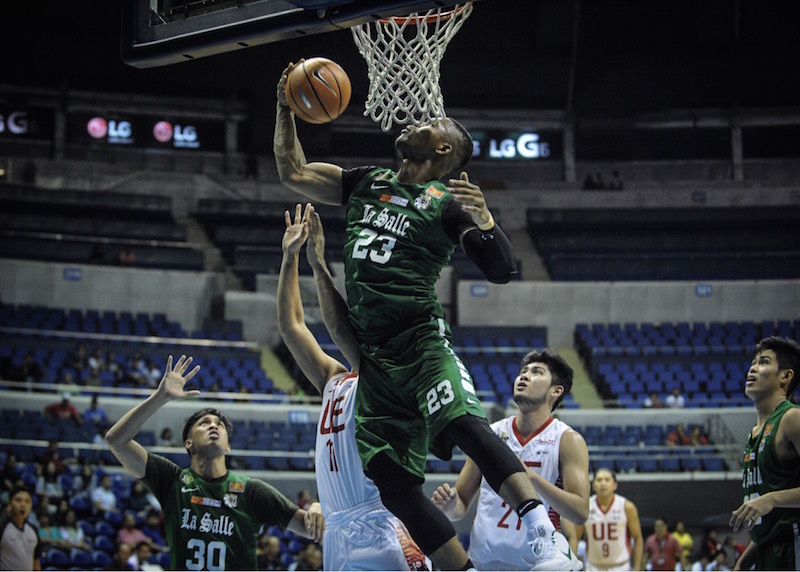 MANILA, Philippines (UPDATED) – The De La Salle University (DLSU) Green Archers continued their winning streak against the University of the East (UE) Red Warriors, 106-100, on Wednesday, October 4, at the Araneta Coliseum. 
Despite the loss, Alvin Pasaol came up big for the Red Warriors, attaining UAAP-high of 49 points since 2002, beating Bulldog legend Jeff Napa's record of 43 points in a single game. 
Montalbo drew first blood by sinking a triple in the first 10 seconds of the game, but Pasaol powered the Red Warriors by going back-to-back to bring the score to a tie for the first time at 15-all. 
The Red Warriors were able to earn a one-point lead in the game via Nick Abanto's charities, but the Rivero brothers handed the lead back to the Green Archers. 
Although the Green Archers ended the first half with a double-digit lead, Pasaol already tallied 24 points by the end of the first half. 
The second half saw the Green Archers almost blow out the winless Red Warriors. However, a hot Pasaol led the Red Warriors' 4th quarter 23-4 run that saw them lose to the defending champions by only 6 points. 
Ben Mbala topped another personal season-high of 39 points, 15 rebounds, 2 assists and 1 steal. Abu Tratter followed with a double-double of 24 points and 10 rebounds. 
Aside from registering 49 points, Pasaol grabbed 8 rebounds and made 4 steals. Philip Manalang backed him up with 14 points, 9 assists and 2 steals. 
This win puts the Green Archers at a 5-1 record, while the Red Warriors are still winless at a 0-6 record in the UAAP Season 80 men's basketball tournament. 
Scores
DLSU (106) – Mbala 39, Tratter 24, Caracut 11, Prince Rivero 8, Ricci Rivero 8, Montalbo 5, Santillan 4, Paraiso 3, Tero 2, Baltazar 2, Capacio 0, Go 0, Gonzales 0.
UE (100) – Pasaol 49, Manalang 14, Olayon 13, Bartolome 6, Varilla 5, Derige 4, Acuno 4, Maloles 2, Abanto 2, Cullar 1, Conner 0. 
Quarter scores: 28-24, 54-42, 80-63, 106-100
– Rappler.com