The former Batang Gilas player shows hustle on the court, helping his college team beat their arch-rivals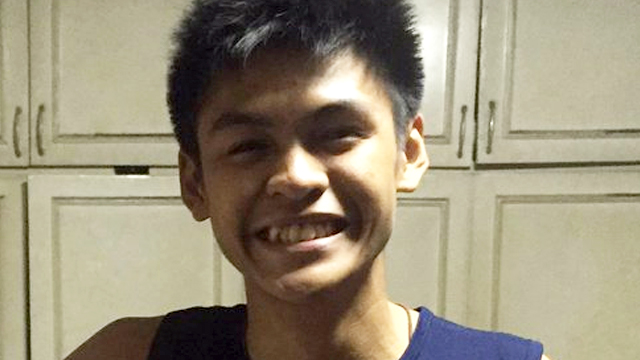 MANILA, Philippines – Remember that youngster who blocked Steph Curry's 3-pointer in a pickup game?
That player was none other than Ateneo Blue Eagles rookie Gian Mamuyac, who once again displayed his hustle in a high-profile situation. This time, however, it wasn't just a friendly scrimmage but rather an actual basketball war against eternal rival and defending champion DLSU Green Archers.
It was a high-drama deadlock until the end, where the heroic free throws of Matt Nieto iced the game, 76-75, and the first round sweep for the 7-0 Eagles. What many people may have already forgotten however, was that it was Mamuyac who caught Nieto's timely interception and passed it back to him for the game-sealing free-throws.
It wasn't a one-off hustle play, either. In only 8 minutes of play, Mamuyac had 3 points from free-throws off hard drives, 3 rebounds with two offensive boards and an assist with no turnovers nor fouls. Those 8 minutes showed, however, that Mamuyac was not afraid of anyone under any big-game circumstances. In another key hustle play in the second quarter where Ateneo's lead was slowly vanishing, he wrestled for the ball against the monstrous MVP Ben Mbala and successfully tapped the rock to a teammate before crashing to the floor.
Despite the limited minutes on the court, the former Batang Gilas Under-16 player savored every second of his first-ever appearance in what was announced as "the greatest rivalry in Philippine sports history."
"Iba pala talaga 'yung feeling," the 18-year old admitted. "In my mind, sabi ko normal game lang 'to pero 'di pala talaga, especially yun nga, [rivalry] game." ("It was a really different feeling. In my mind, I said it's just a normal game but it really wasn't, especially this rivalry game.")
"Sobrang sarap ng feeling na manalo," he added. "Kasi La Salle is the team to beat, and then we won against them." ("It really felt great to win, because La Salle is the team to beat and then we won against them.")
Talking about his tussle with Mbala, Mamuyac recounted, "At first, nung nakita ko kasi si Ben, I was trying to get the foul kasi foul trouble siya, 'di ba? I was trying to fish for a foul pero wala so ayun, buti na lang napasa ko kasi kung hindi, turnover na naman kami or easy basket for La Salle 'yun." 
("At first, when I saw Ben, I was trying to get the foul because he was in foul trouble, right? I was trying to fish for a foul but there was none so there, luckily I passed it because if not, that's another turnover for us or an easy basket for La Salle.")
He then gave credit to his teammates for Ateneo's game-sealing defensive play, saying that they "all did their jobs. We all denied the spots we had to deny. Luckily, natapik lang ni Matt going to me." ("Luckily, Matt tapped it to me.")
Despite his deserved and understandable elation, he knew his role moving forward as a rookie.
"As what Coach Tab [Baldwin] tells us always, we always have to do our job. We'll just take it one game at a time, which is what we've been doing until where we are right now at 7-0."
"Wala sa akin yung [limited] minutes," he added. "Okay lang kahit di makalaro as long as we're winning." ("Limited minutes is nothing for me. It's okay even if I don't play as long as we're winning.")
Gian Mamuyac knows that his journey with the Eagles is far from over, especially with them poised to make another Finals run. Just for that night, victory couldn't taste any sweeter. – Rappler.com