The Ginebra coach defends Glen Rice Jr's character, even after he was ejected for pushing and throwing the ball at Kevin Ferrer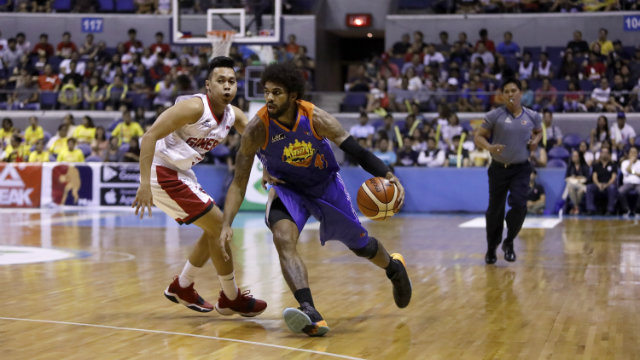 MANILA, Philippines – Despite advancing to the finals of the PBA Governors' Cup finals for the second straight year, Brgy. Ginebra coach Tim Cone had mixed emotions about TNT import Glen Rice Jr's ejection that played a huge factor in the Gin Kings' 115-105 Game 4 win Sunday, October 8. 
Rice Jr was one of the main reasons why the KaTropa held a 35-23 lead in the first quarter after recording 5 assists, 3 rebounds, two points and one assist.

But with only 1:41 left in the period, the high-scoring import was ejected from the game after picking up a flagrant 1 and a technical foul when he pushed and threw the ball at Kevin Ferrer. 
The KaTropa looked inspired even without Rice Jr as they ended the first half with a 66-52 lead but they eventually missed the presence of their prized import.
As TNT failed to find a go-to guy to help it extend the series to a Game 5, Ginebra had Justin Brownlee who sparked the Gin Kings' second half assault by scoring 28 of his career-high 46 points in the finals two quarters.
"I had mixed emotions. Too bad because this was gonna take away from we did this whole series and how hard we played. But on the other hand, we'll take it any way we can get it," Cone said.

"Too bad but yehey. Like I said, mixed emotions." 
Even with Troy Rosario and Jayson Castro holding the fort for TNT with a combined 54 points, the KaTropa badly needed the contributions from Rice Jr who averaged 30.3 points in the series' first 3 games.

"We were just fortunate that Glen Rice left the game. It was unfortunate for everybody else because it took away from the game but it still turned into a great game," added Cone.

Even with Rice Jr's spat with Ferrer, the multi-titled coach defended the import but said his actions came with repercussions. 
"That's the rule, you throw the ball to somebody… sad as it may seem but Glen Rice certainly isn't a bad guy. He's really a great guy out the court but like I said, that was the rule." 
Ginebra will face the Meralco Bolts in a rematch of last year's Governors' Cup finals starting on Friday, October 13, at the Quezon Convention Center in Lucena, City. – Rappler.com