Folayang returns to action on November 10 to defend his lightweight title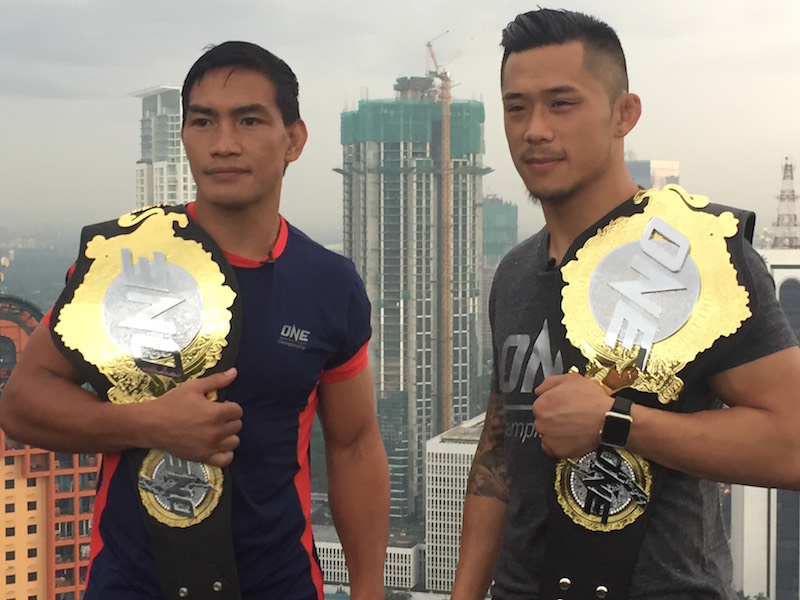 MANILA, Philippines – In a champion versus champion situation where Eduard Folayang's lightweight championship is on the line, one could conclude that he has little to gain and everything to lose. 
This is exactly the scenario come November 10 when Folayang returns to action to defend his ONE Championship lightweight title against ONE featherweight champion Martin Nguyen in the Mall of Asia Arena. 
Adding the fact that Nguyen intends to vacate the title should he win, it really is a must-win situation for the Filipino champ. "Look, my goal isn't to stay in the lightweight division; my goal isn't even to fight in the lightweight division. I wanted to go down and fight Bibiano [Fernandes]," said the challenger.
"In terms of why I'm fighting [Folayang], the aim is to make history in ONE Championship. It's very rare that these opportunities come," said Nguyen who could become the first fighter in ONE Championship's history to hold two titles simultaneously.
It is no secret that Folayang has the size advantage being an inch taller than his 28 year old Vietnamese-Australian foe, and he claimed that the key to victory is taking advantage of the opponent's weaknesses."As a bigger fighter, advantage ko yung size ko. As a smaller fighter naman, yung bilis niya naman ang ilalaban niya do'n," the 33 year old said, "Kung pa'no siguro naming laruin yung advantage at disadvantage ng bawat isa ang magdi-dictate kung sino ang mananalo," he added. (As a bigger fighter, my size is my advantage. As a smaller fighter, speed is his advantage. How we play to our advantage and against the opponent's disadvantage will dictate the winner." )
Coming into the fight, Folayang is the favorite because of his size and experience advantage, which his challenger also believes. Asked on who he thinks the underdog is, Nguyen replied, "Heavily me. I'm the biggest underdog [now] than in every single fight that I'm the underdog in." 
However, this does not bother the featherweight champ. "I don't care, man. I mean it's all about entertainment at the end of the day, whether that'll be screaming or booing or whatever, it's for their entertainment," Nguyen said.
Stepping Up to the Role 
During his first title defense against Malaysian fighter Ev Ting, Folayang said that fighting in his hometown added to the pressure of the match. Once again, the Team Lakay leader will have the hometown advantage and he claimed that he is getting more comfortable in defending in home soil. 
"Siyempre kahit saan naman tayo lalaban talagang hindi mawawala yung pressure pero I think I'm beginning to adjust," said Folayang, "And mentally kailangan ko ding i-prepare yung sarili ko na – alam mo yun – there's a lot [expected from] you, but you need to do your part as a champion," Folayang said. (Of course, there is pressure no matter where I fight but I think I'm beginning to adjust. And mentally I also need to prepare myself – you know – there's a lot [expected from] you, but you need to do your part as a champion.) 
In recent years Folayang has turned into the face of Philippine MMA and according to Nguyen, he admires that about the Baguio native. "Eduard's not only a very good fighter, what inspires me about Eduard is that he inspires the younger generation," Nguyen stated.
Fireworks
The main event of ONE Championship's "Legends of the World" card is going to be a showcase of two strikers in Folayang and Nguyen, who are champions in their respective divisions. 
"I think this will be a good fight. Kung sa'n siya malakas yun din yung area kung saan malakas ako," Folayang stated. (I think this will be a good fight. His area of strength is also where I excel in. )
Nguyen – who is pegged as the underdog – has never went to distance during his MMA career. Asked whether he thinks he can continue his streak of stoppages against the Filipino cage fighter, Nguyen replied, "Let's put it this way, the fight won't go to distance. [Either] he's finishing me or I'm finishing him." – Rappler.com