Ricci Rivero's charities salvage the triumph for La Salle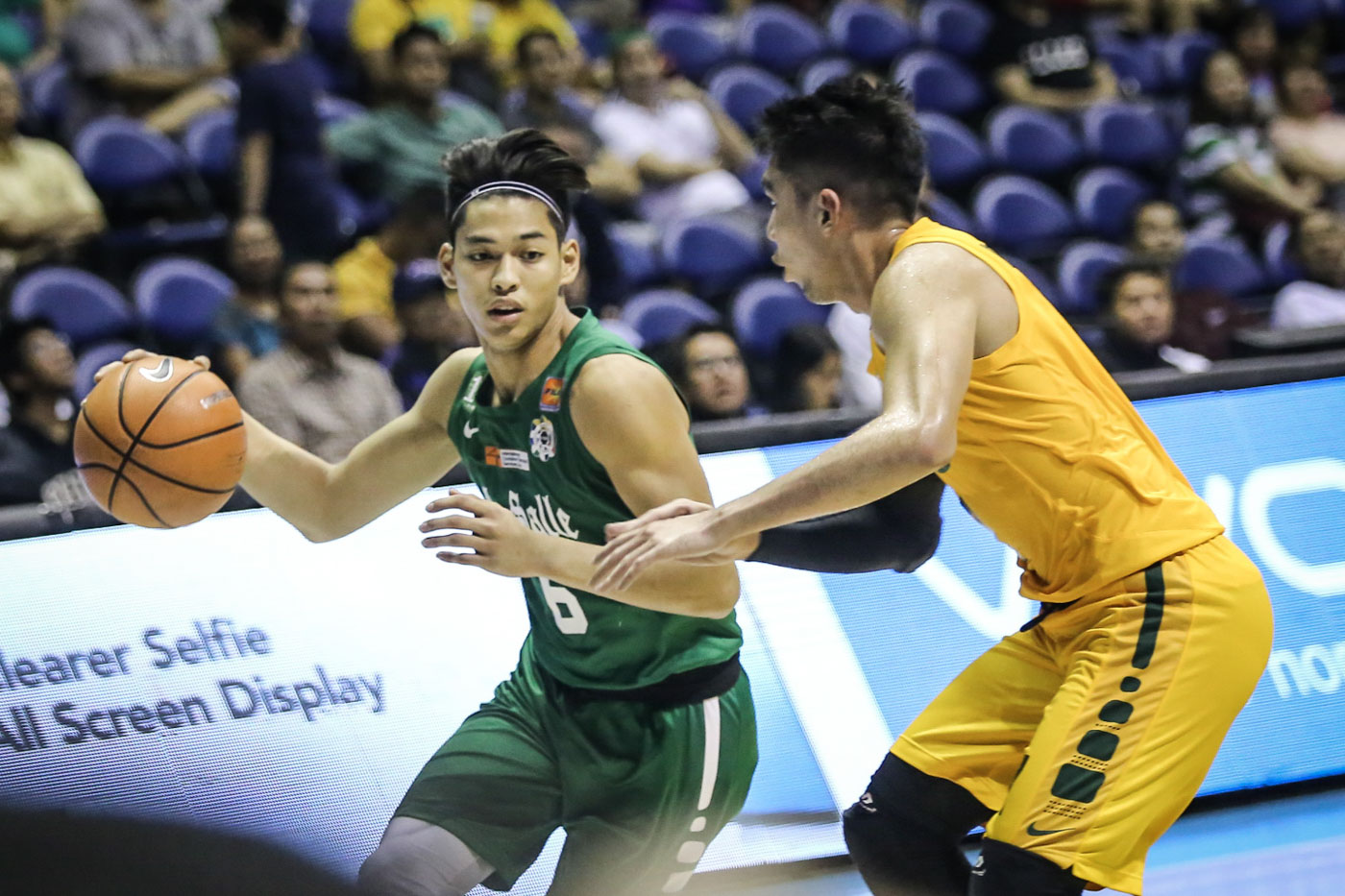 MANILA, Philippines – The Green Archers survived a tight match against the FEU Tamaraws to squeeze out  75-73 win Wednesday, October 11 at the Araneta Coliseum. 
The Green Archers broke free of the Tamaraws' efforts to limit their offense as FEU came within one point in the final frame. However, Jollo Go went back-to-back with a triple and step-back jumper to give back the space to the Green Archers. 
A Prince Orizu bucket got the Tamaraws within 1 point again in the last 10 seconds of the game, but Ricci Rivero's charities salvaged the win for the Green Archers. 
Both the Green Archers and the Tamaraws were coming off losses to the blue birds of the league. The Adamson Falcons snapped the Tamaraws' winning streak, while the Blue Eagles bested their archrivals by via Matt Nieto's heroics on the line. 
The Green Archers overtook the Tamaraws' 4-0 start to balloon the lead to a 10-point cushion in the first. But the Tamaraws rallied back with an 8-3 run to cut the lead by half. 
Rivero then powered the Green Archers in the second quarter as he made a solo 8-0 run to extend the DLSU's run to 16-3. FEU captain Ron Dennison then stopped the bleeding with a triple, which ignited the Tamaraws' late 11-3 run as the minutes died out in the second. 
DLSU bombed the third with a 9-0 start to the second half until the game sparked into a 3-point shootout highlighted by Go's two triples in the quarter alone. 
Ricci Rivero led the Green Archers with 20 points and made 2 rebounds, 4 assists and 5 steals. Ben Mbala managed another double-double with 18 markers and 17 boards. He also made 2 assists and 1 steal in the game. 
Kenneth Tuffin tallied 14 points and 4 rebounds, while Hubert Cani followed with 13 points, 5 rebounds and 5 assists. 
This win put the Green Archers at a 6-2 record, while the Tamaraws fall to a 4-4 slate in the UAAP Season 80 men's basketball tournament. 
The Scores
DLSU (75) – Rivero R. 20, Mbala 18, Go 14, Rivero P. 8, Caracut 7, Santillan 3, Tratter 3, Montalbo 2, Gonzales 0, Paraiso 0.
FEU (73) – Tuffin 14, Cani 13, Dennison 10, Parker 9, Eboña 8. Escoto 7, Orizu 7, Iñigo 3, Ramirez 2, Stockton 0, Trinidad 0, Comboy 0.
Quarter scores: 18-13, 39-35, 62-56, 75-73
– Rappler.com