Basketball is in his blood, but it wasn't until late in his childhood that the USJR Jaguars' star made his move on the court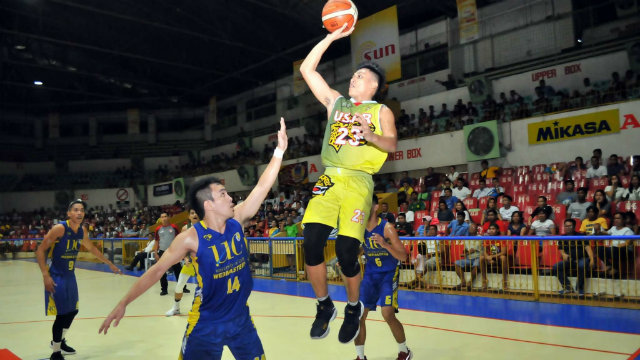 CEBU CITY, Philippines – The third time was the charm for Juan Miguel Gastador, who finally earned recognition as CESAFI's Slam Dunk King this year. 
Gastador's 360 slam dunk earned him 50 points and the title at the CESAFI All-Star event on October 1. He advanced to the final round after wowing the crowd and the judges with a tomahawk dunk that gave him 49 points.  
The University of San Jose Recoletos (USJR) Jaguars forward had been picked for the third straight time to compete in the Slam Dunk contest.
Although he's been wowing the crowd with his acrobatic dunks, rules which put priority on the dunk going in rather than on the creativity and style of the attempt, had him missing out on the title. 
"Of course, I'm very happy that finally I won the title," said Gastador.
In previous slam dunk contests, judges were to give an automatic 6 points for a missed dunk. This year, each player was given 3 attempts with the judges to score the best attempt.
"I'm not really blaming the league for its rules because it is what it is and I had also faults in some of my attempts for the past slam dunk competitions," said Gastador.  
"Although the title is important for me but to entertain the crowd is more precious than the crown," added the 6-foot tall player. 
Prioritizing the Jaguars' quest for the title, Gastador said he did not have time to prepare for the All-Star contest. 
The only time this BSBA – HRDM 3 student gets to practice on his dunks is also during the team practices. 
The 21-year-old cager has been a member of the USJR Jaguars for 3 years now. 
Despite growing up with a father who in his college days was the team captain of the basketball varsity of the Cebu Central Colleges now University of Cebu, Gastador only started his basketball career when he was a freshman in high school. He was only a reserve for the UC Junior Webmasters for his first 3 years. It was only when he was already in his fourth year of secondary education that he was  able to play for the CESAFI Juniors. 
As a young kid, Gastador used to practice shooting in a basketball court in their place but he was never allowed to play in leagues and not even in his school because he said he was too much of a bully. 
Aside from him, Gastador said he has an older brother who is also the captain for the UC Nursing team in Banilad. 
Their father's influence in their chosen sport could not be denied, and even at 54 years old, the older Gastador is still playing basketball.
"For me it's not why basketball, it is why not basketball? It's a great sport where you can learn lots of things, meet different kinds of people with different kinds of personalities. But the most important in this team sport is you can have new families and brothers. More than just a game," said Gastador. 
Gastador lists having played against two PBA teams – Meralco and NLEX last November as his biggest achievement in the sport so far. 
And, just like many collegiate players, Gastador also hopes to play as a pro someday. 
"Of course I want to finish my studies through basketball and if given a chance, I want to play in the pros."
And, Gastador knows that this will not happen without the support of many.
"I just want to say thank you to all the Josenians and to all the people who supported us this season. We did our best but we fell short. Hopefully we can bounce back next season. CESAFI is a great league, we have lots of talents here, we must not take advantage from it, let's support this league big time and we have a long way to go." 
The USJR Jaguars ended their CESAFI campaign this year with a third place finish. – Rappler.com