Meralco had a lot of open shots that they failed to sink, and Ginebra coach Tim Cone reminds his team not to expect that to continue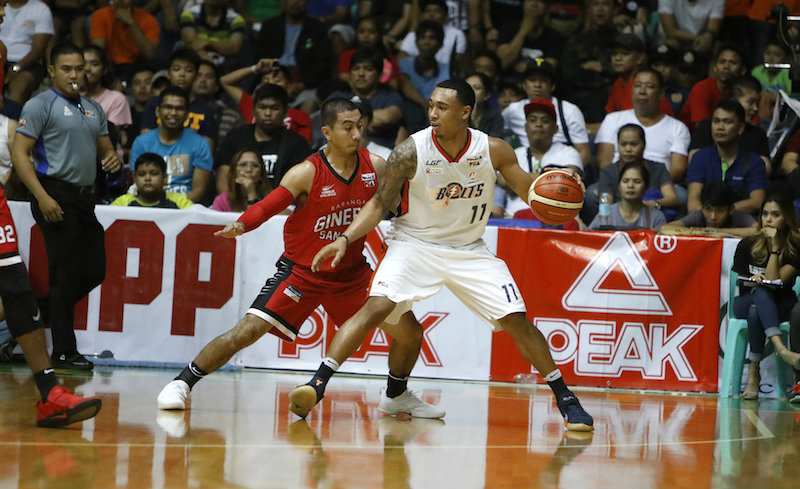 LUCENA CITY, Philippines—Despite blowing out the Meralco Bolts by 15 points to take Game 1 of the best-of-7 Governors' Cup finals, Barangay Ginebra head coach Tim Cone does not want the win to be much of a big deal for his wards. 
Following the Gin Kings' 102-87 rout of the Bolts yesterday, Cone told the press that Ginebra just got the Bolts on a bad shooting night. 
Meralco, which leads the league in three-point shooting (37 percent) and is second in free throw accuracy (73 percent), failed to find its offensive rhythm as it shot a paltry 24 percent from downtown and 58 percent from the stripe. 
"They had a lot of open shots, they didn't hit them. A lot of open threes, that's where they've been good at all conference long, that's just an anomaly tonight that they missed shots," said the multi-titled tactician. 
It did not help Meralco's cause that the Gin Kings have the biggest frontcourt in the league with twin towers Greg Slaughter and Japeth Aguilar as the Bolts were outrebounded, 40-60, and outscored in the paint, 44-54. 
But Cone said their Game 1 victory should be taken with a "grain of salt," citing that Meralco won Game 1 of their finals clash last year but ended up losing the title in 6 games. 
"That's a cautionary tale for us, we just gotta make sure we don't make too big of a deal out of this game."
Game 2 of the finals will be held on Sunday, October 15, at Araneta Coliseum and the 59-year-old coach expects the Bolts to come with a bounce back game. 
"They're gonna have that emotion coming to Game 2 because they are coming from a loss so we gotta figure out a way to battle that emotion," Cone added. – Rappler.com