Mark Anthony Barriga boxes his way to a unanimous decision win while AJ Banal shakes off some ring rust after two years out of the ring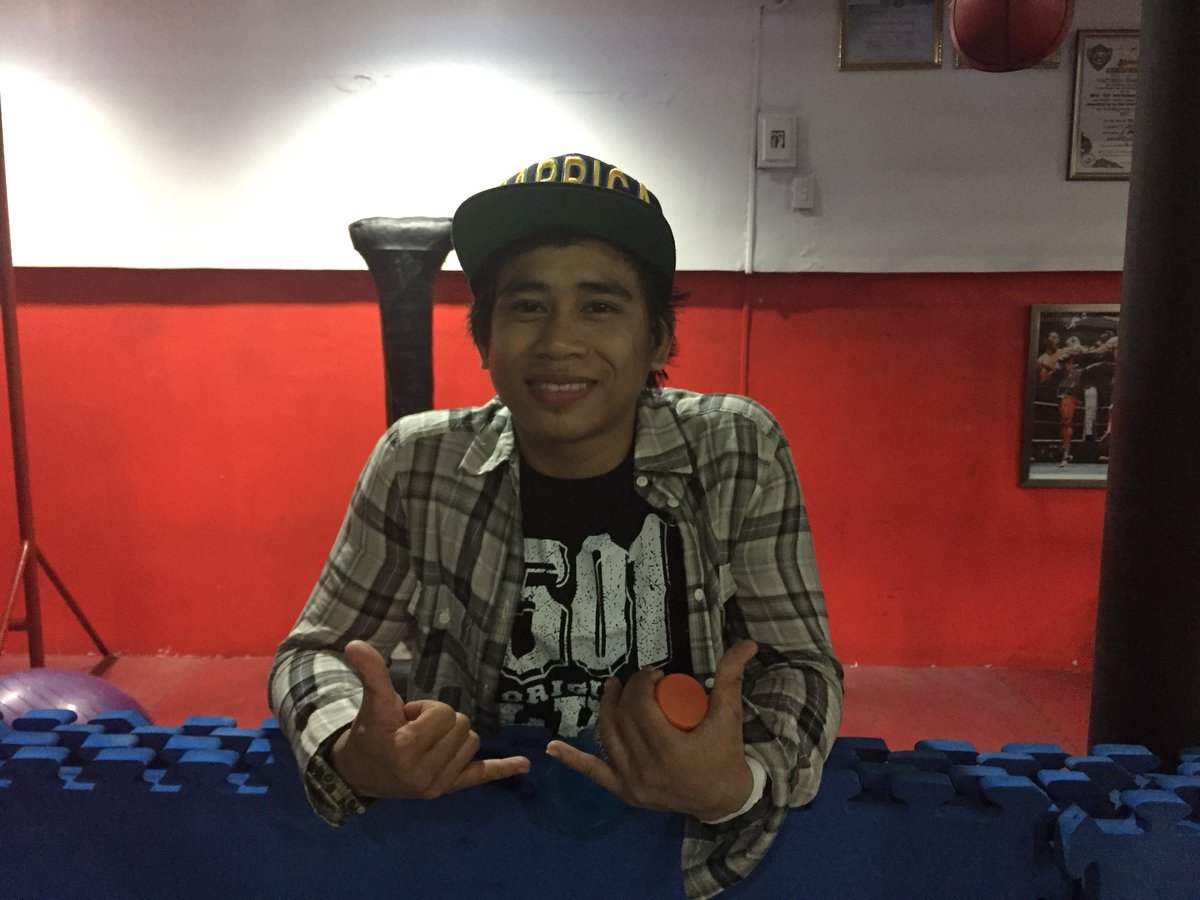 MANILA, Philippines – Mark Anthony Barriga brought his hit-and-don't-be-hit show back to Metro Manila, outboxing Glenne Calacar for his eighth win as a pro and winning a unanimous decision, Saturday, December 16, at Makati Cinema Square Arena.  
Barriga (8-0, 1 knockout) earned marks of 97-92 on two cards and 98-91 on the third, with a 10-8 round for a knockdown scored on a quick counterpunch in the fourth. Despite his dominance against Calacar (3-2-6, 1 KO), a former amateur teammate of Barriga's from Davao del Sur, Barriga was content to potshot and move after a punishing first round, never pushing his advantage or pursuing a knockout.
What Barriga did show was that he'd been studying the moves of Vasyl Lomachenko, stepping behind his opponent when he tried to hold, and landing cleanly with his back hand as a lead ala Floyd Mayweather.
"He's a good boxer, sometimes you have a fighter or opponent, he knows what is your style, he studies you," said Barriga, 24, of his opponent. "Sometimes he checked my style, that's why sometimes it's so hard to get him." 
MP Promotions matchmaker Sean Gibbons, who was in town to announce the next title defense for IBF junior bantamweight champ Jerwin Ancajas earlier in the day, said he sees the case to fast-track Barriga into the world title picture due to his extensive amateur background and experience as a 2012 Olympian. 
"I could see him absolutely fighting early next year for an IBF eliminator or WBO, and then potentially a world title by the end of the year," said Gibbons. Barriga is ranked number 5 by the IBF at 105 pounds, where the champion is Hiroto Kyoguchi of Japan, while Japan's Ryuya Yamanaka holds the title with the WBO, where Barriga is ranked number 6.
The fight was Barriga's fifth of 2017, and first since he outclassed two-time world title challenger Samartlek Kokietgym in Beijing to win the WBO International minimumweight title in Beijing, China.
"For me I'm always ready. I'm waiting for Sir Sean and Coach Joven [Jimenez] for the chances that they give to me," said Barriga about potential title fights. "As a boxer I'm always waiting and I'll always grab the opportunity."
Earlier in the night, AJ Banal made his return to the ring after two years on the sidelines, winning a 6-round split decision over Jason Egera. It wasn't a scintillating performance for "Bazooka," the former Pinoy Pride star who has left the ALA Gym and is now based in Magallanes, Cavite, and had trainer Joven Jimenez in his corner. Banal, who previously challenged for titles at 115 and 118 pounds, was fighting at 137 pounds – same as his opponent – after entering training camp two months ago at 160 pounds. 
The scores were 58-56 and 59-55 for the 28-year-old Banal, while the third had it 58-56 for Egera.
Banal (35-2-1, 23 KOs) did his best work in the second and fifth rounds, rocking Egera (23-19-1, 11 KOs) with right hooks but taking breaks in his activity and allowing Egera to get off his own punches. Banal says he was "gigil" in the ring, and wanted an early knockout, but heeded his trainer's call to take the power off his punches and go with the flow. 
"Coach said, 'AJ just relax, I don't want you to knock out your opponent. I want you going the rounds,'" said Banal. "But for me, I wanted an early rounds knockout. But I listened to what the coach said." 
Banal had been working part-time as a trainer at an Elorde Gym franchise before returning to the ring. He was put in contact with Jimenez by Rodel Mayol, a former champion and current trainer at the Wild Card Gym in Los Angeles. He said he wants to take a few months to cut down in weight and return as a featherweight. 
In the main event, Ivan Soriano scored a knockdown in round 4 and held on to outpoint Jaysever Abcede to win the interim OPBF light flyweight title by 12-round decision. Soriano (17-1-1, 8 KOs) of General Santos City overcame a garish cut in the middle of his forehead caused by an accidental head clash in round 8 to outpoint Abcede (15-8, 10 KOs) by the scores 117-110 on two cards and 116-111 on the third. 
Soriano, 29, had missed 4 years of his career due to an abnormal Electrocardiography result before returning to the ring earlier this year, his trainer Jhun Agrabio said, and looked sharp once the bell rang, keeping his opponent off balance with a stiff jab and accurate right hands through the guard. 
Afterwards, Soriano was stitched up at the back of the arena by his trainer, with the whole camp smiling as they relished victory.
Soriano will earn a shot at the OPBF title currently held by Edward Heno, who will face former WBO strawweight titleholder Merlito Sabillo on February 17 in Bacolod, OPBF chairman Abraham "Baham" Mitra said. – Rappler.com
The fights from Saturday night will be available to view on Rappler's YouTube page on delay.