Kiefer Ravena contributes 18 points, 12 assists and 7 rebounds in his first game in the PBA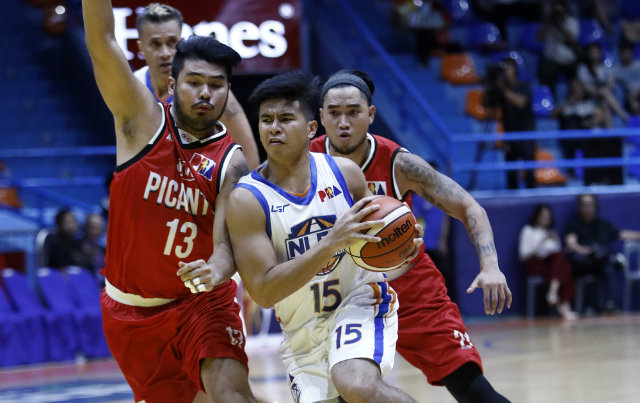 MANILA, Philippines (UPDATED) – Kiefer Ravena tallied a double-double in his PBA debut to lead the NLEX Road Warriors in a gritty 119-115 triumph over the Kia Picanto in their conference opener of the 2018 Philippine Cup at the Arena in San Juan Wednesday, December 20. 
Ravena showed maturity beyond his years as he produced team-highs of 18 points and 12 assists for NLEX, which came back from as much as 13 points in the first half. "The Phenom" also had 7 rebounds and two steals. 
Kia tied the game at 113-all in the 1:28 mark following Jay-R Reyes' post conversion but Larry Fonacier completed a 4-point play off a Philip Paniamogan foul that put the Road Warriors up 117-113 with 1:06 to go.
Reyes scored again from down low to keep the Picanto within striking distance, 115-117. Paniamogan and Reyes' back-to-back attempts from long range for a potential Kia go-ahead basket missed as JR Quinahan put the game away for NLEX by securing his freebies. 
Ravena knocks down the triple off a Fonacier feed for his first PBA bucket! #WeArePBA pic.twitter.com/lcVHwpHqiY

— PBA (@pbaconnect) December 20, 2017
It was not just Ravena who shone for the Road Warriors as 7 other NLEX players reached double figures.  
Kevin Alas and Michael Miranda combined for 28 points while Alex Mallari chipped in 13 markers. Fonacier, Quinahan and Rabeh Al-Hussaini all had 12 apiece.  
"It was exactly as we expected. It was a hard earned win for us. They shot really well especially in the first half. I don't know if they were just really shooting well or we were just playing bad defense. I knew somehow they were going to miss some shots in the second half," said NLEX head coach Yeng Guiao. 
The Picanto scored 40 points in the first quarter and continued their offensive onslaught in the second period, leading 57-44 before NLEX closed the gap at 68-64 at the end of the first half.  
Kia ballooned its lead to double digits again earlier in the third period, 76-66, but the Road Warriors unloaded a 10-0 blitz to tie the game.

Eric Camson starred for Kia with 24 points, 15 coming in the first quarter alone, to go with 9 boards while Rashawn McCarthy and Jackson Corpuz added 14 and 13, respectively. 
Scores: 
NLEX 119 – Ravena 18, Miranda 14, Alas 14, Mallari 13, Fonacier 12, Al-Hussaini 12, Quiñahan 12, Tiongson 11, Baguio 5, Soyud 4, Ighalo 4, Taulava 0
KIA 115 – Camson 24, McCarthy 14, Corpuz 13, Reyes 12, Galanza 12, Celda 9, Ababou 9, Khobuntin 8, Paniamogan 7, Tubid 4, Yee 3, Caperal 0 
Quarter scores: 36-40, 64-68, 90-92, 119-115. – Rappler.com