Johnson and Thomas put their disagreements behind them in an emotional reconciliation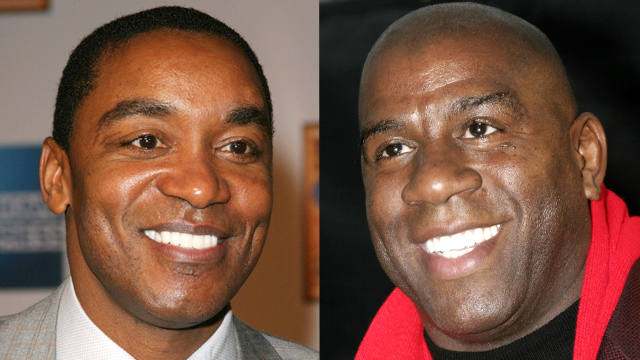 MANILA, Philippines – Basketball Hall of Famers Magic Johnson and Isiah Thomas formally reconciled their strained friendship in a sit-down interview for Players Only Monthly, which aired on Wednesday, December 20.
In a condensed highlight of the interview by NBA TV, Johnson reminisced their glory days as friendly rivals when they were dominating the NBA in the 1980s before apologizing to Thomas.
Voice breaking, the Los Angeles Lakers legend said, "You are my brother. Let me apologize to you that we haven't been together. God is good for bringing us back together."
Although known throughout history as one of the original outspoken "Bad Boys" of the Detroit Pistons, Thomas only sat in silence and broke down in tears as Johnson spoke. The two legends then shared a lengthy embrace.
"Let me apologize to you. If I hurt you. That we haven't been together."#PlayersOnlyMonthly pic.twitter.com/nDpfDfZek8

— NBA TV (@NBATV) December 20, 2017
After battling in the 1989 NBA Finals as good friends, Johnson and Thomas' friendship took a turn for the worse after Johnson publicly admitted in 1991 that he had acquired HIV. In his 2009 book "When the Game Was Ours" co-authored with Boston Celtics legend Larry Bird, Johnson admits he helped keep Thomas off the 1992 Olympic "Dream Team" because he believed that Thomas spread a rumor that he was gay.
Thomas denied this speculation and told Sports Illustrated that he felt "blindsided" by Johnson's allegations. In support of the Pistons legend, NBA all-time assists leader and Utah Jazz legend John Stockton chose Thomas as his presenter in the Naismith Memorial Hall of Fame.
"He's done some things behind the scenes that people don't know about," Stockton told Utah-based publication The Salt Lake Tribune. "I'm certainly not going to talk about them now … but he's shown a lot of class."
Until this year, Johnson and Thomas have avoided contact with each other before cooler heads prevailed.
Thomas was inducted in the Hall of Fame in 2000. Johnson followed suit two years later. Thomas was a two-time NBA Champion with the Pistons while Johnson netted 5 titles with the Lakers. Both players combined for 24 All-Star appearances, 12 All-NBA First Team selections and respective spots in the NBA's 50 Greatest Players list. – Rappler.com