Even with Curry out with an ankle injury, the Warriors have won 10 straight and are half a game behind Houston for the best record in the league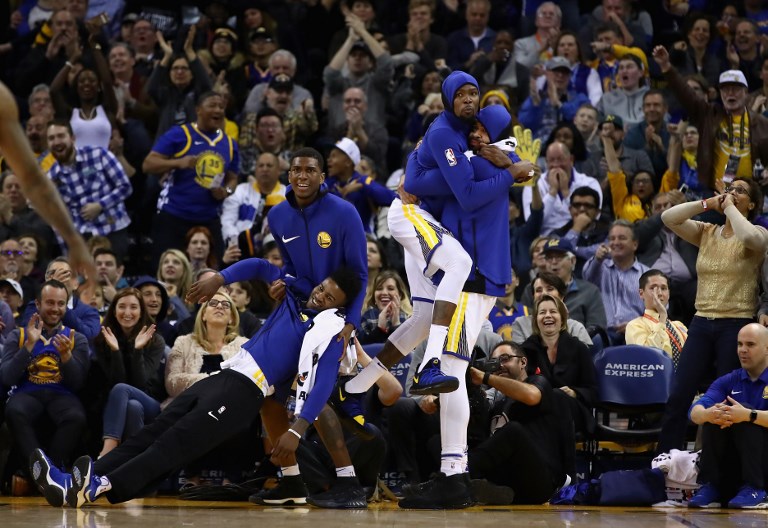 WASHINGTON, USA – Despite an injury to star guard Stephen Curry and a charge by the improved Houston Rockets, the defending NBA champion Golden State Warriors are sizzling ahead of their Christmas Day showdown with Cleveland.
The Warriors have won 10 games in a row to stand 25-6, just behind Houston (25-5) for the NBA's best record as they prepare to play a holiday matchup against LeBron James and the Cavaliers (23-9) for the third year in a row, this time without two-time Most Valuable Player Curry.
"We're winning games and dealing with the injuries. That's what you have to do," Warriors coach Steve Kerr said on a team teleconference Thursday. 
"When you've been to the finals a few years in a row it's going to be more difficult. That's what we're facing now, the wear and tear of the journey."
The Warriors beat Cleveland in the 2015 and 2017 NBA Finals and lost a seventh-game thriller to the Cavs in 2016. They have become traditional December 25 foes as well.
"We'll celebrate Christmas the day before," Warriors forward David West said. 
"It's something we've gotten used to. We have to do it just about every Christmas."
Being familiar with the Cavaliers just adds to the intensity of the matchup, Georgian center Zaza Pachulia said.
"It's a great opportunity to play in front of millions of people all over the world," he said. "Playing the Cavs makes it even more special. It's going to be a pretty interesting, pretty intense game."
A nagging right ankle sprain means they will be without Curry, who is averaging 26.3 points, 6.6 assists, 5.1 rebounds and 1.7 steals a game. But bench depth and teamwork have helped Golden State scarcely miss a step in his absence.
"We've got a great streak going now. This tells you how deep we are," Pachulia said. "It's pretty amazing we're having such an experience. Whoever you put out there is capable of playing the level of basketball we've been playing."
Adding to the excitement is the expected matchup between James and Golden State star Kevin Durant.
"Kevin has been good this year, using his length and blocking a lot of shots," Kerr said. "He's going to have a great matchup with LeBron on Christmas Day. That's always one of the best matchups of the season."
Houston 'pushes us to get even better'
The Rockets, who host Golden State on January 4, beat the Warriors 122-121 in Oakland in the season opener. It's a defeat still in the minds of the reigning champions as a rematch with James Harden and Chris Paul looms.
"The Rockets are playing phenomenal this year. It pushes us to get even better," Warriors guard Klay Thompson said. "We're looking forward to that game in a few weeks. We owe them some revenge."
But Pachulia's thoughts are for the long term and what could be a third title in 4 seasons come June.
"It's a long season. We can't worry about the others. We have to worry about what's in our control, what's in our hands," Pachulia said. "When we play at a high level, we can beat anybody." – Rappler.com