Beasley turns in his third 30-point game of the season, making up for Porzingis' poor shooting night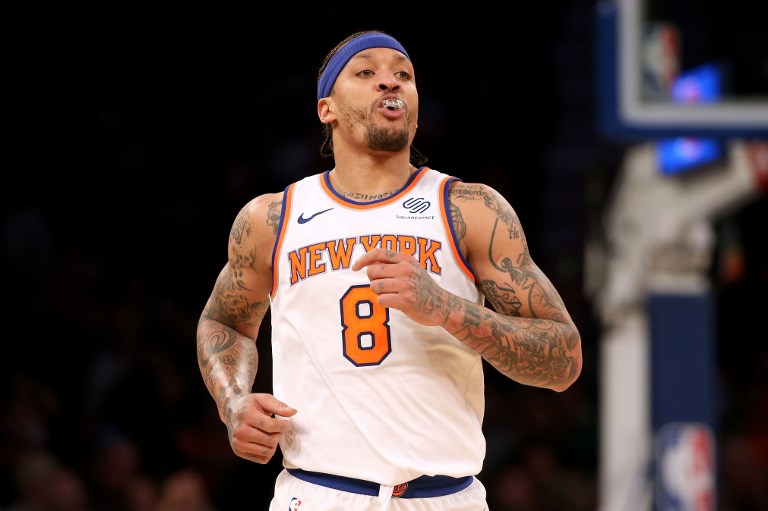 LOS ANGELES, USA – Michael Beasley was the unlikely hero in the New York Knicks' upset of NBA Eastern Conference leaders Boston Thursday, December 21 (Friday Manila time) exploding for 32 points to fuel a 102-93 triumph over the Celtics.
Beasley's effort off the bench – including 28 points in the second half – had "M-V-P" chants ringing around Madison Square Garden.
He more than compensated for Kristaps Porzingis' worst NBA game: an 0-for-11 shooting display that yielded one point and saw the Knicks' Latvian star sit out the final 17 minutes.
With the Knicks down by 9, Beasley came in for Porzingis with 5:37 left in the third quarter and promptly scored 10 points in 5 minutes.
"I'm just here for the team," Beasley said. "Whatever they need, whenever they need it. Scoring, rebounding, defense, just trying my best. As humbly as I can say it, I just feel like every shot that I shoot is going in."
His jump shot sealed the victory with 1:06 left to play, handing the Celtics a second defeat in as many nights after a one-point loss to the Miami Heat in Boston on Wednesday.
"Mike knows his role. If KP's out he obviously gets the bigger minutes," Knicks coach Jeff Hornacek said. "I thought he played great in filling in for him. He really helped us get some points on the board."
Porzingis, who had missed two games with a sore knee, was hoping to expunge the memory of a dismal shooting night against the Celtics in the first week of the season, when he connected on just three of 14 shots from the floor.
Instead, he was even worse, missing all 11 of his shots in the first half and not even attempting one in the second.
Kyrie Irving scored 32 points for the Celtics, who lost back-to-back games for the first time this campaign. – Rappler.com