Gary Harris scored 19 points to lead 5 Denver players in double figures.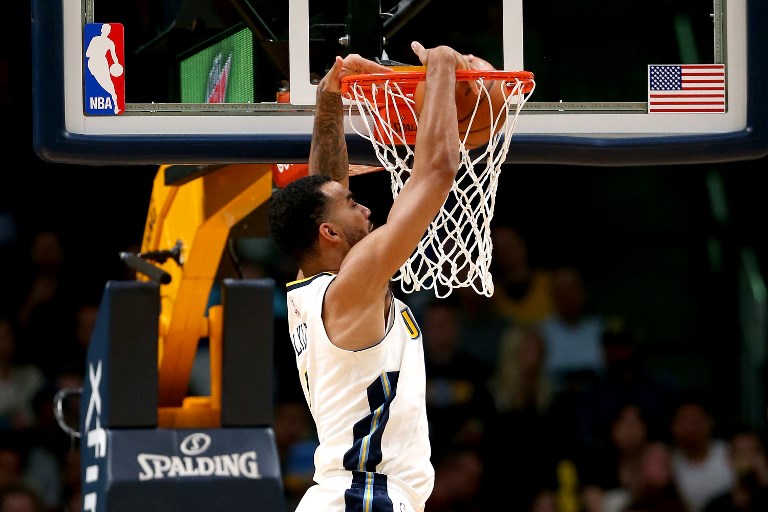 LOS ANGELES, USA – The Denver Nuggets ended the Golden State Warriors' 11-game winning streak in emphatic style on Saturday, stunning the reigning NBA champions 96-81 in Oakland.
The Warriors' normally prolific offense was nowhere in evidence as they produced a season low in points – connecting on just 32 of their 83 shots from the field and just 3-of-27 attempts from three-point range.
It was a second impressive win in two nights for the Nuggets, who beat the Trail Blazers in Portland on Friday.
Denver harried Warriors stars Kevin Durant and Klay Thompson into a combined 12-for-38 shooting, including one-for-15 from three-point range.
The Warriors coughed up 19 turnovers leading to 21 Denver points.
It was a far cry from the teams' meeting earlier this season, when the Warriors produced 18 three-pointers in a 127-108 victory in Denver.
Gary Harris scored 19 points to lead 5 Denver players in double figures.
Nikola Jokic added 18 points, Wilson Chandler and Trey Lyles scored 15 apiece and Jamal Murray chipped in 14 for the Nuggets.
The Nuggets led by as many as six points in the first quarter and by 14 in both the second and third.
The Warriors never got the deficit below 11 points in the final period.
Durant, who missed all 5 of his three-point attempts, still led Golden State with 18 points.
Thompson finished with 15 for a Warriors team that now must regroup before a Christmas Day showdown with the Cleveland Cavaliers – a rematch of the last 3 NBA Finals.
Draymond Green added 10 points with 6 assists and 5 rebounds for the Warriors.
However, Green's efforts to infuse some intensity couldn't help Golden State's flagging offense, and he was left fuming when he took an elbow to the face from Jokic in the fourth quarter.
Denver, leading 22-20 after the first quarter, produced an 11-0 scoring run to take a 48-35 lead with 3:45 left in the first half.
Golden State's stone-cold shooting was evident early.
After Green drained a three-pointer on the Warriors' first possession of the contest, Golden State missed their remaining 10 from beyond the arc before the interval. – Rappler.com