Jerwin Ancajas admits feeling pressured to live up to the 'next Manny Pacquiao' tag, but he's focused on making his own legacy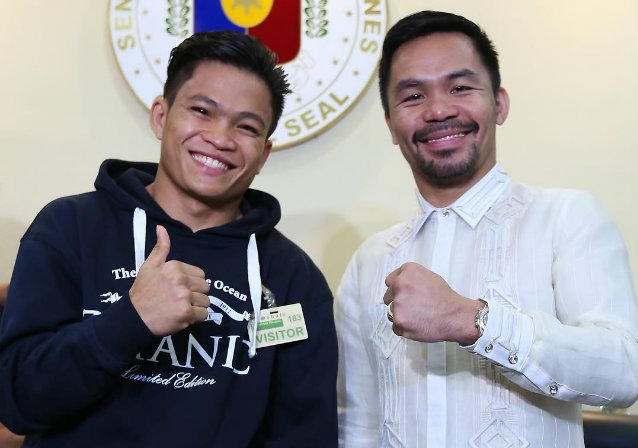 MANILA, Philippines – It isn't often that you'll find the best boxer in the building in the corner, handling a spit bucket like an upstart assistant paying his dues. But that's where Jerwin Ancajas was for much of this night in mid-December, helping out young prospects who are aspiring to one day accomplish what he has and become a world champion.
It's certainly not what you'd expect the fighter already ordained as "the next Manny Pacquiao" by Bob Arum, who is now his promoter, to be doing, but Ancajas has changed little in the year since winning the IBF junior bantamweight title on a half-empty basketball court at the Philippine Navy Gymnasium. His career will change though as he moves to the largest market in boxing after signing a two-year, 6-fight deal with Arum's Top Rank company, and Arum hasn't been reserved in talking up his newest champion.
"I have had the opportunity to be ringside for Jerwin's fights in Australia and in Macau and I see a lot of similarities to his co-promoter Manny Pacquiao," Arum said in a press release announcing Ancajas' next fight, set for February 3 against Israel Gonzalez in Corpus Christi, Texas, and to be televised on ESPN. "Jerwin has a killer instinct inside the ring and he is a great finisher. Just look at his record. Jerwin has only gone the distance once in his last 14 fights!"
It's a designation which carries a lot of weight for a generation of Filipino boxers who credit Pacquiao with inspiring them to fight. It's an easy link to make for foreign observers, who may not be aware of other Filipino fighters, and appealing to Filipino fans, who are looking for that next fighter to get excited about as Pacquiao nears age 40.
Ancajas has tried to cultivate his own identity in the ring, but admits the expectations that come with being likened to Pacquiao are burdensome.
"Yes, it is so hard and I feel very pressured with people saying that I will follow in the footsteps of Sir Manny, we all know that it will take years before anyone can follow in Sir Manny's footsteps," said Ancajas (28-1-1, 19 knockouts), the 25-year-old from Panabo City who now resides in Kawit, Cavite.
"For my part I just do whatever I can to get even just a little closer to Sir Manny's level. They say that I will be the next Manny, so I try to be diligent in my training so when the time comes they will not get disappointed."
Sean Gibbons, the American matchmaker who has been the architect behind Ancajas' title run, knows Arum's statement is just Arum being a promoter.
"That's why Bob's a Hall of Famer, he's an all-time great, he's the best. '[Vasyl] Lomachenko is better than Muhammad Ali,' everything with Bob is better than the last. Jerwin's Jerwin, Manny's Manny, no one will ever be Manny," said Gibbons, who first matched Ancajas for his 2014 fight against Fadhili Majiha in Macau.
Ancajas isn't entirely dissimilar to Pacquiao, who like Ancajas is a southpaw from Mindanao region, and both have brothers who are also pro boxers. But while Pacquiao had a brief amateur career and did most of his learning on the job, Ancajas was forming his style as a representative for Davao, winning two National Games gold medals and another at Palarong Pambansa before being recruited by his trainer/manager Joven Jimenez.
Pacquiao, particularly in his younger days, could do more damage with one punch, though Ancajas has developed his man strength after being known early on as a technically gifted fighter who lacked power. If a young Pacquiao's style was barely controlled fury, Ancajas practices a form of well-controlled fury, operating patiently behind his right jab, a punch Freddie Roach lamented that Pacquiao rarely stuck with.
Pacquiao seemed born for the spotlight, grinning like a cheshire cat while walking to the ring, as noted by Larry Merchant, like he was "walking to a New Year's Eve party." Contrast that with the bashful "aww shucks" smile Ancajas wore as he walked out in front of 50,000 fans in Brisbane, as if he wondered if there was someone behind him the fans were cheering for instead.
While Pacquiao's biggest thunder came upstairs, Ancajas has a workmanlike dedication to body punching that has resulted in knockdowns in his fights against McJoe Arroyo, Teiru Kinoshita, and Jamie Conlan. Stylistically, Ancajas is more akin to Gerry Peñalosa than Pacquiao, and looks like he could be a distant relative of Ceferino Garcia.
What made Pacquiao the first Pacquiao was that he fought in a manner that laid his heart out for the world to see. When he stepped up to featherweight he called out Barrera, Morales, and Marquez, and got them all. Nobody anointed Pacquiao as the heir to Flash Elorde or Pancho Villa. He didn't "stay busy" with routine title defenses. He went out to conquer the world, and for a while, he did.
We've yet to see Ancajas have to switch out of first gear since he's stepped up to the world level. He's not yet been knocked down, or had to win through a veil of blood. How special of a champion he is will be revealed once he meets adversity.
Before any of that, Gibbons would like to test Ancajas against one of the "second tier guys," someone like Carlos Cuadras, the former WBC junior bantamweight champ who lost razor-thin decisions to Roman Gonzalez and Juan Francisco Estrada, to "see where he's at."
"I think he has the potential to eventually captivate the audience the way that Manny did in the Philippines, in the US. How good he'll be? Time will tell."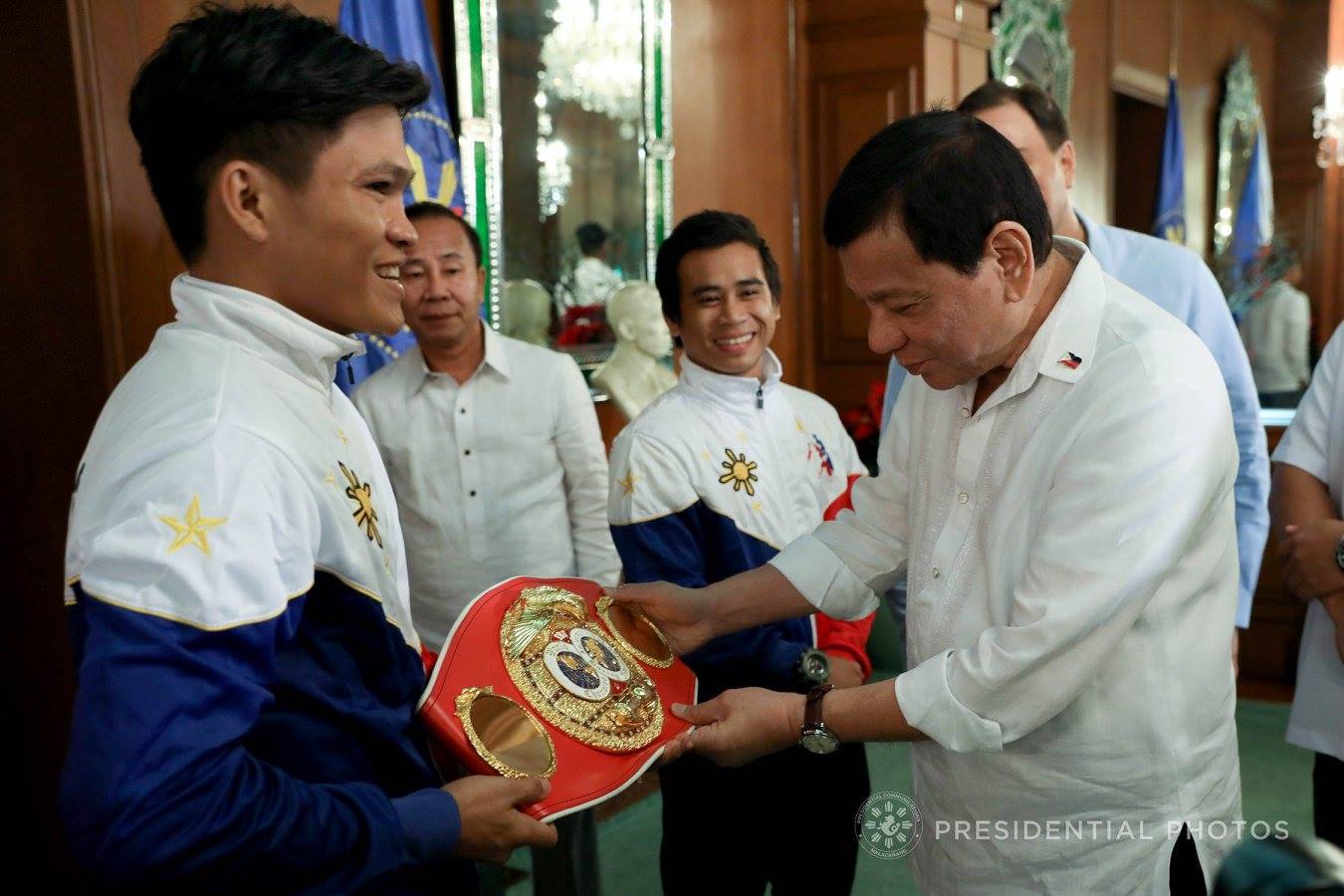 Ask Ancajas who he wants to fight and he'll offer the usual refrain of Pacquiao and other Pinoy fighters: "whoever my manager puts in front of me." Pry a little harder and you'll see his ambition doesn't hide very far below the surface.
"[WBO champion Naoya] Inoue is the number one, he is a dream opponent because he is the best. As a fighter…you always dream of going up against a good fighter," said Ancajas, referencing the fighter regarded by many as the top dog at 115 pounds.
Next up is Gonzalez, a once-beaten fighter from Los Cabos, Mexico who figures to be an ideal fall guy for Ancajas' first exposure on American soil.
The machine is slowly starting to get behind Ancajas. None of his first 4 title fights were televised live in the Philippines but he's getting more media mileage, and recently was granted an audience with President Rodrigo Duterte at Malacañang Palace.
"For me it is a very important fight because it will be my first fight in America," said Ancajas. "People in America have a different way of choosing a boxer to follow so I have to impress them with a win, hopefully."
There's one way that Ancajas is indisputably like Pacquiao. After his duty was over carrying the spit bucket, Ancajas turned into Santa Claus, handing out canned goods to the fighters, trainers, and their children as they filled up bags of rice to bring home. Winners and losers that night, some with stitches and swollen eyes, put the results of the night behind them and rejoiced in knowing they'd have food on the table for the holidays.
And there was Ancajas, flanked by his two sons, Jhinijie Kyrie and JJ Kyle, and his partner Ruth, taking delight in the pandemonium. It wasn't too long ago he was the beneficiary of similar goodwill. It was an idea he came up with after his last win in Belfast, and he'll hold a similar event after his next fight, Jimenez said.
"What I learned is that even if you have the money already, you still need to ask permission [to use it]," said Ancajas, who still defers to his manager first on even the most mundane decisions.
"Right now that I am getting popular, this will not be permanent, you will not be famous all your life. Whatever attitude you have, just stay that way. Keep being humble." – Rappler.com