Kia's losing streak continues as Phoenix runs up the score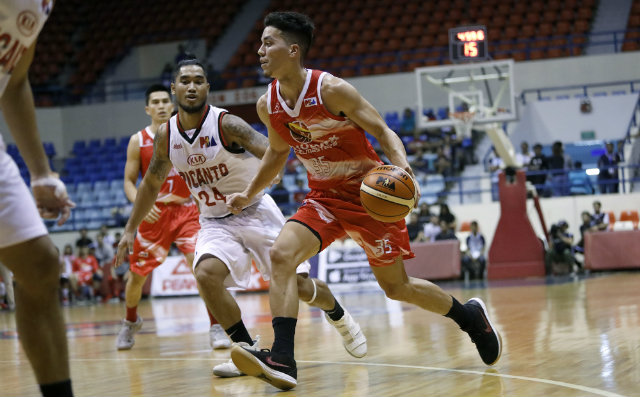 ANTIPOLO CITY, Philippines (UPDATED) – Phoenix stretched Kia Picanto's losing streak to 14 games as the Fuel Masters stamped their class with a 125-102 rout for their first victory in the 2018 PBA Philippine Cup at the Ynares Center here Wednesday, December 27. 
The Fuel Master led from the get-go after making a 10-point first quarter advantage balloon to 20 midway in the second period, 41-21, thanks to a 10-0 spurt sparked by Justin Chua's 6 markers. 
Kia made it interesting early in the second half, cutting its deficit to just 7 points following a 6-0 blitz but Phoenix regained its bearings and rode on a 24-9 rally to lead by 22 points, 79-57.
Phoenix even pushed its cushion to 26, its biggest of the game, with a Joseph Eriobu fastbreak conversion with 19 seconds to go, 125-99.  
It was a complete team effort for the Fuel Masters as Chua, Matthew Wright and JC Intal scored 15 points apiece. RJ Jazul and Gelo Alolino both had 13 each while Jason Perkins and Doug Kramer combined for 24 markers and 18 caroms.
"Actually, last 10 days 'yung excitement hindi nawawala kasi we're on a 10-game losing streak way back last conference. Sabi sakin, 'Coach sana manalo na tayo next game.' Pero Kia is no pushover," said Phoenix tactician Louie Alas, who notched his first PBA win as a head coach since 2001. 
(Actually, the last 10 days, the excitement did not subside because we're on a 10-game losing streak way back last conference. The players wished that we win this game but Kia is no pushover.) 

The shots were just falling for the Fuel Masters as they buried 50 of their 88 attempts for an impressive 56.8 shooting. Phoenix also had 52 rebounds and 17 steals, a far cry from Kia's 38 boards and 10 steals. 
Rashawn McCarthy paced the Picanto with 22 points, 7 boards and 6 assists. Eric Camson added 15 in the losing effort.
Scores:
Phoenix (125): Intal 15, Chua 15, Wright 15, Alolino 13, Jazul 13, Perkins 12, Kramer 12, Eriobu 11, Dehesa 7, Gamboa 6, Revilla 6, Cortez 0, Guevarra 0, Wilson 0 
Kia (102): McCarthy 22, Camson 15, Paniamogan 13, Corpuz 12, Reyes 11, Galanza 7, Ababou 7, Jamon 4, Yee 4, Khobuntin 3, Celda 2, Sara 0 
Quarter scores: 24-14, 53-40, 88-69, 125-102. – Rappler.com