Milan Melindo and Ryoichi Taguichi will unify the WBA and IBF titles, with Ring magazine's lineal championship on the line as well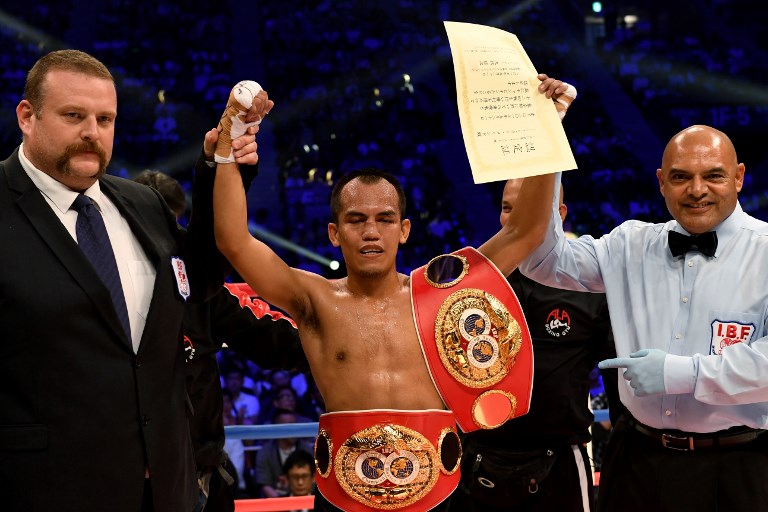 MANILA, Philippines – Milan Melindo hasn't thought much about boxing since arriving in Tokyo, Japan on Tuesday, December 26, a few days ahead of his junior flyweight title unification bout with Ryoichi Taguchi this Sunday, New Year's Eve.
He's kept himself occupied on Facebook, having a laugh at viral gag videos in an ALA team group chat, and staying entertained by sharing light-hearted photos in his hotel room. For Melindo, the next few days are just about staying loose and cutting down to the 108-pound limit, and he'll think about his business at hand on the day of the fight.
"I don't need to think about the fight. I only need to focus on it the day of the fight. No stress, no thinking about stuff," said Melindo (37-2, 13 knockouts), the IBF titleholder from Cagayan de Oro City. His fight against WBA titleholder Taguchi (26-2-2, 12 KOs) at Ota-City Gymnasium will also decide The Ring magazine's vacant junior flyweight lineal title.
Melindo did some shadowboxing for 30 minutes at the hotel Wednesday, and has been careful to bundle up for the winter weather whenever leaving the hotel, trainer Edito Villamor says, adding that he weighed 110.6 pounds when they weighed him after exercising.
Prior to his last fight, a split-decision win over Hekkie Budler in September, Melindo had to return to the scale after coming in over the limit. He took just one week off after that fight, in which he sustained two serious cuts, one over each eye, before resuming training. 
He says the cuts are fully healed and he's looking forward to returning to the country where he finally became a world champion in his third opportunity, when he stopped Akira Yaegashi in the first round this past May after scoring 3 quick knockdowns.
"When you're an underdog and the crowd is cheering for your opponent, it gives you more strength," said Melindo, who is two years younger than Taguchi at 29.
Taguchi will be making his seventh title defense, and will be in a title fight on New Year's Eve for the fourth straight year. In his last fight in July, Taguchi broke down Robert Barrera with steady body work before the referee halted the bout along the ropes in the ninth round. Melindo believes that if he can nullify Taguchi's best weapon – the left hook to the body – he can nullify Taguchi.
"He's only got one strength, the left body shot. If you destroy that left body shot, he's nothing," said Melindo.
Melindo says he sparred nearly 200 rounds for this camp with his ALA gym mates Donnie Nietes, Jonas Sultan, KJ Cataraja and others, going 16 rounds twice and 12 rounds 6 times, and working six-minute rounds during his gym work on top of plyometric training with conditioning coach Pio Solon.
"I'm prepared for stamina, no problem," said Melindo.
Melindo had pushed for unification fights since he first won the title, viewing it as his own way to leave behind a legacy as a fighter. Nonito Donaire Jr and Brian Viloria remain the only fighters of Filipino heritage to have successfully unified titles before.
"It's another way to become a legend. Manny Pacquiao is an 8-division world champion and Donnie Nietes has been champion for a long time. Mine is another way, being a unified king champion in my division," said Melindo.
"He's ready to take anyone in his path to reach his goal. He wants to make history and he wants to do it now. We can see how badly he wants it. There's no turning back," said trainer Edito Villamor.
Melindo-Taguchi will be one of 3 title fights on that card, with Sho Kimura (15-1-2, 8 KOs) defending the WBO flyweight title against compatriot and former RING flyweight champ Toshiyuki Igarashi (23-2-3, 12 KOs), and Hiroto Kyoguchi (8-0, 6 KOs) putting his IBF strawweight title on the line for the first time against Carlos Buitrago (30-2-1, 17 KOs). – Rappler.com