Lanot recalls her struggles as a young woman baller in the Philippines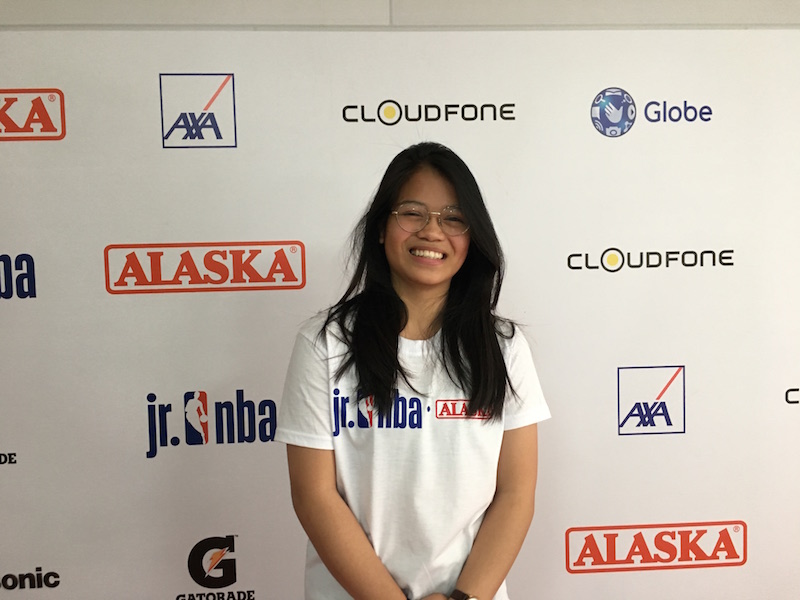 MANILA, Philippines (UPDATED) – "We will not let ourselves be overpowered by men because we don't want to accept that it's only a men's game," said a voice that emanated from the middle of 3 towering men during the tip-off the 2018 Jr. NBA program held on Saturday, January 13
The sole Jr. WNBA graduate present in the press conference Arielle Lanot was not afraid to speak out about the situation of women's basketball in the Philippines. Her courage won applauses and cheers from the audience, but there was more to her story of being a struggling woman baller in the Philippines. 
Rise to basketball
At 7 years old, Lanot was introduced to the sport when she started scrimmaging with the boys in her village in Dasmariñas, Cavite. Her standout athleticism made her "one of the boys," as her skills were at par or even better than the boys she played against. 
The more she played, the more she fell in love with basketball. 
However, Lanot never received any formal training during the times she played around the village. She had to rely on her peers and on herself to improve her skills until she joined the Milo Training Camp in 2013. 
In 2014, Jr. NBA Philippines opened it doors to women through the Jr. WNBA program. News reached Lanot through her relative who was in the Philippine basketball loop. She was among the first of batch of the new program. 
The Jr. WNBA was Lanot's first exposure to playing with other girls her age who, like her –  had the talent and passion for the male-dominated sport. From being a mere participant, Lanot rose up the ranks in the program to land among the top 5 of the inaugural batch. 
"First of all, I [couldn't] escape the feeling of nervousness. [It's] a competition within ourselves and not with other people who are joining you. Instead, we helped each other. That's what I learned just by joining the first day of the skills challenge," recalled Lanot of her experience in the Jr. WNBA. 
"I noticed that in each of those skills challenge, we all have to do our best in just one try. And I had a friend I needed to remind her that whatever she is about to do, she has to do it her best already because it's just one try."

Just like the male counterpart of the program, the STAR values – Sportsmanship, Teamwork, positive Attitude and Respect – were also shared to the Jr. WNBA participants. Every graduate of the Jr. NBA program, including Lanot, agreed their experience with the STAR values could be applied on and off the court. 
"I never forget the STAR values because I can not only apply that to basketball but life in general since it can help you in each and everything you do. And this is one thing that not only a basketball player but everyone who has been working and it's that you can't give up. Whatever comes in your way, as long as you put your heart to it, you won't let anyone stop you," said Lanot. 
Basketball for women
Lanot is a strong believer that basketball is for women. In an interview with Rappler, she said it dates back to the 19th century when basketball was invented by James Naismith in 1891. Through the works of Senda Berenson, the founder of women's basketball, Lanot learned how basketball was first organized for women who historically played in skirts and modified rules from the men's game. 
However, it was men's basketball that rose to fame and was first professionalized. The International Basketball Federation (FIBA) was founded in 1932 and only held international games among the participant countries for men. The Basketball Association of Amercia (BAA) – now known as the NBA – was born in 1946 and has become one of the most significant professional basketball leagues up to this day. 
With the growing popularity of men's basketball all over the world, the sport was all the more portrayed to be masculine by media, giving the notion that basketball is more exciting when it's played by the world's greatest male players. Professional leagues were easily monetized for their men's basketball games, leaving a stigma of inferioririty on women who play the same sport. 
Although FIBA held its first championship for women in 1953 and the Women's National Basketball Association was established in the United States in 1996 – 40 years after the NBA – players like Lanot still feel the gap in the development of women's basketball as compared to men. 
"Basketball has been dominated by men and na-oovershadow yung mga women na gusto i-prove ang sarili nila lalo na yung mga basketball players," lamented Lanot. 
("Basketball has been dominated by men and women who want to prove themselves, especially the basketball players, are overshadowed.")
Having experienced beating boys in games and growing up playing basketball with boys, Lanot knows that gender is not a factor in her perfromance in the sport. 
"I came to have a discussion about it with my friends: 'How can we prove ourselves to other people who underestimate our gender and that we can be as good as men in basketball… Women can even be better in the sport itself?'," recalled Lanot. 
This does not mean that there should be a competition between men and women for dominance in the sport. Lanot believes that the development of women's basketball can be for the good of basketball as a whole. 
"[Women]can be great in that game ourselves and we can show that we can be better. But it's not about the competition for dominance. Even men and women can help each other be great at the sport and tell each other not to give up."
What will be next for her (and PH Women's basketball)? 
Lanot currently is a grade 12 student in De La Salle-Zobel (DLSZ) and she was also a member of the high school women's basketball team. 
The DLSZ women's basketball team is currently the runner-up of the WNCAA and the Women's Basketball League (WBL) competitions in the juniors division. 
In a few months, Lanot will be pursuing her collegiate studies, but it may be her last opportunity to play ball. 
"Since [men] have UAAP then PBA. But for us women, we don't have that." 
The Philippines used to have the Women's Philippine Basketball League, which was originally formed in 1998. After two seasons, the league went on a hiatus and was able to start up again in November 2008, but it officially folded up after that season. Ever Bilena was the reigning champion in all 3 seasons. 
With a lack of a professional women's league in the Philippines, players like Lanot are limited to only making it to the Philippine national team and can only dream of continuing their careers elsewhere. 
"After we graduate college, our only choice to continue our journey or passion for basketball is maybe to being included in Perlas. Kulang ang women's opportunities when it comes to basketball and I think we should have enough opportunites as the guys have," said Lanot. 
– Rappler.com