The DLSU Lady Spikers earn their second loss of the season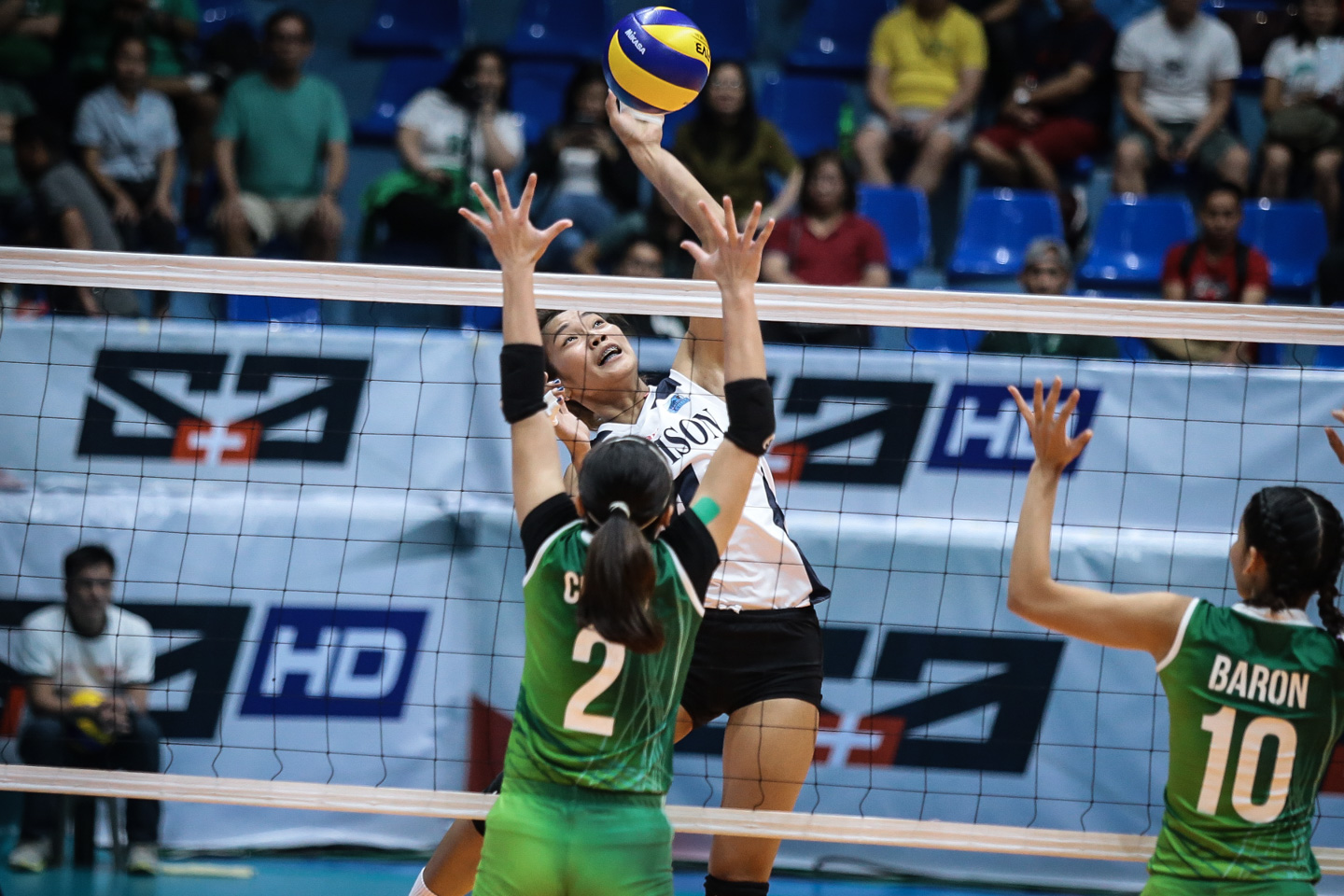 MANILA, Philippines (UPDATED) – The Adamson Lady Falcons ended their two-game losing streak to stun defending champions DLSU Lady Spikers in 4 sets, 25-18, 15-25, 25-19, 25-22, on Saturday, February 24, at the Filoil Flying V Centre. 
Mylene Paat's heroics powered the Lady Falcons in the 4th set, scoring 7 points of Adamson's 12-1 run which was capped off by Eli Soyud's attack down the line, 17-10. As Joy Dacoron brought the Lady Falcons to a set point, 24-19, the Lady Spikers sparked a 3-0 run which was halted by a Jema Galanza attack. 
The Adamson Lady Falcons improved their record to 3-3 while the DLSU Lady Spikers picked up another loss to fall to 4-2 in the UAAP Season 80 Women's Volleyball tournament. 
Soyud led the Lady Falcons with 18 points over her former team DLSU. Dacoron and Paat tallied 15 points apiece. Fhen Emnas made 43 excellent sets. 
Season 79 MVP Majoy Baron scored 14 points off 8 spikes, 4 aces and one block. Desiree Cheng followed with 10 points off 8 spikes and two aces. 
The Lady Falcons had a strong start to the game as they pulled away from a 10-8 advantage to a 7-point lead capped off by an Soyud attack. The Lady Spikers rallied back to get within 5 points thanks to Kim Dy's spike, 20-15.
DLSU's efforts were not enough as Galanza brought it to set point and Tin Tiamzon commited a service error that gave Adamson a 1-0 lead in the match. 
Adamson blew a 3-1 start to the second set as the Lady Spikers bounced back by scoring 5 unanswered points to take a 6-3 lead. DLSU continued to exact revenge on the Lady Falcons as they locked Adamson to 7 points and stretched the lead to 8 until Tiamzon made an attack error. 
Despite the cutting the deficit to 3, 17-14, the Lady Falcons failed to recover as DLSU raced to end the set with a 8-1 scoring run capped off by a Dy ace. 
Baron's back-to-back attacks allowed DLSU to get off to a 6-3 start in the 3rd set before Soyud's ace tied it a 6-all. Cheng sparked the DLSU offense, scoring 3 straight points for DLSU and Baron ended the 6-2 run with back-to-back attack, 16-11. 
The Lady Falcons managed to tie the set at 17-all and pulled away with the lead until Emnas made an error in her set that gave a free point to DLSU. Galanza and Soyud recovered to bring it a set point and a distribution error from DLSU made it a wild 14-3 run by Adamson. 
The Scores
Adamson (3) – Soyud 18, Paat 15, Dacoron 15, Galanza 10, Permentilla 4, Emnas 1. 
DLSU (1) – Baron 13, Cheng 10, Ogunsanya 9, Tiamzon 9, Dy 8, Luna 4, Layug 3, Cobb 1. 
– Rappler.com