Despite the setbacks in and around the tournament, the Fil-Am captain wants to represent the country again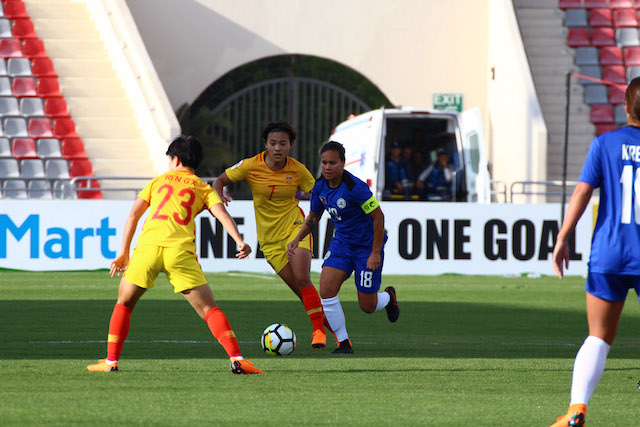 MANILA, Philippines – Even after Philippines failed to qualify for the 2019 FIFA Women's World Cup, Fil-Am captain Tahnai Annis vowed to stay with the Philippines Women's National Football team. 
The 2018 AFC Asian Women's Cup was Annis' first stint with the national squad. She was called up for the team's US training earlier in 2018 and was eventually named into the final roster as the designated co- captain with Patrice Impelido. 
"I definitely am planning to stay and I hope that most of us or if not, all of us will be be planning to stay as well," said Annis. 
"I feel very proud to represent the country, I'm proud to represent this group of girls, we've been through a lot and everyone's character really showed through and I'm just really honored to be a captain of a team with values and the character that each of the girls have." 
While the Phlippine Football Federation gears up for its women's league for local club players, it has yet to announce the next international stint of the Philippine team.
In the meantime, Annis and the other US-based players will be looking forward to their next opportunity to don the country's colors. 
"We're all kinda waiting to see what's next for us. I know that there are a couple of tournaments at the end of the summer, so once we get everything [figured out], we will work towards our next event and we will be doing well in that event," said Annis. 
Annis also recalled that the trials the team faced – last minute coaching change and short preparation time – only pushed everyone to play their best given the disadvantaged situation they had right before the tournament. 
"[The changes] were definitely big factors [to our Asian Cup run], a lot of change and small amount of time, especially right before the tournament. Even though there were a lot of tough times in and around, right before the tournament, we really pushed through and really made the best out of the situation," said Annis. 
Despite failing in the World Cup mission, Annis believes that the nationals were still able to make a statement in the tournament with their opening win against Jordan. After Jordan drubbed the Philippines 5-1 in the qualifiers, the revenge win was the team's ulimate confidence booster for its remaining games. 
"We gave our best performance every time we went out on the field and we started off with the win against Jordan which obviously gave us the best momentum going forward and the rest of the games, we didn't get the win," said Annis. – Rappler.com