Thirdy Ravena delivers an all-around effort of 16 points, 5 rebounds, 5 assists and 3 steals in the win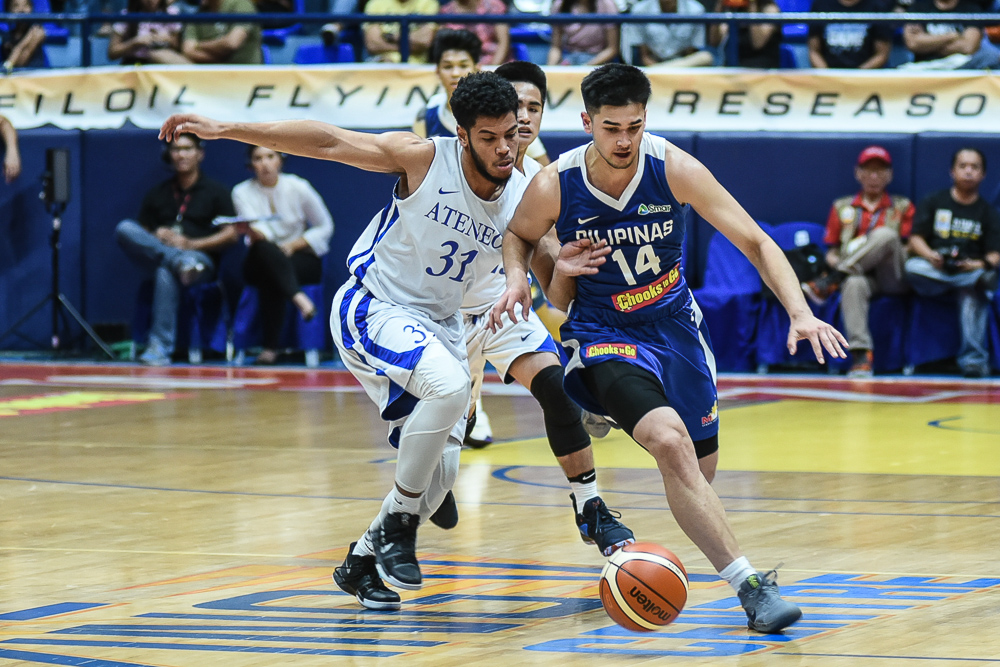 MANILA, Philippines – The Ateneo de Manila University Blue Eagles spoiled the party of the debuting Gilas Pilipinas cadets following a 75-69 victory in the opening day of the Filoil Flying V Premier Cup at the Arena in San Juan on Saturday, April 21. 
Thirdy Ravena turned in an all-round effort with a team-high 16 points, 5 rebounds, 5 assists and 3 blocks as the reigning UAAP champions proved steadier down the stretch against a squad parading the top collegiate players in the country. 
Leading by just 4 points midway through the 4th quarter, 56-52, Ateneo used a 13-2 run to pull away for good, 69-54. 
Adrian Wong chalked up 13 points, Mike Nieto added 10 while Angelo Kouame frolicked in the paint, pulling down 15 rebounds on top of 5 points and 3 blocks in the win. 
Despite the win, Ateneo head coach Tab Baldwin wasn't as impressed, admitting the team has to fully acclimatize themselves with each other.
"We're not ready to try and play as a team. We have no chemistry right now but those things will come. I think you can look at our team and say they are stronger physically, you know, they're starting to grow into men now and that's what we want," said Baldwin. 
Ricci Rivero, who left the De La Salle University Green Archers earlier this month, immediately provided impact with 17 points, 4 rebounds and 3 assists against 7 turnovers for the Gilas cadets. 
Kobe Paras, who returned to the Philippines earlier this week following his decision to pursue a professional career, had a relatively dismal night after firing 13 points on a 5-of-14 shooting from the field and 1-of-6 clip from the free throw line. He also had 3 rebounds, 3 assists and 3 blocks in the loss. 
The Scores:
Ateneo (75): Ravena 16, Wong 13, Nieto Mi 10, Nieto Ma 9, Go 7, Kouame 5, White 5, Belangel 4, Maagdenberg 3, Asistio 2, Navarro 1, Mamuyac 0, Credo 0
Gilas cadets (69): Rivero R 17, Paras 13, Gomez de LIano 11, Tratter 8, Ambohot 5, Gozum 4, Tolentino A 3, Tuffin 3, Tolentino V 3, Rivero P 2, Desiderio 0, Mocon 0
Quarter scores: 17-16, 29-27, 53-48, 75-69 
– Rappler.com