(UPDATED) Manu Ginobil stars as San Antonio continues to miss coach Popovich, while Bucks edge Celtics to level own series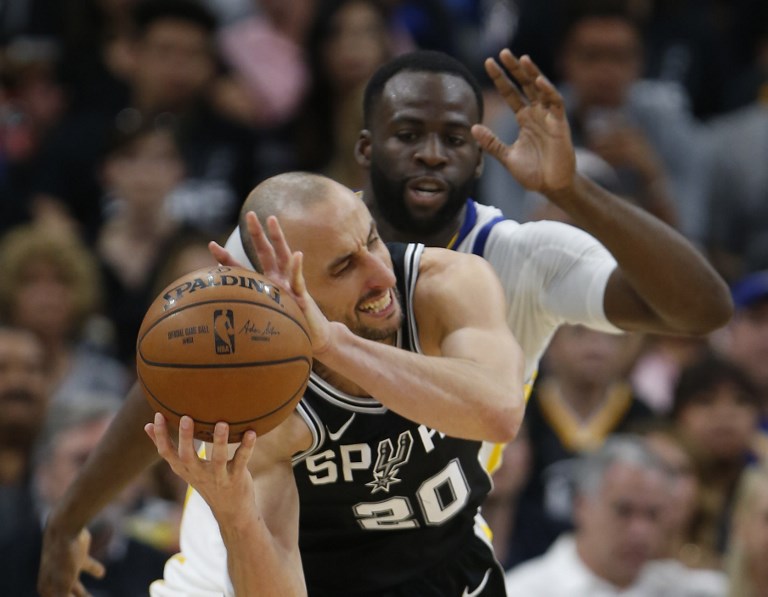 WASHINGTON, United States (UPDATED) – Defending NBA champion Golden State failed to complete a sweep of the San Antonio Spurs, with Manu Ginobili coming off the bench to score 10 of his 16 points in the fourth quarter to spark the hosts over the Warriors 103-90.
"Our defense was more aggressive than the previous games. Our aggressiveness was off the charts," Ginobili said.
"We need to help each other. Today we did that.
"We moved the ball. We made some shots that helped, but it was about teamwork."
LaMarcus Aldridge had 22 points and 10 rebounds for the Spurs, who led from start to finish to trim Golden State's lead in their Western Conference series to 3-1.
The Warriors, who were led by Kevin Durant's 34 points and 13 rebounds, can advance to a second-round series against New Orleans with a Game 5 home victory on Tuesday.
The Spurs remained without coach Gregg Popovich, who missed his second game following the death of his wife, which has left the team heartbroken as well.
"It's a tough time. We've never been through this type of adversity," said Ginobili. "Our leader is struggling. We're trying to push through it like he would do if he weren't at home."
Bucks edge Celtics to level series
Greek star forward Giannis Antetokounmpo scored 27 points, including the decisive tip-in with five seconds remaining, to give the Milwaukee Bucks a 104-102 NBA playoff victory Sunday over Boston. 
The triumph pulled the Bucks level with the Celtics at 2-2 in their best-of-seven first round series, which continues Tuesday in Boston.
Malcolm Brogdon's three-pointer gave the Bucks a 102-100 lead before Boston's Al Horford made two free throws to equalize. Brogdon then missed a jumper but Antetokounmpo followed with a tip-in and the Bucks denied the Celtics in the final seconds.
"This win is incredible," Antetokounmpo said. "We kept our composure and fought all the way to the end."
Khris Middleton added 23 points while Jabari Parker had 16 off the bench for Milwaukee.
Jaylen Brown led Boston with 34 points.
Cavs tie Pacers, Wizards up
In Indiana, LeBron James and the Cleveland Cavaliers rebounded from a game three loss to even their series at 2-2 with a 104-100 victory over the Indiana Pacers.
James finished with 32 points, 13 rebounds and seven assists and Kyle Korver scored 18 points for the Cavaliers in the win.
Game 5 is Wednesday in Cleveland. 
Elsewhere, Bradley Beal scored 31 points, while John Wall had 27, and the Washington Wizards beat Toronto 106-98 to level their Eastern Conference series at two games apiece.  – Rappler.com