UP may be undefeated heading to the Final 4, but the Maroons face stiff competition for the crown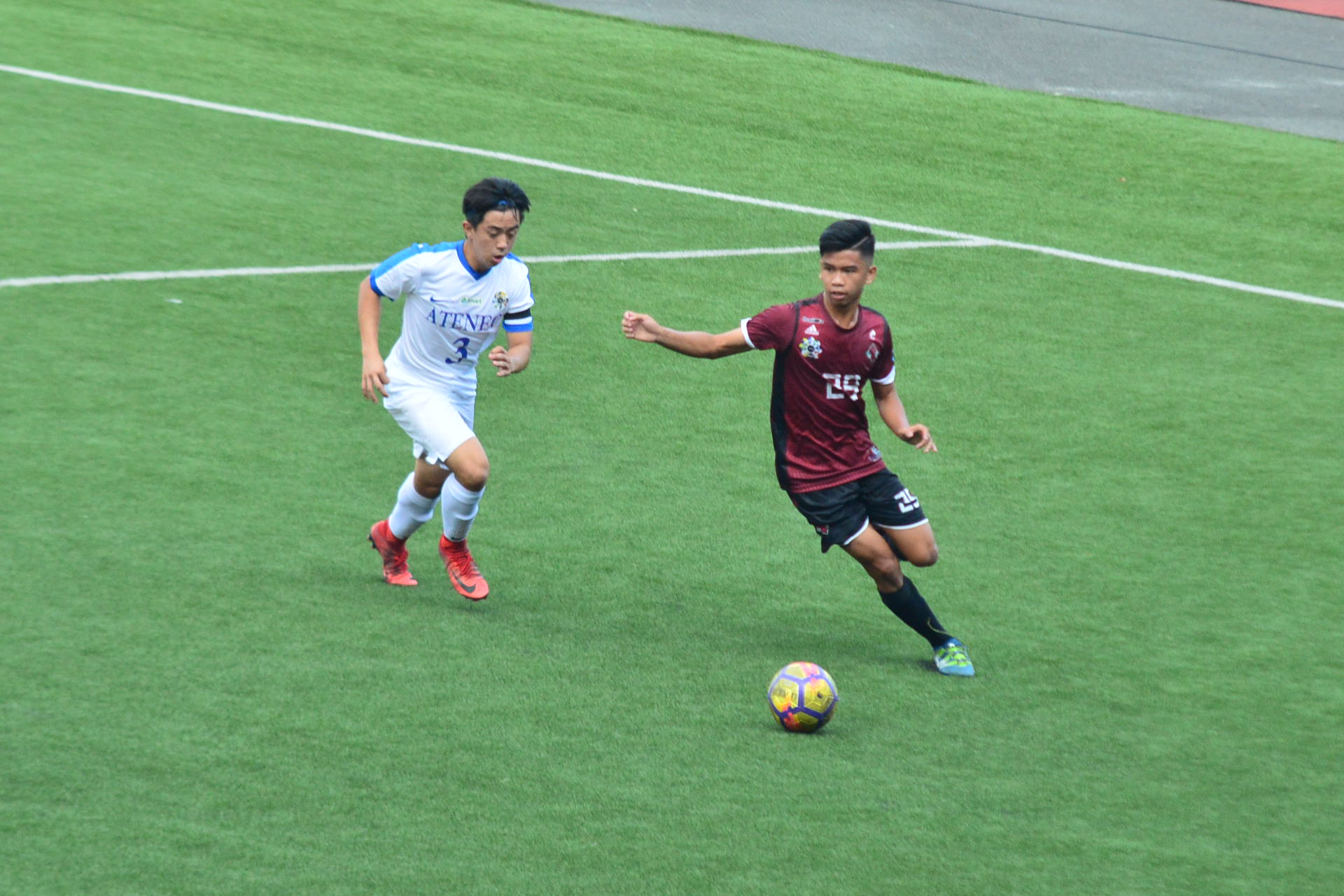 UAAP Season 80 Men's Football semi-finals 
ADMU vs UST, UP vs DLSU
1:45pm Thursday, April 26, Rizal Memorial Football Stadium 
LIVE on ABS-CBN S+A SD & HD, Liga SD & HD, and https://sports.abs-cbn.com/livestream/uaap
MANILA, Philippines – Two lip-smacking knockout semi-final matches are going down this coming Thursday, April 26. The winners will meet in the winner-take-all final on May 3. Let's study both matches in-depth.
 ADMU vs UST: A rematch worth waiting for
Last year, the Growling Tigers and Blue Eagles also tangled at this stage, with Jarvey Gayoso producing two goals as Ateneo won 2-1.
The Tigers are angling for revenge this time around, and although they're still the underdogs, they cannot be ruled out. UST is also one of only two teams to beat the Blue Eagles this season, having topped them 1-0 on a Steven Anotado goal in the first round.
UST is commanded on the pitch by Marvin Bricenio, who has been creative in the middle of the park feeding the likes of Anotado and AJ Pasion.
But the secret weapon of coach Marjo Allado is centerback Ian De Castro, who has been thriving on set pieces with 5 strikes already. The Laguna native, like any good central defender, is useful trotting up on corners and getting a head on a loose ball. Check out his game-winner against UE.
UST is a veteran team that has grown together over the years. But Ateneo looks daunting with a striker in Gayoso, who is already a Blue Eagle football legend in his third UAAP season. The wide attacker has added a decent right foot to complement his world-class left. His 15 goals this  season almost assure him of the Golden Boot award. The Thomasians will need to shut Gayoso down if they want a good chance of making it to the final.
Cebuano Jimi Haosen is on 5 goals already. The former futsal national team player scored against UP last week and adds some dimension to the Blue Eagles' direct attack.
Fitness will play a role in this match, which will be the early kickoff at 2pm. Whoever manages the oppressive heat on the cauldron of Rizal Memorial's artificial turf just might decide who wins.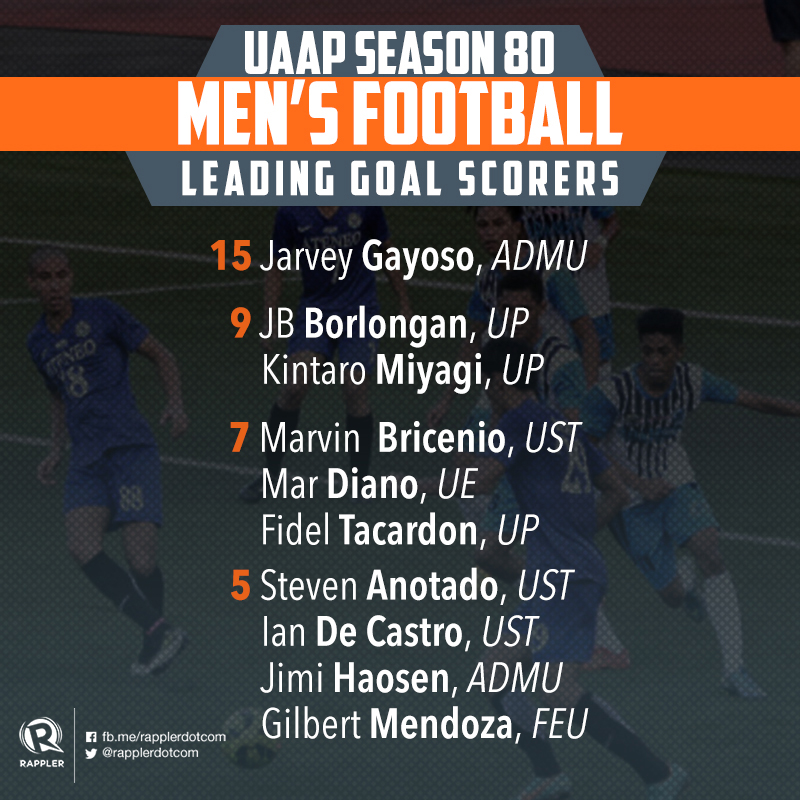 UP vs DLSU: A banana skin for State U
Anto Gonzales' UP team has mostly run roughshod over the competition in Season 80. The Maroons are undefeated, with 10 wins and 4 draws. Their goal difference is an astonishing +26. 
But all is not fine and dandy for the Fighting Maroons entering into Thursday's encounter. UP is winless in its last two matches, having been held to 2-2 against Ateneo last Thursday. In the Maroons' previous assignment, they figured in a dour 0-0 standoff against 7th place FEU. Form isn't terribly on their side as the business end of the season nears.
Anton Yared was the starting goalie for UP at the beginning of the season. But he eventually lost the starting slot to Harel Dayan. The Claretian, formerly from Kaya's youth program, is a fine young netminder with youth national team experience.
But last week, Dayan wobbled against Ateneo, unwisely venturing out to punch a loose ball late in the game against Ateneo last Thursday. Eagle Rupert Baña got there first, getting the ball to skim over his head to Josh Laud, who tapped in from inches away to equalize at 2-2. 
In a game like this, UP would want a veteran goalie full of confidence manning the sticks. That may not be the case whether Gonzales keeps Dayan in the lineup or returns to Yared.
To make matters worse, regular starting centerback Javi Bonoan will be suspended for the game after picking up a yellow against Ateneo. The rest of the Maroon defense will need to step up. 
But if the UP midfield and offense hum on Thursday, it might not matter. UP has a lethal trident of attackers, with JB Borlongan (9 goals) on the left, Kintaro Miyagi (9 goals) in the middle, and rookie Fidel Tacardon (7 goals) on the right. DLSU may need to pick its poison on Thursday.
Feeding them is a very strong midfield marshaled by Christian Lapas, a supremely creative and intelligent SEA Games vet.
But DLSU will show its wares as well. Striker Mathew Custodio will have some confidence after a recent MOTM performance, (a goal and an assist), against NU. Chris Lawless, with three goals this season, is a find either on the bench or in the starting 11. Yoshiharu Koizumi's presence in midfield is a plus. The Japanese-bred string-puller can use his passing touch and vision to create chances.
DLSU coach Hans Smit also has a veteran in goal. Paeng De Guzman was between the sticks when the Archers last made the UAAP final three seasons ago and this is his last collegiate season. In front of him are graduating defenders Nicko Villacin and Noel Brago. The latter is especially reliable in big games.
The Archers will also have the benefit of a large and throaty "home" crowd, since they are the hosts and RMS is literally a stone's throw from the Taft campus.
But DLSU's biggest challenge will be to gain some sort of possession advantage from a UP squad that hardly lets opponents have the ball. That will be key to a La Salle win.
Will the final on May 3 be a contest between the top seeds from Katipunan? Or will DLSU or UST spring an upset? This is one UAAP Final Four that can't be missed.
Follow Bob on Twitter @PassionateFanPH