The Che'lu-San Sebastian College Revellers only need to beat the Zark's-LPU Jawbreakers next meeting to wrap up the Aspirants Cup finals series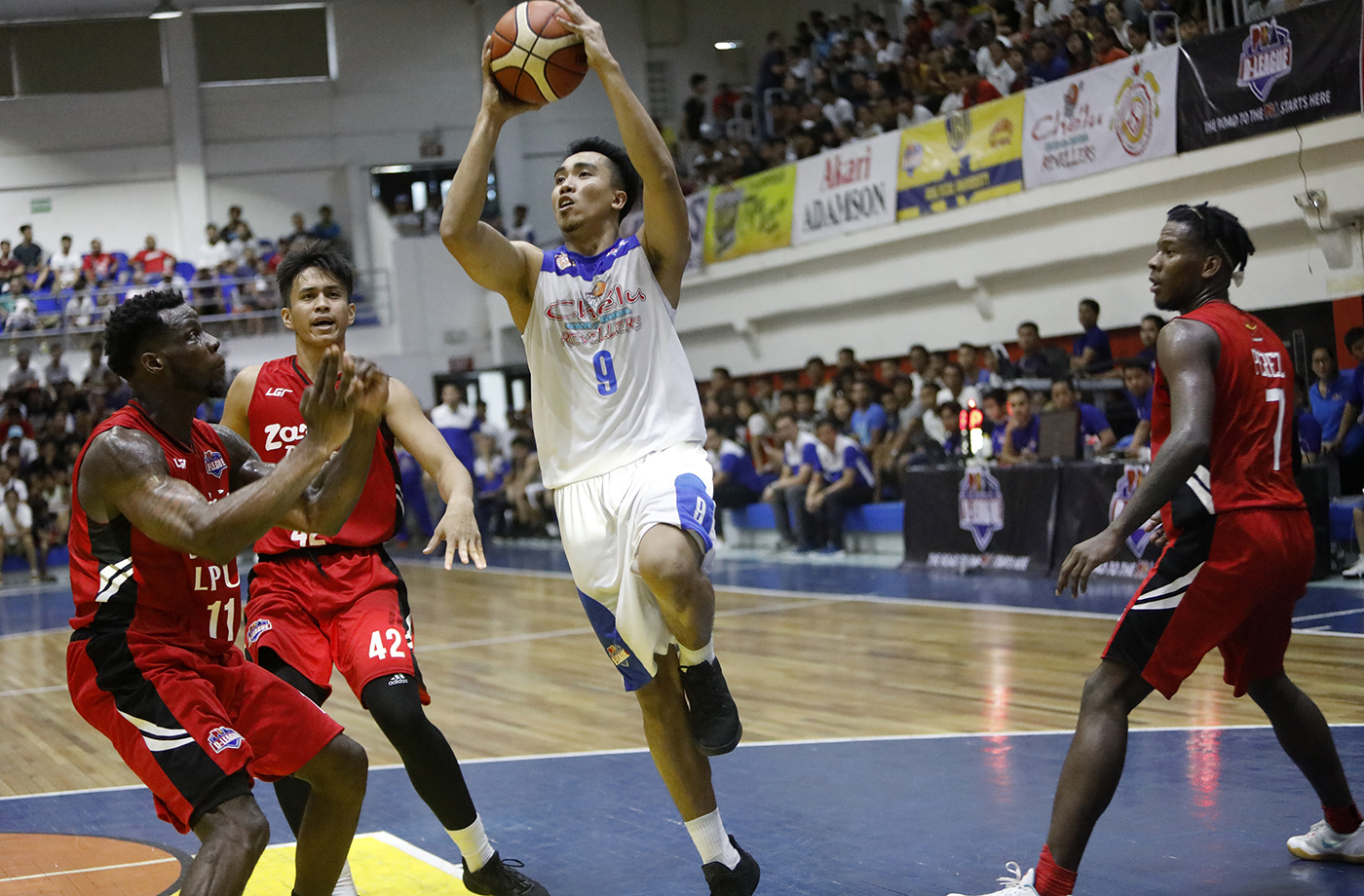 MANILA, Philippines – The Che'lu-San Sebastian College Revellers clinched a crucial Game 1 victory over the Zark's-LPU Jawbreakers, 107-103, in the best-of-3 Finals series of the PBA D-League Aspirants Cup at the Pasig City Sports Center, Tuesday, April 24.
With less than a minute to go, Samboy De Leon pulled up and drained a clutch triple for the 104-101 Che'lu advantage. CJ Perez then got hacked off the offensive board in the penalty and calmly sank his freebies to close the Revellers' gap to one, 103-104. Off the Che'lu timeout, Michael Calisaan was somehow left wide open down low for the easy two, 106-103.
Off their own timeout, the Jawbreakers rotated the ball to Jesper Ayaay for the corner triple, which caught everything but the rim. Allyn Bulanadi split his FTs and effectively iced the game for San Sebastian.
Both teams run-and-gunned to a high-scoring first quarter, with the Revellers coming out on top after a Stephen Siruma long bomb to end the quarter up 8, 34-26.
Che'lu extended its lead to double digits, 38-28, after two foul shots by Alfred Batino at the 7:51 mark of the second, but the Marcelino magic of twins of JC and JV began to heat up on the LPU side. It also didn't help the Revellers that Mike Nzeusseu was always lurking to swat the rock on their end.
Slowly but surely, the Jawbreakers stole back the lead at the 2:20 mark, 52-51, off two consecutive triples from Wilson Baltazar. An and-one by JC Marcelino secured the halftime lead for Zark's, 57-55.
The Jawbreakers stayed hot off the halftime break and grilled the Revellers with a 10-1 attack, 69-61, ending with an Ayaay triple and Nzeusseu drive. However, Batino and De Leon teamed up inside to inch within one, 71-72, with 3:16 left in the period.
While Nzeusseu crushed home an explosive alley-oop from JC Marcelino to extend the LPU lead to 5, 76-71, Bulanadi responded with a dunk of his own, which was followed up with a Jayson David drive. Bulanadi then split his charities next possession to knot up the game at 76 after three.
Tooth-and-nail, the teams went in the final period, with Che'lu never leading more than 3, 100-97, until the last two minutes of regulation. Then Perez showed his NCAA MVP skills after a bullying lay-in by Nzeusseu, as he intercepted a routine pass for the go-ahead layup, 101-100.
Batino then got hacked by JC Marcelino off the inbound and went 1/2 from the line to tie the contest at 101-all.
The Scores
Che'lu-SSC (107) – De Leon 18, Batino 17, Calisaan 15, Costelo 13, Bulanadi 13, Ilagan 9, Siruma 7, Collado 6, David 3, Faundo 2, Ablaza 2, Taganas 2, Capobres 0
Zark's-LPU (103) – Marcelino, JC. 23, Nzeusseu 19, Ayaay 13, Marcelino, JV. 10, Baltazar 9, Pretta 9, Perez 8, Serrano 6, Tansingco 3, Caduyac 2, Yong 2, Ibanez 0
Quarter Scores: 34-26, 55-57, 76-76, 107-103
– Rappler.com