(3RD UPDATE) On top of the buzzer-beater, the NBA superstar drops 44 points, 10 rebounds and 8 assists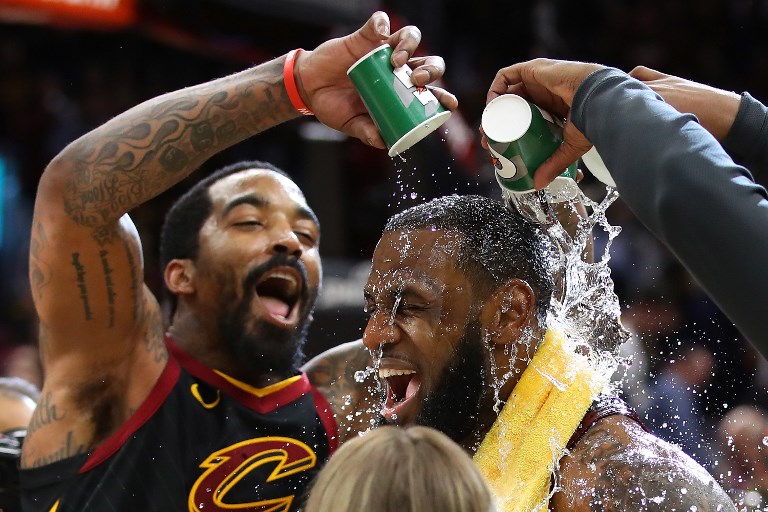 CLEVELAND, United States (3RD UPDATE) – LeBron James drained a buzzer-beating three-pointer to lift the Cleveland Cavaliers to a 98-95 victory over the Indiana Pacers on Wednesday, April 25, and within one game of advancing in the NBA playoffs.
James scored 44 points to lead the Cavs, who took a 3-2 lead in the best-of-seven first-round series and will try to close out the Pacers on Friday, April 27, in Indianapolis.
Seconds before his game-winner, James blocked a driving Victor Oladipo's shot at the rim to keep the score knotted at 95-95.
Cleveland then got the ball to their superstar, who pulled up at the top of the arc and unleashed his shot over Thaddeus Young, his only three-pointer of the game.
James beat his chest in triumph, jumping on the scorers' table to acknowledge the rapturous crowd.
"As a kid, you always have those 3-2-1 moments," James said. "That's what it kind of felt like. It felt like I was a kid all over again, just playing basketball at my house. With makeshift hoops and my socks as a basketball and making the noise. So, that's what it felt like." 
The Cavaliers, trying to return to the NBA Finals for a fourth straight season and add to the title they won in 2016, took their first lead of the series.
But James said they have plenty of work remaining against the Pacers.
"That team never stops and it's going to be even tougher on Friday," he said. "We've got to be mentally strong, like we did tonight."
With his 21st playoff game of 40 points or more, James moved past Jerry West for number two all-time on that list, which is led by Michael Jordan with 38.
"He really did impose his will throughout the game," Pacers coach Nate McMillan said.
Not over
But Oladipo insisted the Pacers weren't discouraged.
"The series ain't over," said the Indiana guard, who thought his attempted layup with three seconds left hit the backboard before James rejected it – which would make the block illegal.
"It was a goaltend," Oladipo said, and teammate Myles Turner concurred.
"It was clearly a goaltend," Turner said. "They didn't review it. There's not anything you can say about it.
"It doesn't change the fact that LeBron still hit that game-winning shot, but it's still a pivotal moment in the game that I feel does need a review."
Instead, Cleveland's J.R. Smith seized the ball and Cleveland called a timeout, setting the stage for James's last-gasp heroics.
"As soon as it left his hand it looked perfect," said Cavs coach Tyronn Lue.
But Lue was pleased with what he saw from all of his team, especially in a third quarter in which they out-scored Indiana 32-17, harrying the Pacers into seven turnovers as they seized an 81-73 lead.
The Cavs came into the game as the worst third-quarter scoring team in the playoffs.
"The coaching staff did a good job of challenging the guys for the third quarter and I thought the guys responded," Lue said. "That third quarter got us in the game… I thought it was a big team win."
Raptors wrest series lead at 3-2
In Toronto, DeMar DeRozan scored 32 points, Kyle Lowry added 17 as the Raptors bounced back from defeats in Games 3 and 4.
In a game that featured 17 lead changes, neither team led by more than 7 until the last two minutes.
Delon Wright scored 16 off the bench for Toronto, producing nine of their last 14 points of the game.
He helped the Raptors withstand a 26-point, nine-rebound, eight-assist performance by Washington guard John Wall. – Rappler.com