'We fought our way back, we tied the game up, that layup is huge,' says Pacers' Victor Oladipo of the non-call on Cavs star LeBron James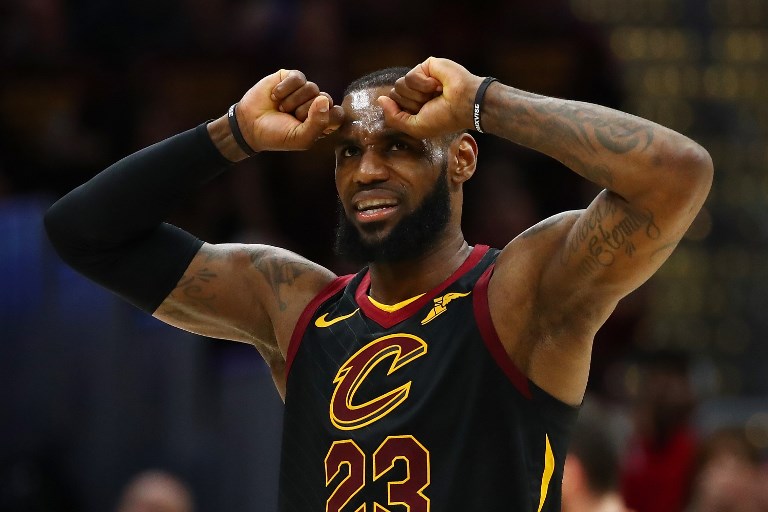 LOS ANGELES, United States – LeBron James' crucial block of Victor Oladipo's layup in the waning seconds of the Cleveland Cavaliers' NBA playoff win over the Indiana Pacers was illegal goaltending, the league acknowledged Thursday, April 26.
In its Last Two Minute Report on officiating in the late stages of Wednesday's games, the NBA said video taken from above the basket "shows that James blocks Oladipo's shot attempt after it makes contact with the backboard".
That's an illegal block, and had it been called the basket would have given the Pacers a 97-95 lead.
Instead, Cleveland gained the ball, called a timeout and inbounded the ball to James, who drained a game-winning 3-pointer at the buzzer to put the Cavs up 3-2 in the best-of-seven Eastern Conference first-round series. The play was not reviewed during the game because goaltending wasn't called, the NBA said.
Pacers players were fuming Wednesday over the non-call. But Thursday's report noted they benefitted from a missed call on Cleveland's previous possession.
On that one, James was dribbling toward the rim when Indiana's Thaddeus Young poked the ball away. It hit the baseline, and should have been ruled out of bounds off of Young.
The ball bounced up and hit James' leg and it was ruled out of bounds off James, giving Indiana possession of the ball.
Oladipo was gutted after the game over the non-call on James.
"I tried to shoot a layup, it hit the backboard, then he blocked it. … It was a goaltend," he said. "It really sucks. We fought our way back, we tied the game up, that layup is huge."
James laughed off any controversy in the euphoria of winning the game.
"I definitely thought it was a goaltend," he quipped before adding: "Of course I didn't think it was a goaltend. I try to make plays like that all the time, and I mean he made a heck of a move, got me leaning right and he went left and I just tried to use my recovery speed and get back up there and make a play on the ball." – Rappler.com