After surviving a scare, the Blue Eagles stay unbeaten in two games in the preseason tournament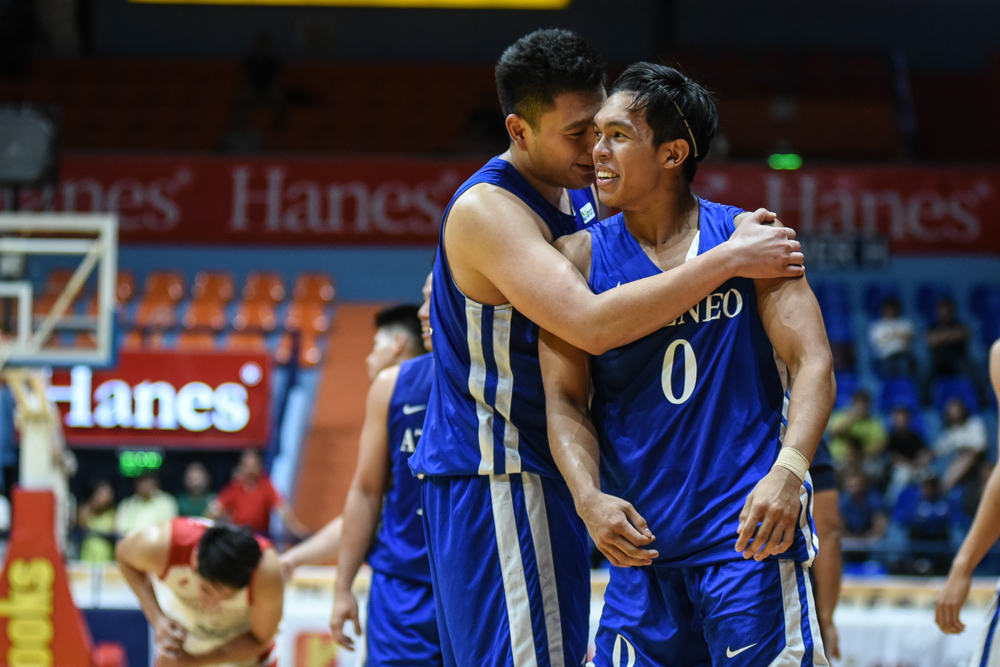 MANILA, Philippines – Ateneo de Manila University (ADMU) Blue Eagles survived a last-gasp rally as the reigning UAAP champions escaped the San Beda University (SBU) Red Lions, 69-68, in the FilOil Flying V Preseason Cup in San Juan, on Friday, April 27.
The highly-defensive contest looked headed to the Eagles' favor after big man Angelo Kouame was left wide open for the easy lay-in, 67-62, with 45 seconds left.
But San Beda, the reigning NCAA champion, refused to give up despite trailing  64-69 in the closing seconds as AC Soberano unleashed a pull-up triple to push the Lions within two, 67-69, with 10.2 seconds left.
It seemed like Soberano would complete his heroics after later fetching a foul, but he bricked the second of his two penalty free-throws.
 San Beda would get the offensive board, but James Canlas' putback clanked off as time expired.
Other than the tension-filled final minute, the game was as slow and methodical as it could get, with the Eagles only holding a one-point lead and scoring just 29 points by halftime, 29-28.
Isaac Go then took over in the third and went head-to-head with Red Lions big man Donald Tankoua with crafty post shots and passes from the perimeter.
Go finished with a team-high 14 points in the contest to go along with 5 rebounds and 2 assists in just 20 minutes of play.
Meanwhile, San Beda's Javee Mocon ended up with a game-high 17 points, 6 boards, 2 assists and 3 steals in the losing effort.
Ateneo improved to 2-0 in the Group A standings while San Beda fell to 1-1.
The Scores:
ATENEO 69 – Go 14, Kouame 12, Ravena 9, Nieto Mi. 8, Nieto Ma. 7, Navarro 6, Credo 6, Asistio 3, Mamuyac 32, Maagdenberg 2, Belangal 0, Mallillin 0.
SAN BEDA 68 – Mocon Ja. 17, Tankoua 13, Soberano 7, Doliguez 6, Nelle 4, Oftana 4, Toba 4, Cuntapay 4, Bahio 4, Carino 3, Canlas 2, Tongco 0, Abadeza 0, Cabanag 0, Mocon Ju. 0.
Quarters: 11-11, 29-28, 52-48, 69-68
– Rappler.com