WBC minimumweight champion Wanheng Menayothin targets a 50th win on May 2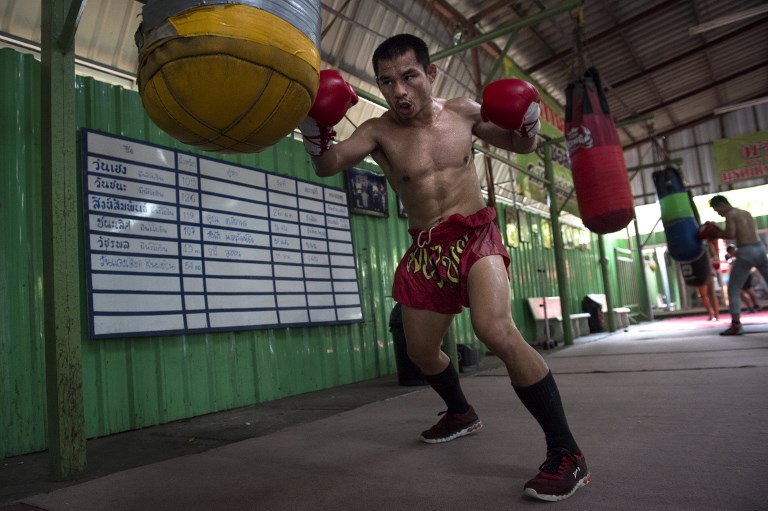 BANGKOK, Thailand – An unsung Thai boxer is just one win away from equalling Floyd Mayweather Jr's flawless 50-0 record. 
Wanheng Menayothin, a WBC minimumweight champion who is unknown outside boxing circles despite his 49 wins, hopes to make history by defeating challenger Panamanian Leroy Estrada in northeastern Thailand on May 2, Wednesday. 
Buzz has slowly been building in Thailand for weeks as Wanheng – dubbed "dwarf-giant" among a list of curious monikers – nears his 50th fight.
His record has drawn him into an unlikely comparison with Floyd "Money" Mayweather, the flashy, bankable boxing great who retired last year as one of the world's richest sports stars with his unbeaten 50-0 record intact.
"I want to win, because it's an important fight, to equal Floyd," the seasoned 32-year-old said at his Bangkok gym on Friday, April 27.
"Estrada wants to take my belt. I want to tell him that it will be a bit difficult," Wanheng added, with a wry smile.
The Thai boxer's legal name is Chayaphon Moonsri.
But he is better known by the nickname "dwarf-giant" – on account of punching power that belies his size – and "Five-Star Grilled Chicken" because of a sponsorship deal with a Thai food company.
Wanheng has fought mostly against similarly low-key regional fighters and has 17 knockouts.
But Estrada vowed to cut the run short at a promotional event to plug next week's fight at a Bangkok boxing gym.
"Menayothin is a good fighter, but I will stop him on May 2," he said.
The showdown is in front of the City Hall at Nakhon Ratchasima, a sleepy city a few hours drive from Bangkok. 
Piyarat Vachirarattanawong, part of the promotion team, said that while Western boxing is not as popular as Thailand's kickboxing martial art Muay Thai, the fight has generated more than the usual interest.
"The attention is better than other fights in Thailand, because of the [Mayweather] record," he said. – Rappler.com