(UPDATED) On its second try, Utah wraps up the series versus Oklahoma City behind rookie Donovan Mitchell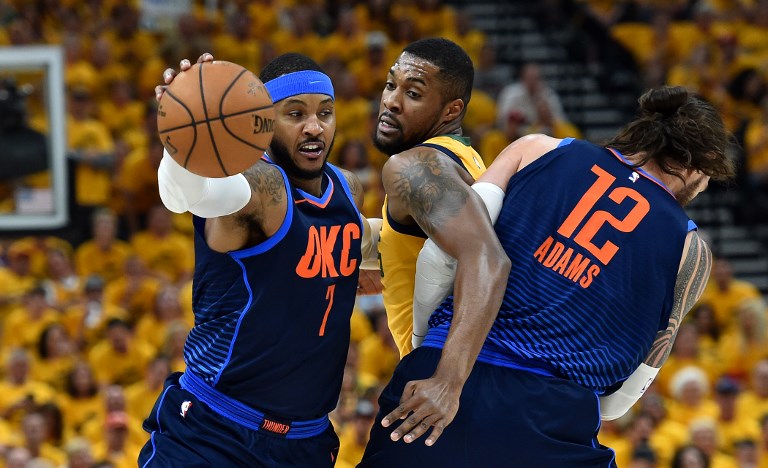 SALT LAKE CITY, United States (UPDATED) – Rookie Donovan Mitchell scored 38 points and the Utah Jazz eliminated a star-studded  Oklahoma City Thunder roster, 96-91, in their NBA Western Conference series.
Derrick Favors scored 13 points and Rudy Gobert had 12 points and 13 rebounds for the Jazz, who booked their spot in the next round after booting out Russell Westbrook and the Thunder in six games.
The Jazz pulled off the win despite losing starting guard Ricky Rubio due to a hamstring injury in the first quarter.
Russell Westbrook had 46 points for the Thunder and Steven Adams tallied 19 points and 16 rebounds.
"Our team did a good job of sticking together. We got some shots at the end of the game we just weren't able to get the one we needed," Westbrook said.
The Thunder had tried to retool their roster this season around Westbrook, Paul George and Carmelo Anthony, but it was a disappointing ending to the rebuild. George had just five points and Anthony seven on Friday.
Westbrook got into an brief verbal altercation with a fan at the end of the game. Westbrook stopped and tried to slap the fan's camera away before security stepped in to escort him to the dressing room.  
"I don't confront fans, fans confront me," Westbrook told reporters.
The Jazz will square off against the Houston Rockets in the first game of their series on Sunday. – Rappler.com