The 33-year-old forward can opt out of the final year of his contract with Oklahoma City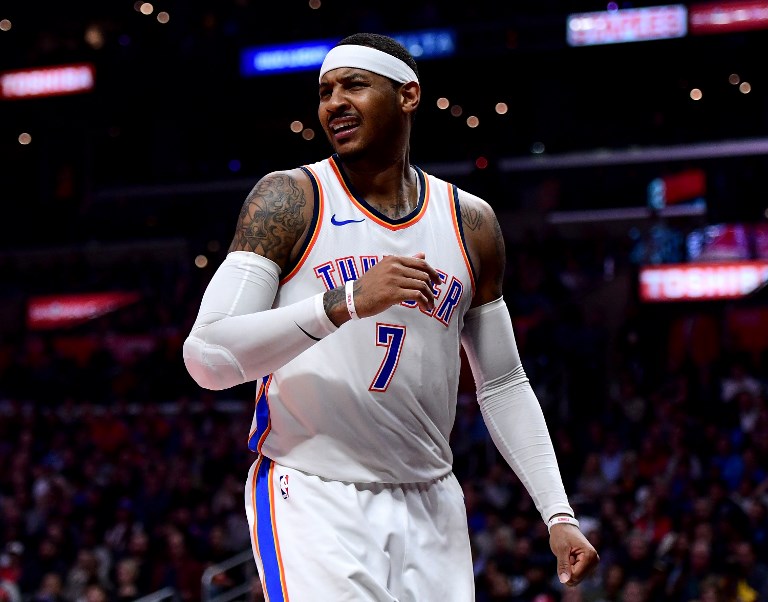 LOS ANGELES, United States – Carmelo Anthony isn't interested in sticking around in Oklahoma City as a bench player for the Thunder.
A day after the Thunder were eliminated from the first round of the NBA playoffs, Anthony said during his exit interview on Saturday that such a role was out of the question.
"I'm not sacrificing (with) no bench role," he said. "I think everybody knows I've sacrificed damn near everything, and was willing to sacrifice nearly everything for this situation to work out."
The 33-year-old forward spent significant time on the bench during the Thunder's first-round loss to the Utah Jazz.
Anthony, who averaged 16.2 points, 5.8 rebounds and 1.3 assists for the season, can opt out of the final year of his contract, which is worth $28 million, and not return to the Thunder in 2018.
And he indicated he was mulling that option after a sometimes frustrating campaign that followed his trade from the New York Knicks on the eve of training camp.
Anthony waived his no-trade clause with the Knicks to make the move happen, with the Thunder hoping he would join established star Russell Westbrook and another OKC newcomer, Paul George, to form a Big Three that would see them challenge the Golden State Warriors and Houston Rockets in the Western Conference.
But Anthony said that with the trio joining forces so close to the start of the season "everything was just thrown together" and his role wasn't properly defined. – Rappler.com