The Blue Eagles stretch their perfect run to three games in the preseason tournament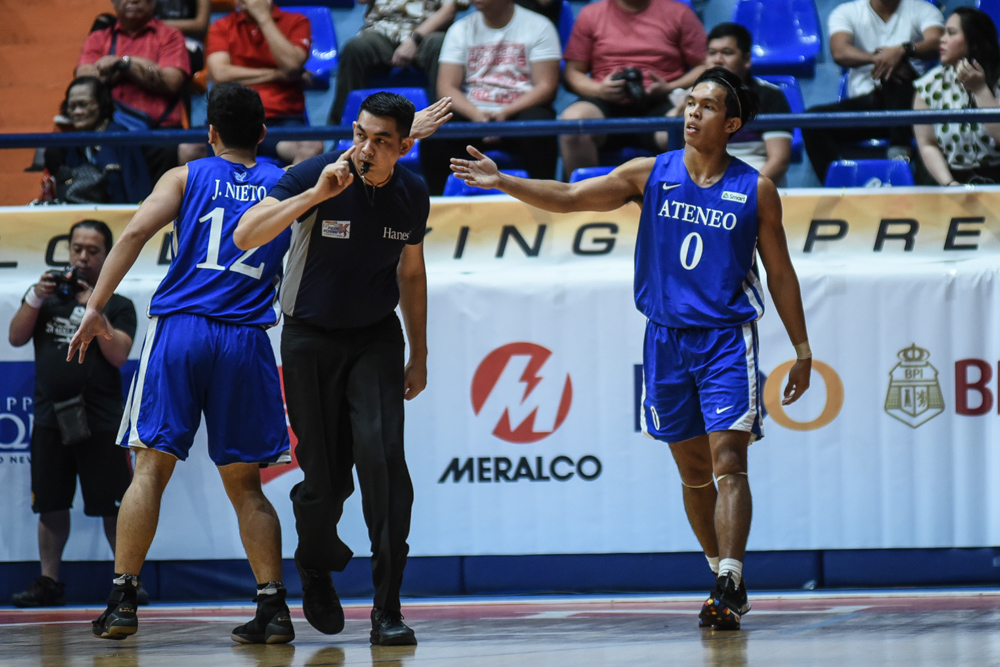 MANILA, Philippines – The Ateneo de Manila University (ADMU) stretched its unbeaten run as the Blue Eagles drubbed the retooled but winless University of the Philippines (UP) Fighting Maroons, 100-72, in the FilOil Flying V Preaseason Cup at the San Juan Arena on Sunday, April 29.
Ateneo marksman Adrian Wong, who missed the entire Season 80 due to an ACL injury, went to work early in the fourth, extending the Eagles' lead to 20, 80-60, off two straight buckets and free-throws.
Matt Nieto piled on the embarrassment with his feared long bombs and left the Maroons reeling with a 30-point hole
Anton Asistio led a balanced Ateneo charge with 14 points.
Prized rookie SJ Belangel also chipped in for the blue and white, scoring 6 straight points in the third in the face of Gilas cadets Paul Desiderio and Juan Gomez de Liano, both of whom were ineffective in helping out big man Bright Akhuetie on the offensive end.
UP last tied the contest at 36 early in the second quarter off a bank shot by captain Desiderio.
However, Jolo Mendoza revived his team's momentum with a contested, buzzer-beating triple from way, way downtown to end the half up 6, 44-38.
Ateneo kept a perfect record at 3-0 while UP remained winless in three outings.
The Scores
ADMU (100) – Asistio 14, Verano 11, Nieto Ma. 10, Wong 10, Maagdenberg 9, Belangel 8, Go 7, Ravena 5, Mendoza 5, Kouame 4, White 4, Mallillin 4, Mamuyac 3, Tio 3, Nieto, Mi. 3
UP (72) – Akhuetie 20, Desiderio 14, Gomez de Liano, Ju. 9, Murrell 9, Vito 5, Manzo 4, Gomez de Liano, Ja. 4, Prado 2, Dario 2, Santiago 2, Gozum 1, Jaboneta 0, Longa 0, Lim 0
Quarter scores: 17-13, 44-38, 69-58, 100-72
– Rappler.com