The winless Gilas cadets have lost their last two contests by an average margin of 20 points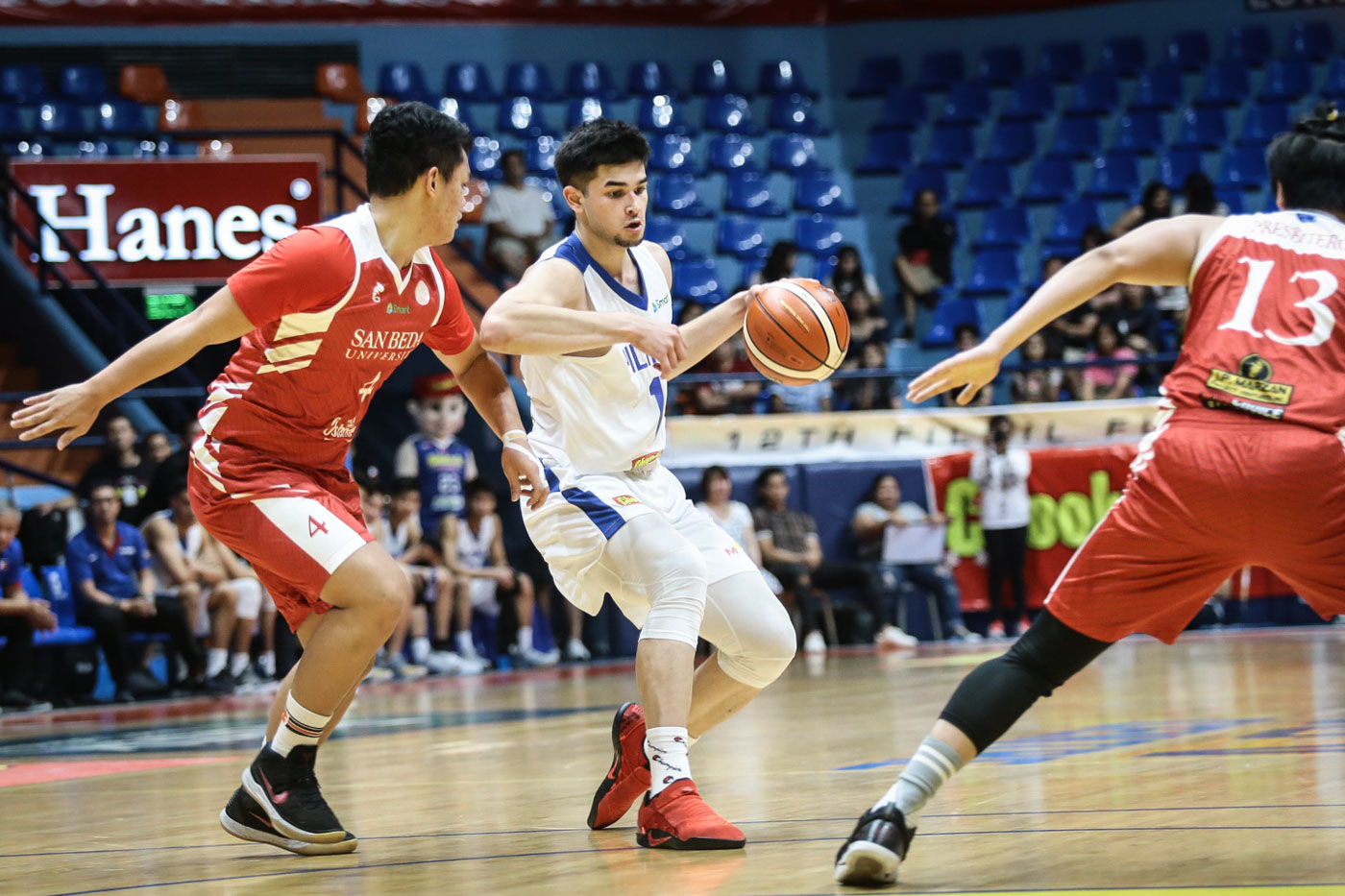 MANILA, Philippines – Defending NCAA champion San Beda had a sweet time against the hapless Gilas Pilipinas 2023 Cadets, destroying the country's best collegiate stars by 21, 91-70, at the FilOil Flying V Preseason Cup at the San Juan Arena, Sunday, April 29.
Nothing went right for the Cadets all game long, as they went down by as many as 31 points, 47-78, early in the fourth quarter. To top it all off, they also lost their high-flying prospect Kobe Paras to an apparent back injury after being undercut in an offensive board attempt just two possessions later.
Gilas did muster an 11-0 run off the steals and scores of Ricci Rivero, but it was too little too late, as they only managed to cut their deficit to 20, 58-78.
The Red Lions started to frustrate the Cadets early in the second quarter, after a Ranbill Tongco layup pushed their lead to double digits for the first time, 31-21. Then Gilas coach Josh Reyes was hit with a technical foul a few possessions later after a potential and-one by Rivero was called a no-basket.
The Cadets ate up another tech midway through the third period as Paras threw the ball at a San Beda player after Kemark Carino hit a triple that extended the Red Lions' advantage to 22, 57-35.
The Scores:
San Beda (91) – Canlas 16, Cabanag 15, Tankoua 13, Mocon, Ja. 8, Soberano 8, Oftana 7, Carino 5, Tongco 5, Presbitero 4, Eugene 4, Abuda 2, Cuntapay 2, Mocon, Ju. 2, Bahio 0, Burri 0, Abadeza 0
Gilas Cadets (70) – Tamayo 13, Paras 11, Alejandro 11, Rivero, R. 9, Tolentino, A. 7, Ambohot 7, Tuffin 4, Gozum 4, Tratter 2, Desiderio 2, Gomez de Liano 0, Rivero, P. 0, Tolentino, V. 0
Quarter Scores: 20-15, 45-30, 67-43, 91-70
– Rappler.com