James Harden notches his 6th 40-point playoff game and dazzles with a near-triple-double showing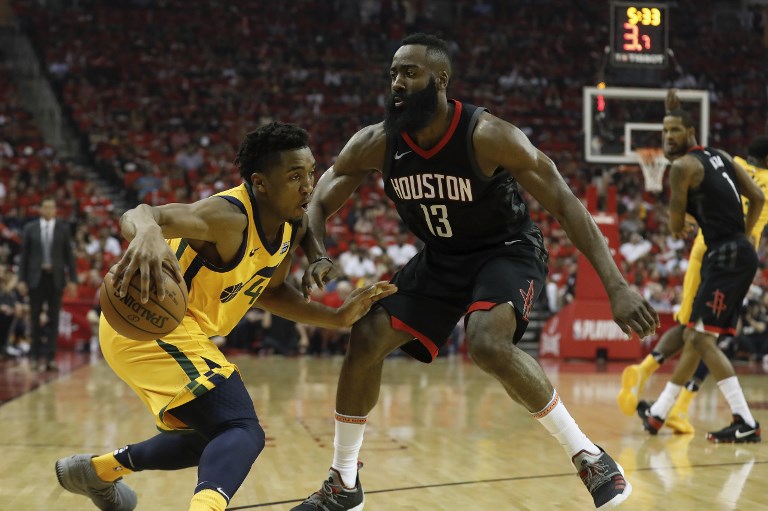 LOS ANGELES, USA – James Harden scored 41 points as the Houston Rockets dominated the Utah Jazz, 110-96, on Sunday, April 29, in the opening game of their NBA Western Conference second-round playoff series.
The Rockets, owners of the best record in the regular season, were in control throughout, connecting on 17 of 32 3-point attempts and leading by as many as 27 over a Jazz team that eliminated Oklahoma City in the 6th game of a bruising first-round series.
"We had energy from beginning of the game," said Harden, who pulled down 8 rebounds and handed out 7 assists. "We knew what they just went through, how tough their last series was."
Harden erupts for 41 PTS, 8 REB, 7 AST to lead the @HoustonRockets to the Game 1 W! #Rockets pic.twitter.com/kvY6ROaHCm

— NBA (@NBA) April 29, 2018
"We had a comprehensive rest," added Harden, whose Rockets finished off the Minnesota Timberwolves 4-1 on Wednesday, April 25. "So we wanted to come out here and pick up the pace up – aggressively get stops and aggressively move the ball, and we did that."
Point guard Chris Paul added 17 points, 6 assists, and 4 rebounds for the Rockets, who had 16 points from Clint Capela and 15 from PJ Tucker.
Donovan Mitchell, starting at point guard in place of injured Ricky Rubio, and reserve Jae Crowder scored 21 apiece for the Jazz.
But Utah offered no real resistance. They trailed by 13 after the first quarter and with their potent offense clicking, the Rockets pushed that lead to 27 with less than two minutes left in the first half.
Houston led by 25 at the break, and Utah wouldn't get the deficit below 11 points in the second half.
The Jazz got a scare late in the 4th when Mitchell rolled his ankle as he drove to the basket, Houston's Eric Gordon stepping on his dragging foot.
Mitchell limped to the bench but soon re-entered the game.
.@JHarden13 41-point game was his sixth playoff game with at least 40 points as a member of the Rockets. Only one other Rocket had that many; Hakeem Olajuwon had 11 playoff games with 40+ points for the franchise. @EliasSports pic.twitter.com/xJPxG7L11i

— NBA History (@NBAHistory) April 29, 2018
Harden notched the 6th 40-point playoff game of his career and the Rockets posted their 4th straight double-digit win in the playoffs.
Houston will try to extend their series lead when they host game two on Wednesday, May 2. – Rappler.com