The 4-time NBA Most Valuable Player agrees to a 4-year deal worth $154 million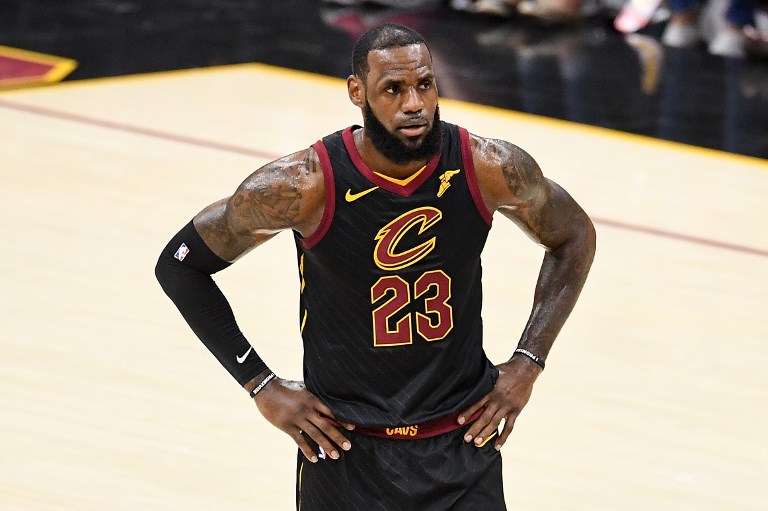 MANILA, Philippines – After much speculation and discussion, LeBron James has signed with the Los Angeles Lakers on Monday, July 2 (Manila time).
ESPN's top insider Adrian Wojnarowski confirmed the 4-year, $154 million signing on Twitter.
The blockbuster move means the 4-time NBA Most Valuable Player, who has played in the past 8 NBA Finals, will now join one of the league's most iconic clubs, adding to the legacy of such legends as Kobe Bryant and Magic Johnson.
James' management company Klutch Sports Group later confirmed the move.
"LeBron James, four time NBA MVP, three-time NBA finals MVP, 14-time NBA All-Star, and two-time Olympic gold medallist, has agreed to a four-year $154 million contract with he Los Angeles Lakers," Klutch Sports Group said in a statement.
LeBron James has agreed to 4-year, $154M deal with Lakers, Klutch Sports says.

— Adrian Wojnarowski (@wojespn) July 2, 2018
Wojnarowski added that disgruntled San Antonio Spurs star Kawhi Leonard is still set on also donning the iconic purple and gold colors.
James is considered a rival of retired Chicago Bulls star Michael Jordan for the title of greatest player in NBA history.
However, he had endured frustration with the Cleveland Cavaliers, culminating in this season's clean sweep defeat to the Golden State Warriors in last month's NBA finals.
James and the Cavaliers had been beaten in 3 out of 4 NBA Finals against the Warriors since 2015.
But James, 33, now shares the Pacific Conference with his Bay Area rivals.
Sources: As trade talks have unfolded, Kawhi Leonard's focus is unchanged: He wants to be a Laker. https://t.co/0wZGf5MrNt

— Adrian Wojnarowski (@wojespn) July 2, 2018
Oklahoma City Thunder superstar Paul George was also reported to hop on to Hollywood before staying in OKC on a 4-year, $137 million deal.
James, who has a home and production company in Los Angeles, joins a team with plenty of money to spend under the NBA salary cap and a desire to rebuild into a championship team after years of struggles.
The Cavaliers also tried to keep James, reportedly being on the phone with him seconds after midnight Sunday as the free agency period opened.
The Philadelphia 76ers, whose young star Ben Simmons has the same agent as James, were also in the hunt with James, hoping to build a potential triple threat alongside the Australian and Cameroon forward Joel Embiid.
James, a two-time Olympic champion, left Cleveland before in 2010 for the Miami Heat, where he reached the NBA Finals 4 times, going 2-2, before departing for the Cavaliers, vowing to bring a title to Cleveland, his home region having grown up in nearby Akron.
That mission was accomplished when the Cavaliers won the 2016 crown with James in the starring role.
But the Warriors obtained Kevin Durant after that loss and Golden State has gone 8-1 against the Cavs in the two NBA Finals since. – with a report from Agence France-Presse