The UP Maroons rebound from an Adamson heartbreaker with a thrilling escape over the La Salle Green Archers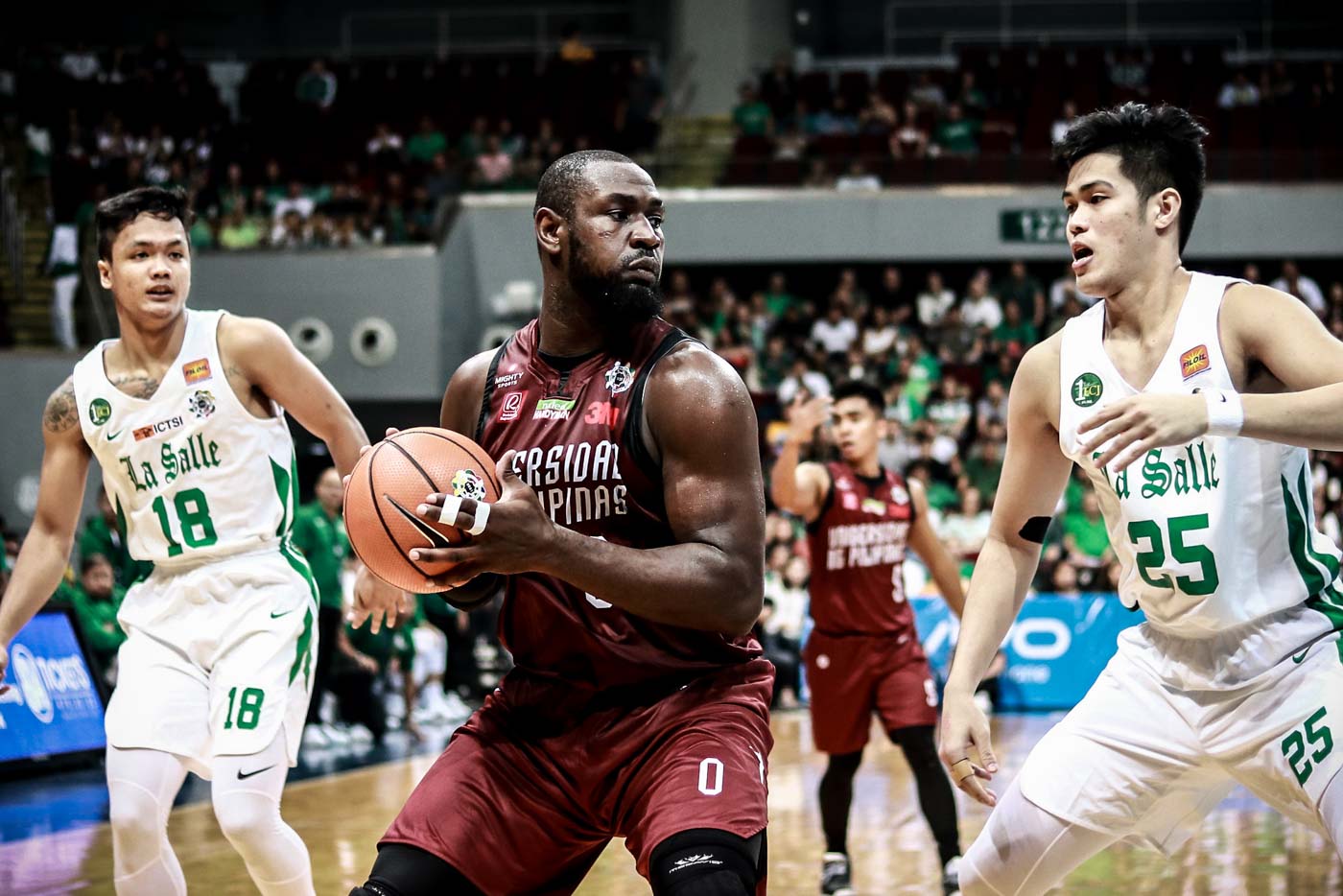 MANILA, Philippines – Bright Akhuetie promised that the University of the Philippines would bounce back big. And the Fighting Maroons sure did.
The Maroons overcame the La Salle Green Archers' late fightback, 67-61, in the UAAP Season 81 men's basketball tournament at the Mall of Asia Arena on Sunday, September 30.
Juan Gomez de Liaño knocked in the clutch baskets and Akhuetie also dropped 19 points and 19 rebounds as the Maroons rebounded from a heartbreaking loss  to Adamson to improve their record to 2-3.
Gomez de Liaño also shone with 17 points, 3 rebounds and 6 assists.
La Salle unleashed a 13-0 run capped by a Justine Baltazar tip with 2:20 minutes left that cut UP's  double-digit lead to just a point, 61-60.
But Gomez de Liaño  responded with clutch baskets, the last on a layup that cushioned the Maroons' lead, 65-60, with 44 ticks left.
"Now I think we all know that our endgame … there is much to be desired," said UP coach Bo Perasol. "But then again, we can't forget the fact that we won it."
After the one-point heartbreak against Adamson last Wednesday, Akhuetie vowed that the Maroons would come back big. (READ: UP'S Bright Akhuetie raring to 'bounce back real hard')
"That was a painful loss for us against Adamson," said Perasol. "The first thing that's going to be taken away from you when you lose successively is the confidence, and that's something that's very difficult to get back. The only way to get that back is to win. We all know we can but when you play the game, you tend to doubt yourselves most of the time."
"I'm just relieved right now that we're able to get this one and I hope we can get to the winning groove in our next game," Perasol added.
UP's offense exploded in the 3rd quarter with Gomez de Liaño sparking a 10-0 run, 43-37, with a breakaway dunk midway through the quarter.  
Akhuetie's dominance on the glass broke La Salle's towers and kept them up 6, 51-45, heading to the 4th.
The Nigerian big man bodied up Justine Baltazar in the post to open the 4th and give UP a 10-point cushion, 55-45.
Akhuetie then conspired with Gomez de Liaño to complete a 10-2 run, 61-47, with 7 minutes to go in regulation.
"We would have wanted to be better in the endgame, but then again, probably we needed these kinds of wins so we would know how to be better," said Perasol.
The Scores
UP 67 – Akhuetie 19, Gomez de Liaño Ju 17, Desiderio 12, Gomez de Liaño Ja 7, Manzo 6, Dario 2, Vito 2, Tungcab 2, Spencer 0, Lim 0, Murrell 0, Gozum 0, Jaboneta 0.
La Salle 61 – Baltazar 13, Melecio 12, Santillan 12, Caracut 9, Dyke 8, Go 5, Serrano 2, Bates 0, Manuel 0, Capacio 0, Corteza 0.
Quarters: 13-12, 29-33, 51-45, 67-61.
 – Rappler.com